'Brigadier' Balraj's incredible military feat at Ithaavil
Wednesday, 10 May 2023 00:50 –      – 1301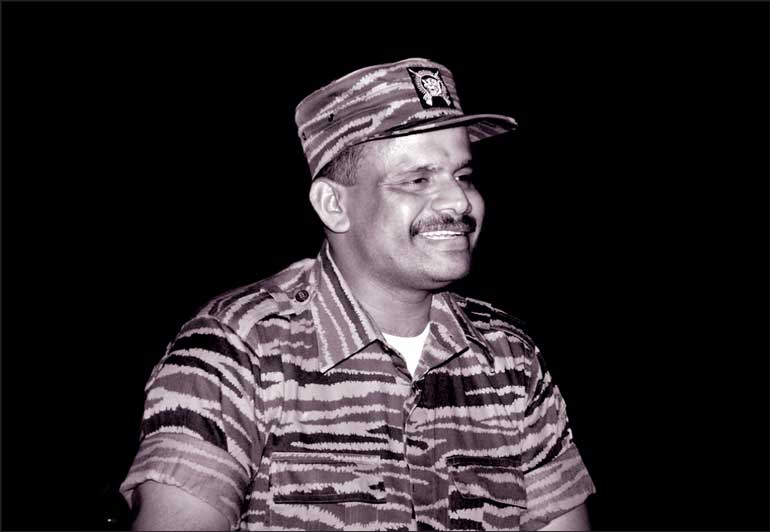 Kandiah Balasegaran alias 'Brigadier' Balraj, regarded as the finest commander the tigers ever had
---

The focus of this two-part article is former Liberation Tigers of Tamil Eelam (LTTE) deputy military chief Kandiah Balasegaran alias 'Brigadier' Balraj regarded as the finest commander the tigers ever had. Balraj was a much admired military tactician reputed for leading from the front. He died of a heart attack 15 years ago on 20 May 2008. The first part of this article published last week provided an outline of Balraj's early life and the course of events that led to his joining the LTTE. In this second part, the spotlight will be on the track record of the tiger military commander.
After receiving military training in Tamil Nadu as part of the ninth batch of tigers, Balasegaran known by his nom de guerre Balraj returned home to the Wanni in 1986. Having been inducted into the LTTE by the then Wanni commander Mahendrarajah alias Mahathaya, Balraj was first absorbed into Mahathaya's bodyguard unit. Gradually he was utilised for regular combat also.
Balraj made his mark first in mid-1986 when he played an active role in taking over the Karadipokku junction in Kilinochchi in what was an abortive bid by Mahathaya to encircle the Kilinochchi military camp.
Mahathaya was made deputy-leader of the LTTE in 1987 and moved to Jaffna. However he continued to be in overall charge of the Wanni. Jeyam, Suseelan and Paseelan were appointed as military commanders for the districts of Vavuniya, Kilinochchi and Mullaitheevu respectively.
Balraj became Paseelan's deputy and functioned in the Mullaitheevu district. In a well-planned ambush at Munthirikaikkulam, the tigers led by Passelan and Balraj killed 14 soldiers. Balraj was stationed at the Manal Aaru-Weli-Oya region since he knew the terrain well.
Indian Peace Keeping Force
The Indo-Lanka accord of July 1987 brought about a temporary lull Indian troops known as the Indian Peace Keeping Force (IPKF) were deployed in the north and east. The fragile peace was shattered in October when fighting erupted between the IPKF and the LTTE.
The Indian Army launched "Operation Pawan" against the LTTE in Jaffna. Tiger cadres led by Paseelan with Balraj as his deputy were hastily deployed in Jaffna to combat the IPKF. It was then that Balraj – armed with an RPG launcher – demonstrated great courage by facing an advancing battle tank in Koapay and inflicting damage.
The war with the Indian army began escalating. LTTE supremo Prabhakaran, Mahathaya and other senior tiger leaders relocated to the Wanni. Prabhakaran himself began camping out in the dense Nithihaikkulam jungles of Mullaitheevu district. Lt. Col. Navam was in overall charge of Prabhakaran's security in particular and Mullaitheevu defences in general. Balraj functioned as Navam's deputy.
It was then that Balraj began interacting closely with his leader Prabhakaran. The LTTE numero uno who at one time was reluctant to induct Balraj into tiger folds due to his PLOTE past was now greatly impressed by his unassuming simplicity and quiet efficiency.
When the IPKF launched "Operation Checkmate" in 1988 to capture Prabhakaran, Balraj played a key role in thwarting the mission by taking on the Indian troops frontally. Several Gurkha soldiers were reportedly killed in the skirmish. It is said that Balraj was injured on three separate occasions in combat against the IPKF.
After the withdrawal of the Indian army the tiger leader moved back to Jaffna with his retinue. There had also been a policy change of sorts where the LTTE was now as far as possible encouraging cadre from a particular locality to take up leadership positions in those areas.
Wanni military commander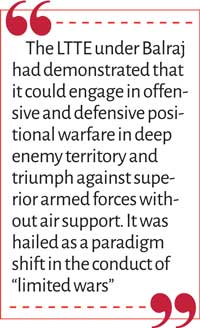 In keeping with this policy Balraj the son of Wanni soil was made military commander for the Wanni in 1990. This was the opportunity Balraj had been waiting for to demonstrate his military acumen.
The A-9 highway or Jaffna-Kandy road was then under the "nominal" control of the army from Vavuniya to Elephant Pass. The army had military camps in strategic points.
The LTTE led by Balraj launched two attacks on the Kokavil and Mankulam camps and overran them. Later another attack was conducted against the Kilinochchi camp. Though it was not overrun the soldiers later evacuated and strengthened the Paranthan camp.
These victories raised the LTTE's stock. Balraj became known as a reputed military commander who inspired and galvanised tiger cadre by courageously leading them up front into the thick of battle.
Another operation where Balraj proved his military prowess was the Elephant Pass operation of 1991. This operation codenamed "Tharai – Kadal – Aahayam" (Land – Sea – Air) was led by Mahathaya to lay siege to the Elephant Pass base and overrun it.
Balraj and his fighters including Theepan were tasked with the goal of penetrating the complex from the Kurinchatheevu sector. Balraj and his men delivered results by infiltrating through the lagoon and overrunning the military installation set up in the former guest house premises and retaining it till the operation was called off. They destroyed it when withdrawing. The failure of other LTTE cadre to achieve their objectives led to overall failure of the operation. 673 LTTE cadre were killed. It was however a personal triumph for Balraj.
Charles Anthony brigade
The LTTE in 1991 formed its first infantry brigade. It was named after Charles Anthony, Prabhakaran's trusted deputy and close companion who died in Meesalai on 15 July 1983. Balraj was Prabhakaran's choice to be the first special commander of Charles Anthony brigade. He served so until 1993.
Apart from leading military assaults and offensives Balraj also excelled in strategic defence. He was mainly responsible for defeating, preventing, restricting or nullifying several military offensives by the armed forces.
Some of these were "operation Wanniwickrema" in Vavuniya, "operation "lightning" in Manal aaru/Weli Oya, operation "leap forward" in Jaffna, operation" Yarl Devi" in Kilaly/puloppalai and operation "Agni Kheela" in Elephant Pass.
Balraj and his deputy Theepan had to counter "Operation Yarl Devi" launched by the Army in the south of Jaffna peninsula in 1993. Balraj was seriously injured in the fighting at Puloppalai. He sustained serious injuries on a leg when he was firing an RPG at a T-55 tank.
The injury caused him to limp slightly when walking. Also the leg started hurting when he walked for a long distance.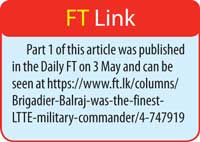 Adele Balasingham, wife of the LTTE's ideologue, Anton Balasingham, refers to Balraj's injuries in her book, 'Will to Freedom'. Here is the excerpt:
"A measure of Balraj's courage revealed itself to us when shrapnel smashed his right leg in the Yarl Devi battle of 1993. A decision not to amputate the limb was made and Balraj suffered excruciating pain of limb repair. Compounding his healing problems was unstable diabetes. After many months in bed and a great deal of pain, Balraj eventually walked again on his leg, but the injury left him with a permanent limp and a recurrent wound infection."
"Nevertheless, he viewed his injury as insignificant compared with the suffering and sacrifices of his cadres and continued to function as a field commander in the warzone."
The advent of Chandrika Kumaratunga as President in 1994 resulted in a ceasefire and peace talks. The truce broke in 1995 April and war broke out. Initially the Army launched operation "leap forward" in the peninsula and advanced in the Valigaamam region. The LTTE launched a counter offensive codenamed "tiger leap". The army withdrew. Balraj played a pivotal role in this. However the Army soon launched "Operation Riviresa" resulting in the LTTE being compelled to withdraw from the Peninsula into the Wanni in 1996.
It was in 1996 that Prabhakaran gave Balraj his greatest military honour. He appointed Balraj as deputy-military commander. Prabhakaran was the military commander of the LTTE. Thus Balraj became number two in the military hierarchy. But Balraj had to pay a "price" for the honour prior to receiving it.
Arrest of "Mahathaya"
Balraj's one-time patron and benefactor Mahathaya had fallen out with Prabhakaran. Prabhakaran then wanted to detain and interrogate his deputy-leader. Prabhakaran sent three LTTE leaders to "arrest" Mahathaya. They were Sornam, Soosai and Balraj. This was perhaps Prabhakaran's perverse ruse to test Balraj's loyalty. Balraj had to act against Mahathaya to prove his loyalty to Prabhakaran.
This Balraj did. He went along with the others to apprehend the man who had given him his break and taken him under his wing. But then could he have refused to obey Prabhakaran?
Hundreds of LTTE cadre surrounded Mahathaya's place. Initially a young boy was sent to the house. He knocked on the door and rudely asked Mahathaya to accompany him. The LTTE deputy-leader gave a resounding slap and chased him away.
Then Balraj himself went to Mahathaya's door. The deputy-leader was taken aback to find his former protegee entrusted with the task of arresting him. The fight went out of him.
When Balraj said "Engalode Vaango Annai" (Come along with us elder brother) Mahathaya promptly agreed. He instructed his 40 odd bodyguards not to resist and asked Balraj to ensure that nothing happened to them. He then went meekly with Balraj. Ultimately Mahathaya was executed for alleged treason after a Kangaroo court found him guilty.
The Mahathaya arrest was the "Agneepariksha" that Balraj had to endure to prove his loyalty to Prabhakaran. This betrayal of Mahathaya was Balraj's stepping stone to greater success and recognition.
Deputy-Military Commander

The LTTE's new Deputy-Military Commander began demonstrating his mettle in battle.
On 18 July 1996 the LTTE overran the Mullaitheevu camp killing more than a 1,000 soldiers. Balraj co-ordinated the operation codenamed "Oyatha Alaigal – 1."
A major offensive Balraj failed to obstruct was the first phase of "operation Jayasikurui" in 1997 where the armed forces took Omanthai and Nedunkerny. Balraj was in overall charge of LTTE defences during Jayasikurui till the fall of Puliyankulam. Thereafter erstwhile eastern LTTE regional commander "Col" Karuna took over defence arrangements in tandem with "Col" Theepan.
In February 1998 the LTTE attacked Kilinochchi in Oyatha Alaigal 2. The soldiers withdrew after incurring heavy losses. Balraj was in overall charge and reportedly adopted psychological warfare as a military tactic. The timing of the attack coincided with Sri Lanka's 50th anniversary of Independence.
Then came "Oyatha – Alaigal – 3" in 1999 November when the LTTE in a series of co-ordinated offensives overran military camps in Oddusuddan, Karippattaimurippu, Mankulam, Kanagarayankulam, Puliyankulam, etc.
Most military gains of "Jayasikurui" accumulated over a period of 18 months were reversed in nine days.
"Oyatha Alaigal" or unceasing waves was an ongoing operation with more battles to follow in the Jaffna peninsula. The greatest of these was the lengthy series of operations to take the strategic military base in the Elephant Pass isthmus.
"Encircle and enfeeble" strategy
The key element in the LTTE's "encircle and enfeeble" strategy was the interdiction of supplies along the A-9 highway between Eluthumattuvaal and Iyakkachchi/Elephant Pass. The besieged Elephant Pass garrison had to be "cut off" and isolated through a "cut out".
In a bid to prevent such an eventuality the armed forces had fortified a rectangular area extending from Thaalaiyaddy-Maruthankerny along the Vadamaratchy east coast of the peninsula up to the Puthukkaadu junction on the Jaffna-Kandy road.
This area known as the "Vathiraayan box" included Vathirayan, Pullaa veli, Soranpatru and Maasaar. Thus Elephant Pass was assured of continuous supply from Eluthumadduvaal in the hinterland as well as Thaalaiyaddi in the littoral.
Balraj's crowning achievement
How the LTTE breached these impregnable defences amounted to a modern military miracle. It was Balraj's crowning achievement.
In an ambhibean operation on 26 March 2000, the sea tigers led by "Col" Soosai succeeded in transporting 1,200 cadre from the mainland coast to the peninsular coast.
These cadre led by Balraj landed at Kudaarappu – Maamunai and then moved clandestinely into the interior by walking through the inland lagoon and marshy lands known as "kandal".
Army posts in Soranpatru and Maasaar were overrun and the tigers reached the A- 9 road near Puthukkaadu junction.
Thereafter the tigers led by Balraj moved up and set up positions at a place called Ithaavil near Pallai thus blocking military supplies to Iyakkachchi – Elephant Pass. The next few weeks saw an intense battle where Balraj and his band of intrepid fighters held on to Ithaavil against formidable odds. There were many twists and turns but Balraj fought on stubbornly beating back attempt after attempt to dislodge him.
After 24 days of fighting the army gave in. Elephant Pass was abandoned on 19 April. The LTTE hoisted its flag ceremoniously on 22 April. Balraj's incredible military feat was analysed and dissected in military manuals.
The LTTE under Balraj had demonstrated that it could engage in offensive and defensive positional warfare in deep enemy territory and triumph against superior armed forces without air support. It was hailed as a paradigm shift in the conduct of "limited wars".
On a personal note I was very eager to see Ithaavil when I visited the land of my birth in 2013 after 25 years of absence. We got down from our van at Ithaavil on the A-9 highway. We could not leave the road and venture into the interior because the surrounding areas were inaccessible due to mines. The area was being de-mined then.
"Operation Agnikheela"
A year after the fall of Elephant Pass came Balraj's finest accomplishment in defensive warfare. This was the military resistance to "Operation Agnikheela" launched by the Army on 24 April 2001. The armed forces had moved out from the Kilaly-Eluthumattuvaal-Nagar Kovul FDL's in a bid to re-take Elephant Pass. The LTTE inflicted heavy losses on the army.
With the Elephant Pass victory and the magnificent resistance displayed during "Operation Agnkheela" in retaining Elephant Pass the LTTE deputy-military chief's reputation was further enhanced. Balraj became a larger than life legend.
In September 2001 when "Col" Shankar was killed in a landmine attack by the army's deep penetration unit (LRRP) a virtual state of emergency was declared by Prabhakaran.
Balraj was directed to coordinate a defence strategy to counter the DPU and prevent further attacks. Balraj was engaged in this when the ceasefire was promulgated on 23 February 2002.
Balraj's health began deteriorating. He had always been affected by a "heart condition" and this began to worsen. In addition there were diabetes and kidney complications. When the ceasefire was in progress Balraj went to Singapore in 2003 with two bodyguards for advanced medical treatment. He obtained heart surgery there. It was on his return that some military officers met him at the Katunayake Airport. Details of this unusual friendly encounter were narrated in the first part of this article last week.
Balraj married Varathaa
Sadly for Balraj, trouble began brewing on the domestic front too. In keeping with the LTTE policy of arranging marriages within the movement Balraj too had married an LTTE woman fighter Varathaa. She was a close relative of LTTE supremo Prabhakaran who had personally arranged the marriage. Varathaa like Balraj had injured her leg in a battle. The couple had no children.
Married life however was not a state of bliss. There was temperamental incompatibility and the couple had serious differences. At one stage the wife started "complaining" against Balraj in public places. This led to arguments and squabbles.
Varathaa went to the LTTE police station and registered a complaint that Balraj had assaulted her. She also complained to the LTTE leader who was her kinsman. Prabhakaran then intervened and admonished Balraj. He also separated the couple. This increased Balraj's misery.
In a tragic twist Balraj's separated wife was stung by a Russell's viper and died. Though separated, Varathaa's death through snakebite caused inconsolable sorrow to Balraj. Apart from physical ill-health it is said that Balraj's emotional state declined considerably after his wife's death.
Worsening health
Due to his worsening health Balraj began to pursue a comparatively, sedate life. He was involved as a lecturer and instructor at the LTTE's military academy for officers.
Balraj taught military strategy, planning and tactics. He also provided specialised training for the LTTE commandoes and special forces. He had earlier been a visiting instructor and demonstrator at various LTTE training camps. The recruits and conscripts liked being taught by Balraj.
With increasing health issues, Balraj began to spend most of his time in a hospital in Puthukkudiyiruppu. But there was no way in which his services on the military front could end. The raising of the 59 division and its deployment in Manal Aaru/Weli Oya created fresh difficulties for the LTTE. Containing the armed forces in this strategically important terrain was of crucial importance.
Once again Prabhakaran turned to Balraj. Despite his ill-health Balraj began staying at the frontlines for extended periods. This worsened his physical condition. Yet he would leave the hospital and undertake prolonged trips to the frontlines inspecting and supervising defences.
Subsequently senior LTTE commanders Sornam and Bhanu were sent to Manal aaru to help ease Balraj's burden.
In May 2006, a confident Balraj had stated publicly that the LTTE would win the final war. Balraj said then: "The Fourth Eelam War will be the final war, and a terrible war that will bring the long awaited liberation to our people and our homeland. We are certainly positioned to be victorious. The people are with us and our leader will lead us to victory."
Cardiac seizure
Things did not turn out the way Balraj had predicted. Three years later in May 2009, the LTTE was militarily defeated. The final phase of the war was fought out in Balraj's home turf of Mullaitheevu district. Balraj was not alive then. He had died a year earlier. Balraj was receiving medical attention at a hospital in Puthukkudiyiruppu when he died of a cardiac seizure at about 2 p.m. on 20 May 2008.
(The writer can be reached at dbsjeyaraj@yahoo.com.)