Sri Lankan baker wins Paris's 'Best Baguette' award
ft.lk
Saturday, 13 May 2023 00:19 –      – 70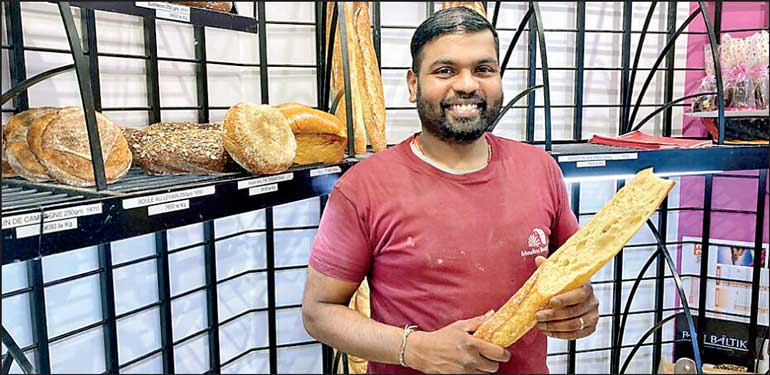 Tharshan Selvarajah 
Prize is 4,000 Euros and a year-long contract to supply baguettes to President of France at Élysée Palace
Au Levain des Pyrénées boulangerie and baker Tharshan Selvarajah, 37, took first place in the 30th annual "Grand Prix de la Baguette de Traditional Francaise de la Ville De Paris," the most revered baguette competition. The prize is 4,000 euros and a year-long contract to supply baguettes to the President of France at the Élysée Palace.
"I am so, so happy," Selvarajah, who moved to France from Sri Lanka nearly a decade ago, told The Washington Post.
The baguettes are evaluated in a blind tasting by judges, made up of experts in the baking community, journalists, previous winners and a few civilians. Each baker submits two baguettes that must be between 55 and 70 centimetres, weigh 250 to 300 grams and contain 18 grams of salt per kilogram of flour. The judges score on five categories: appearance, cooking, texture, smell and taste.
"They have a fun lottery that any person who's just a bread enthusiast can enter their name to be part of the jury," said Meg Zimbeck, who runs the review site and food tour company Paris by Mouth and was a judge for the competition in 2013.
Selvarajah came in fourth in 2018, one year after opening Au Levain des Pyrénées on the eastern side of Paris not far from the famous Père Lachaise Cemetery. "Now five years later, I'm first," he said.
He believes it was 80% hard work and 20% luck to beat the 126 other baguettes. (There were actually 175 submissions, but 49 loaves were disqualified for being the wrong size or weight.) He also thanked his religious inspiration, Sri Amma Bhagavan, for the award.
Zimbeck says it's not uncommon for an immigrant to win the prestigious award. "Most of the winning bakers have last names and family origins that are from outside of France," Zimbeck said, pointing to winners from Algeria, West Africa and Tunisia. Most recently, Tunisian baker Makram Akrout won the competition in 2021.
"This is a great example of immigrants making the iconic product and then going to serve it to the President, and I really love it," she said.
A day after the competition, Selvarajah said the bakery has been much busier than usual with people lining up to try his award-winning bread.
(Source: https://www.washingtonpost.com/travel/2023/05/11/paris-best-baguette-competition/)