With presidential election looming, SJB intensifies moves to form common platform
View(s): 274
JVP-led NPP and SLFP distance themselves from any such coalition, but Weerawansa-Gammanpila alliance supports talks with SJB
Namal says Aragalaya parties will reveal foreign forces that supported them
TNA's Sumanthiran says Aragalaya was hijacked by government leaders, asks why no action taken against them
Britain takes up Sri Lanka's issues, promises continuous support to recover from economic crisis
By Our Political Editor
Consolidation of each other's strength in Parliament appears to have become a priority for opposition political parties.
That such an urgency comes amidst a possible presidential election — after constitutional amendments — being a strong prospect this year, does raise a critical question. Reported in these columns last week was how the legal snags are to be cleared to pave the way for the presidential poll. Others like the parliamentary general elections, the provincial council elections and the local council elections are to follow.
Interesting enough, the need for a cohesive arrangement among opposition parties in Parliament to address issues coming before the House is the brainchild of the main opposition Samagi Jana Balavegaya (SJB). It comes more than two years after the parliamentary general elections of 2020 where the SJB emerged the number two. Is that by any means an admission that the main opposition in Parliament can no longer bear the pressures that many an issue poses in the regular business of Parliament? And that too from a grouping that confidently boasts of returning to power at the next elections? After all, since the parliamentary general elections in 2020, the SJB has remained intact as a political entity. The only loss has been two MPs quitting – Harin Fernando and Manusha Nanayakkara quitting to win portfolios. The SJB also resisted moves to be a party to a national government. In the alternative, like the many theories that govern conspiracies or 'hidden hands,' is there one at work?
SJB General Secretary Ranjith Madduma Bandara offered the obvious official explanation. "We are having discussions with other opposition political parties to work together to create a new political platform." Does that mean that the existing platform is not broad and strong? He noted that the talks were at a preliminary stage and added, "We have not decided on a symbol or on a set of conditions that would bind us together." Pointing out that "every party which is willing is welcome," Madduma Bandara said "it is too early. Discussions are continuing."
There was more from Tissa Attanayake, the National Organiser of the SJB. The one-time General Secretary of the United National Party (UNP), declared, "At the initial stage we are getting all the opposition parties to support us. This is by agreeing to a common platform. There are issues that can bind us, like for example the new laws on the Central Bank of Sri Lanka, the anti-terrorism bill and the issue concerning the X-Press Pearl disaster which disgorged large stocks of acid into our seas.
"Opposition members Dullas Allahapperuma, G.L Peiris, Palani Digambaram, the Ven. Atulariye Rathana Thera, Udaya Gammanpila, and Tamil National Alliance's M.A. Sumanthiran attended the meeting."
However, representatives of the Janatha Vimukthi Peramuna (JVP)-led National People's Power (NPP) and the Sri Lanka Freedom Party (SLFP) did not take part in the meeting.
Attanayake said the SJB had given its leader Sajith Premadasa a mandate to meet all willing opposition political parties represented in Parliament every Monday and continue discussions. How the alliance should take shape will also be his responsibility, he added.
Speaking for the SLFP, its General Secretary Dayasiri Jayasekera termed the SJB exercise a "political gimmick." He said, "We did not go for the SJB's meeting with opposition parties. The SJB says this meeting is held to get the opposition political parties into one stance. They say that to media and later make statements that they created an alliance."
Jayasekera added, "they say one thing – and they do another thing. They are slowly driving those parties to create an alliance. We must think twice and discuss among our parties to consider whether to participate in those meetings. But the issue is this; the next day our supporters would be upset as the SJB states it forms an alliance if we go to a meeting to come into one stance."
Udaya Gammanpila, leader of the Pivithuru Hela Urumaya , which is a constituent party of the Uttara Lanka Sabhagaya , an alliance of opposition parliamentarians led by National Freedom Front leader Wimal Weerawansa, had his own take. He said:  "The SJB held meetings with other opposition political parties such as the Uthara Lanka Sabhagaya, Nidahas Jathika Sabhawa and other parties. The meeting was held to get all opposition parties into a common stance and engage in parliamentary activities.
"There are many parliamentary bills which would negatively affect the public such as the impending laws relating to Anti-Terrorism and Central Bank. Therefore, the main Opposition held meetings with us to get all the opposition parties into one political body with a common stance. There are no conditions, we are not forming an alliance or a coalition. We are only coming to an understanding through discussions and taking a common stance.
"We will study the order paper and discuss it among opposition parties to come to an understanding and take a common stance.
"This is not done targeting an election, The Presidential election would be held possibly in November this year in terms of government thinking. Otherwise, the polls are due only in October 2024. Therefore the constitution needs to be amended if that election is to be held early. This is not a move which targets an election."
As parliamentarian Gammanpila points out the proposed new platform of opposition political parties is not directed at a forthcoming presidential election. How then are the opposition parties preparing themselves for the likely presidential election? Other than the SLFP which has made categorically clear that it will not be a party to the alliance, the Sri Lanka Podujana Peramuna (SLPP), the main governing party, has also made similar comments. Details of how the party is debilitating and had its worst attendance at the last May Day rally were reported in these columns last week. There is another turn of events now.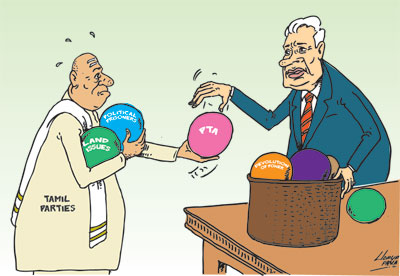 The parliamentary group of the Uttara Lanka Sabhagaya also discussed the prospects of a presidential election by year's end. It was based on the comments in the political commentary of the Sunday Times last week. The meeting was held at the Communist Party headquarters. CP General Secretary Weerasumana Weerasinghe raised the issue over the references. He said, "I pointed out that if a presidential election would be held first as said in the political commentary, we have four options. They are — we can contest the presidential election by putting our own candidate; we could support another candidate; we could not have our candidate or support a common candidate. We should take the best option which suits the current political situation. Therefore, all the parties representing the Uttara Lanka Sabhagaya agreed that broader discussions needed to be held to decide on the best option that we should take."
Namal Rajapaksa's revelations
Namal Rajapaksa, a one-time minister and partially backed aspirant for the next presidency, though billed to have little support, answered questions from reporters from an unusual location — near the Colombo Magistrate's Courts. Here are some significant highlights: "Some JVP leaders are also now saying that the Aragalaya (struggle) was controlled by another party, an external force. One parliament member who was with us has even written a book on the matter (Namal Rajapaksa is obviously referring to Wimal Weerawansa's book where he fairly and squarely implicates the United States of America and its Ambassador Julie Chung). There will be more information revealed regarding this third party of the Aragalaya in the future. It is not us who would reveal this, the ones who were at the Aragalaya such as the JVP. They themselves will do that. They themselves say that some embassies were involved in this. More will be revealed in the future.
"The current government is appointed because of the Aragalaya (struggle). President Ranil Wickremesinghe and the cabinet have been appointed because of this. If there is fraudulent activity regarding X-Press Pearl (the cargo vessel that sank in Sri Lankan waters with a cargo of acid and plastic pellets) action should be taken and the law should be implemented on the matter. However, this should not be a political headline just like the gold horses and Lamborghini cars.
"If someone had made statements, had evidence and given names of persons involved, then investigations should be held and legal action taken. If some people are safeguarding themselves by seeking immunity from parliamentary privileges and destroying someone's reputation that is wrong. We do not approve of that. That is what Yahapalana Government did.……….."
Parliamentarian Namal Rajapaksa is insinuating that the 'aragalaya" last year led to the appointment of President Wickremesinghe and his cabinet. In other words, Namal Rajapaksa has propagated the thought President Wickremesinghe was a beneficiary of it. True? Was it not his own uncle, Gotabaya Rajapaksa, who first saw to the appointment of Wickremesinghe as Prime Minister? Was it not the same former President who later ensured the appointment of Wickremesinghe as President? Another interesting observation – Namal Rajapakasa makes clear he was in the know of the author of the book in question, MP Wimal Weerawansa, hoping to come up with more details. The issue is becoming curioser.
Just last Thursday, TNA's Abraham Sumanthiran told Parliament "last year around this time the country was going through an upheaval – an "ARAGALAYA" (or struggle). And I heard moments ago the chief government whip saying that they had nothing against the peaceful protestors, but it was only against those who resorted to violence and attacked members of Parliament and others. He repeatedly said he had no complaints against the peaceful protestors. Now how did the peaceful protest that had been going on for more than a month become violent? That's the crucial question. What happened on the 9th of May? On the 9th of May, the protest was still peaceful — and I am glad former President Mahinda Rajapaksa is here in the house when I say this — until people who have gathered at Temple Trees to meet him, after the meeting those very people rushed to Galle Face and beat up the peaceful protestors, that's how the violence started.
"Everyone knows that; members from the government rank are also saying it was peaceful. President Ranil Wickramasinghe, even tweeted around this time last year, saying if the government attacks peaceful protestors like this I will stop helping the government regarding the economic recovery. All know that, but to this day, no one has been apprehended except one person I believe, today or yesterday. So that is when the violence started. No point saying, there were political opponents who were behind the violence; that was counter.
"After you sent your goons from your house to go and attack peaceful protesters, yes there was some counter-violence. We condemn both. We have consistently condemned both. We have condemned violence; we have condemned the counter-violence. But it is important to note and have on record, as to who started the violence.
Though one cannot complain over it, the father and the son (i.e. former President Mahinda Rajapaksa and one-time minister Namal Rajapaksa) are propounding contrary views.
"Now when this debate goes on to the matters with regard to the ship, I want to say one more thing. The whole "Aragalaya" — the peaceful protest — was to make changes, people were disgusted with what was happening in the country. The status quo with regard to political power and how that has been used that is why they wanted then incumbent Gotabaya Rajapaksa to leave. The second request was the 20th amendment to be repealed. Third – for the executive presidency to be abolished. Now I have heard many people say including the president that the peaceful protest was hijacked by some people. May be; may be it was hijacked or seemed to have been hijacked at that time. But the real hijackers of the Aragalaya are still those in the government led by President Wickremesinghe. The whole people's movement for change was hijacked and turned around with eyewash amendments – 21st amendment, a mockery of an election for the president and the same status quo continued. That's the hijacking of the people's movement for change. But I want to say this: that kind of action will not last, when a people decide that they want, it will happen. It might take time, but it will happen….."
This is whilst the second round of the dialogue between the Government and Tamil political parties had to be postponed for May 15. During the first day of the talks that lasted an hour and 50 minutes, the dialogue was mostly between President Wickremesinghe and TNA's Sumanthiran. TNA leader Rajavarothayam Sampanthan, due to turn 90 in weeks, declared there was an urgency to resolve issues.
Dharmalingam Sidharthan MP intervened at the end saying that the South Africans introduced a Truth and Reconciliation Commission only after agreeing on a political way forward in their primary conflict. He argued that the Tamil leadership had placed demands such as the release of the remaining 'political prisoners', halting the takeover of land and, committing on dates for holding elections for the Northern and Eastern Provincial Councils, giving special economic status to these two provinces as war-affected provinces, and further five demands in relation to power sharing that were placed before the President during the talks held in January this year:
The five demands were:
Appoint the National Land Commission and formulate a comprehensive land policy.
Set up a Provincial Police Force as envisaged in the Constitution.
Effect necessary amendments to (a) Provincial Councils Act, (b) Provincial Councils (Consequential Provisions) Act and (c) Transfer of Powers (Divisional Secretaries) Act
Reverse all the Central enactments (from the National Transport Commission Act, Agrarian Services Act, to Divineguma Act) that took away powers given to the Provincial Councils back to the Centre.
Abolish the concept of National Schools and revert all schools and hospitals that now come under the central administration to the provinces.
In the last few minutes before calling the meeting to a close, the President turned to the various heads of government departments and ordered that all actions relating to land in North and East must stop until further notice.
House of Commons discusses Sri Lanka
In this backdrop, as Britain readied for the coronation of King Charles III, the House of Commons on May 11 held a debate on the economic situation in Sri Lanka. It was proposed by Matthew Offord. He noted, "My constituency is home to many members of the Sri Lankan diaspora, many of whom still have families in the country. Therefore, the economic and political circumstances of Sri Lanka are important to many of them and, indeed, to me. I thank all the constituents who regularly make contact to update me on the situation in the country. I have also been fortunate to be in contact with many sections of the Sri Lankan community and charities across the UK, such as the Sylvia Lanka Foundation, through my chairmanship of the all-party parliamentary group on Sri Lanka.
"It goes without saying that the economic situation in Sri Lanka has been dire and remains so. The roots of the problem go beyond the global economic situation created because of the covid-19 pandemic and the war in Ukraine. For some years now, Sri Lanka has been undergoing severe macroeconomic stresses. Pre-existing conditions have simply been exacerbated by international circumstances. At points, the economy has been overvalued. Unnecessary populist reforms by the previous Government were mishandled, with significant tax cuts leading to a huge decrease in tax revenues, with an estimated loss at one point of over £1 billion. A severely misjudged ban on the import of chemical fertilisers led to a 30% annual drop in farming yields. Despite a reversal of the ban following protests, the damage was already done. In the throes of an economic crisis, the short-lived ban led to food shortages and heightened inflation."
A response came from the Minister of State, Foreign, Commonwealth and Development Office, Andrew Mitchell. Highlights of his speech:
"The UK and Sri Lanka have a long-shared history, as marked by the 75th anniversary of our diplomatic relations this year. We are bound by strong relationships between our institutions, businesses and, most importantly, our people. Many UK citizens and parliamentarians have close ties to Sri Lanka, and it is a relationship that matters very much to the United Kingdom. It has therefore been troubling to witness Sri Lanka's economic decline.
"The fallout from the 2019 Easter Sunday attacks, to which my hon. Friend referred, the covid pandemic, and the effects of Russia's invasion of Ukraine have all posed severe challenges to Sri Lanka's economy. Those events have been compounded by structural weaknesses, including long-term financial mismanagement. Sri Lanka defaulted on its debt obligations last May and entered a severe economic crisis. Inflation peaked at 73%, one-third of the population lacked access to affordable, nutritious food, and there were shortages of fuel, medicine and basic necessities. According to a recent assessment by the Central Bank of Sri Lanka, the country faced a multifaceted disaster. While the situation has since improved, many are still struggling, and many Sri Lankans have experienced a profound decline in living standards.
"Recognising the deteriorating humanitarian situation, the British Government provided £3 million of targeted support for those most severely affected. While it is unusual to provide humanitarian assistance to a lower-middle-income country outside a disaster situation, that reflected the level of economic hardship and urgent need, as well as the very close and friendly relationship between our two countries. Delivered through our UN partners and the Red Cross, our support has provided food for schoolchildren, hygiene kits for girls, and multi-purpose cash grants for poor and vulnerable families to meet essential household needs, including food. That complements UK support provided through multilateral agencies, such as the United Nations Central Emergency Response Fund. The UK is the largest donor to the fund, having contributed more than $1.7 billion since its inception in 2006, and it has already provided $5 million to Sri Lanka.
"The Asian Development Bank and the World Bank are providing emergency assistance under a joint action plan to help to reduce the impact of the economic crisis. The UK is also working with international partners and the Sri Lankan Government to address the causes of the crisis, and to support debt sustainability and economic recovery. We welcome the International Monetary Fund's recent approval of a four-year programme worth $3,000 million to support Sri Lanka's economic policies and reforms. That has now begun, with the first tranche of financing disbursed. We will continue to support Sri Lanka's debt restructuring process and encourage all creditors to engage constructively in these negotiations.
"We recognise Sri Lanka's commitment to the policy reforms that are required to keep its IMF programme on track, and we look forward to working with its government on that agenda as well. Our conflict, stability and security fund programme is already supporting parliamentary Committees on the issue of public debt management. We look forward to working with the Sri Lankan Government on their proposed reform agenda, including their ambition to build back greener; 18 April, the UK and Sri Lanka held an inaugural strategic dialogue, in which we discussed how we could further support the country's economic recovery. We will continue to explore ways in which we can help the Sri Lankan Government to advance their reform agenda. Furthermore, the new developing country trading scheme will enable Sri Lanka to benefit from duty-free exports to the UK in respect of more than 80% of products and will remove tariffs from more than 150 additional products.
"My hon. friend asked me specifically about China, and I wish to respond to his question in some detail. China is an important source of aid, trade and investment for many developing countries. Chinese investment, including investment under a belt and road initiative badge, can help to fill the global infrastructure gap, alongside other infrastructure initiatives, but we recognise the potential risks that this poses in relation to issues such as debt sustainability and China's economic and political influence.
"The nature of Sri Lanka's debt owed to China is complex and varied, and China's past reluctance to provide debt treatments is a cause for concern. It holds 13% of Sri Lanka's external debt stock, a level that is like the 12% held by the Paris Club and the 7% held by Japan, and lower than the private market borrowing level of 42%. We welcome the specific and credible financing assurances from Sri Lanka's major bilateral creditors, including China, to help the country to secure an IMF support package. As I mentioned, that was approved by the IMF's executive board on 20 March. We recognise the importance of all creditors, including China, engaging constructively in debt restructuring negotiations and policy reform, in Sri Lanka and in many other countries as well.
"I turn now to the important issue of human rights. Some hon. members from across the House have from time-to-time proposed conditions being placed on IMF assistance to Sri Lanka, but the fund is unable to impose those in relation to politics or human rights. We will closely follow Sri Lanka's reform agenda to ensure social safety net protections adequately support all communities. We will also support the fund's requirement for Sri Lanka to implement a comprehensive anti-corruption framework.
"The UK, alongside our partners, has led international efforts to promote human rights for all communities in Sri Lanka, including through resolution 51/1 at the UN Human Rights Council. We urge the Sri Lankan Government to engage with key stakeholders, including victim communities, to ensure the success of those initiatives. As penholders of that resolution, we continue to call for progress on human rights, the rule of law and good
governance.
"We welcome Sri Lanka's positive engagement in the universal periodic review process. However, we have made clear our concerns over heavy-handed responses to peaceful protests and the importance of upholding the rule of law and safeguarding representative democracy. I can tell the House that the Minister for the Indo-Pacific met Foreign Minister Ali Sabry on 14 March, where they discussed Sri Lanka's plans for transitional justice mechanisms, along with many other matters.
"We continue to be concerned by Sri Lanka's economic situation for many reasons. Throughout this difficult period, the UK has been engaged in helping those who are worst affected. We will continue to work with international partners to promote Sri Lanka's economic recovery and assist with its reform programme. We will also continue to play a committed role in supporting Sri Lanka towards an inclusive, democratic, and prosperous future."
Domestically if the opposition is preoccupied with a role-searching mode, beyond the shores of Sri Lanka, the country's economic recovery remains a high priority of friendly nations.