Zibo barbecue: Millions bring sudden fame to industrial Chinese city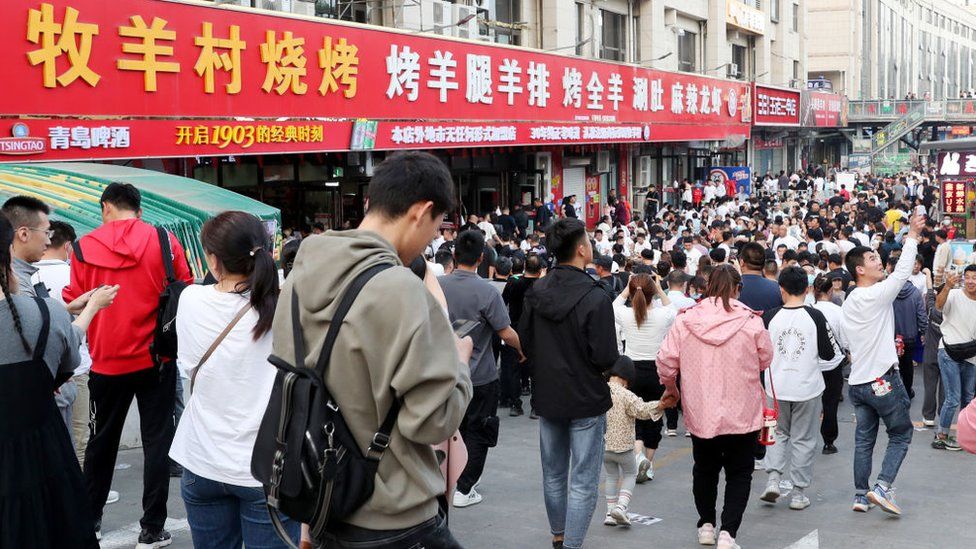 Zibo, a sleepy industrial city of 4.7 million in eastern China, is not typically known as a tourist hot spot.
But when Zibo native Mr Zhang travelled home for his wedding last month, he was stunned by the "outrageous" deluge of tourists that he found.
Going back to the city had never been an issue before, said Mr Zhang, who did not give his full name. "But this time, I couldn't promise my guests that I could either get high-speed train tickets for them, or guarantee a hotel room booking, let alone find a place available for a barbecue meal," he told the BBC.
Zibo has been at the centre of a social media frenzy since China shed its Covid restrictions in January. Millions of domestic visitors have descended on the previously little-known city in Shandong province, lured by influencers and a chance to let off steam after crippling lockdowns.
But the biggest attraction is barbecue on the cheap, with skewers selling for as low as 2 yuan ($0.30) each.
Footage posted from Zibo shows a bustling atmosphere as crowds eat and drink their fill. A video on Chinese social media platform Xiaohongshu shows revellers breaking into dance and song around their dining tables, while others wave light sticks around.
"There was an open-air karaoke session going on, everyone was passionately eating and singing their hearts out," wrote the user who posted the video.
One of the nation's favourite cuisines, especially in the north and west of China, barbecue typically involves small pieces of marinated meat and vegetable skewered and grilled over charcoal.
Locals in Zibo particularly enjoy rolling the grilled skewers in thin pancakes with scallions.
Some online influencers are now calling Zibo "China's outdoor barbecue capital". There are more than 1,270 barbecue joints in the city, according to the president of Zibo's Barbecue Association.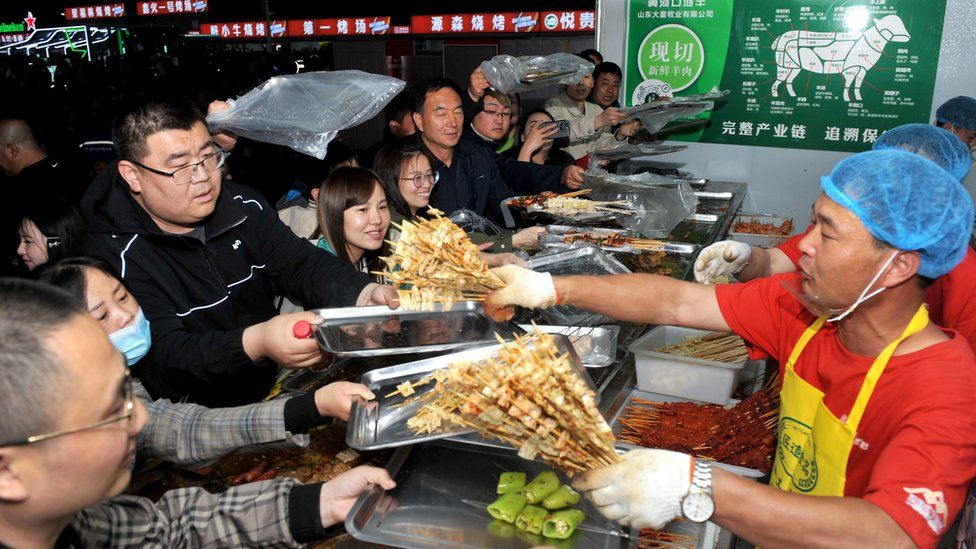 "Zibo barbecue" has been a trending topic on Chinese social media platforms like Xiaohongshu and Weibo since early March.
That month, Zibo's population more than doubled. On 29 April, Zibo Railway Station saw a record 87,000 train trips to and from the station, according to Chinese news website Caixin.
The city also saw one of the nation's highest hotel room occupancy rates during the Golden Week holiday in the first week of May.
Domestic tourism in China rebounded above pre-pandemic levels during Golden Week, with 274 million trips made within the country. This is almost 20% higher than in 2019, according to China's Ministry of Tourism.
Local authorities in Zibo have been quick to capitalise on the sudden influx of visitors. A barbecue zone that can accommodate 10,000 people, featuring live band performances, was built overnight.
Volunteers, including kindergarten children, have been dispatched to the railway station to offer advice and recommendations to tourists, while museums have extended their opening hours. Designated buses and trains bring tourists to and from the hottest barbecue spots.
The government has even threatened to punish profiteering hotels who raise prices by more than 50%.
Many say such moves have been a big draw for tourists.
One third-year university student described the barbecuing methods as delicious and unique. "The government also reacted swiftly and grabbed onto the trend. People there are down-to-earth, friendly to tourists, and prices and cheap. Sincerity is always the best killer move," said the man, who declined to be identified.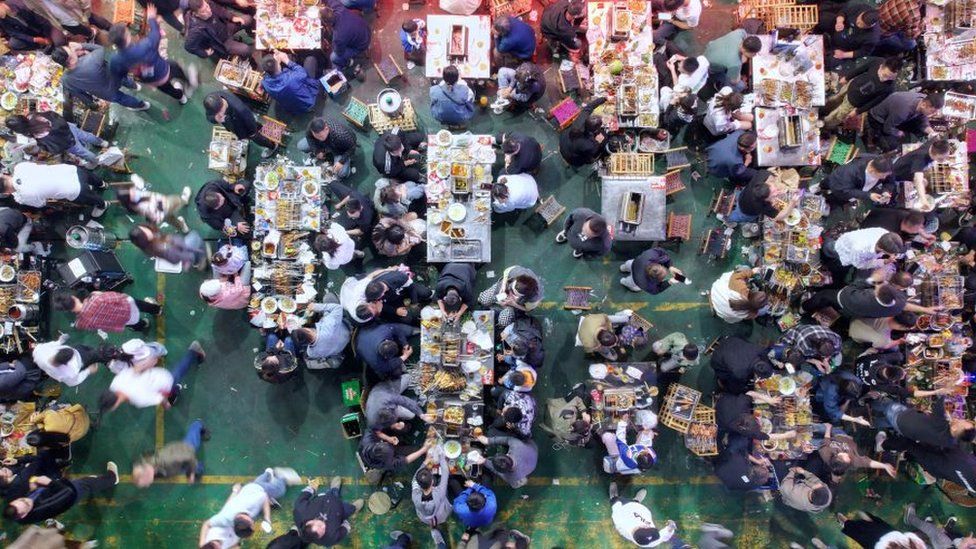 Several theories have surfaced as to Zibo's newfound popularity.
One harkens back to almost a year ago, when more than 10,000 university students from other cities were transported to Zibo for quarantine.
After they were released, authorities treated them to barbecue, and invited them to come back for a visit "during the warmth of spring when all the flowers bloom". Some accepted the invitation, and hashtags about their trips started trending on social media platforms like Douyin, China's domestic version of TikTok.
Zibo's cheap prices are also appealing to students who have adopted the recent trend of "special forces" travel, which features short trips with packed itineraries, at minimal cost.
"We don't have much money, but we have a lot of free time," said the third-year university student who declined to be named. "After three years, people feel suffocated, so everyone is revenge-travelling."
Social media influencers have spread the word too. In a widely liked Douyin video, SpecialWulala, a food vlogger with more than 15 million followers, travelled to Zibo in March after being tagged by people asking him to visit.
A month later, a popular influencer who specialises in exposing dishonest restaurants went to Zibo and said he found nothing underhand about any stalls.
Butnot everyone in the city has been able to cope with the influx of tourists.
A video widely shared on Weibo shows a restaurant owner on his knees, repeatedly bowing down and apologising to a customer who was not served as the restaurant was at full capacity. "Please forgive me," he said.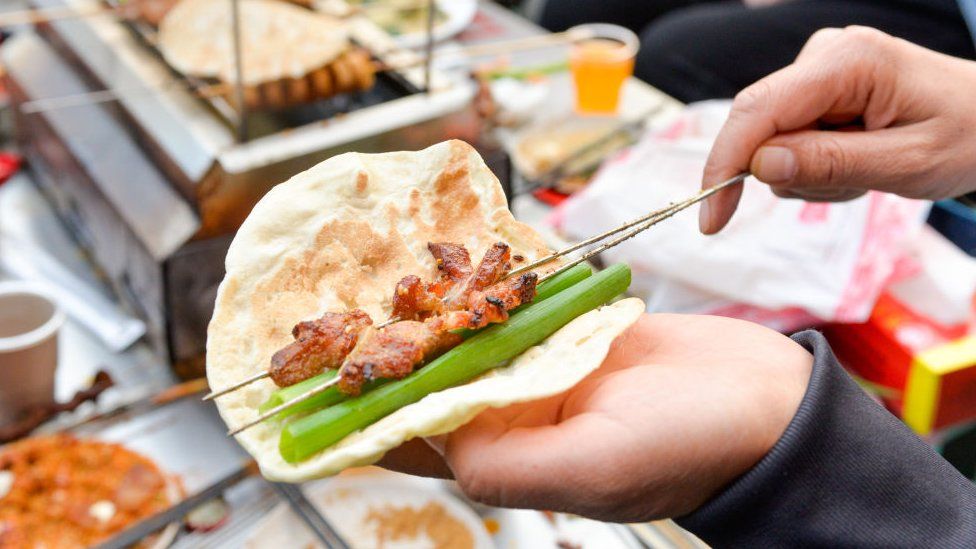 An employee of the restaurant said staff had been sleeping just four hours a day in order to fulfil customer demand, according to South China Morning Post.
On 26 April, officials from Zibo's Culture and Tourism Bureau even published a letter advising people to avoid the city during the May Day holiday.
"The Zibo barbecue 'fire' has gone out of hand. We have been doing our best to accommodate the recent influx of tourists, but it has caused trouble and inconvenience to everyone," they wrote.
Mr Zhang agrees having so many tourists is not sustainable, especially as barbecue is a summer event.
"In the long run, it is really up to the city's capacity. It has less than five million people, so it's hard to host a net inflow of 200,000 people."
Still, most locals seem happy enough about the influx of visitors and shy away from hot spots to make space for outsiders, according to Mr Zhang, who says he is "proud" that his hometown has gained nationwide fame.