Prez gives authorities one month to present plan to accelerate digitalisation process
---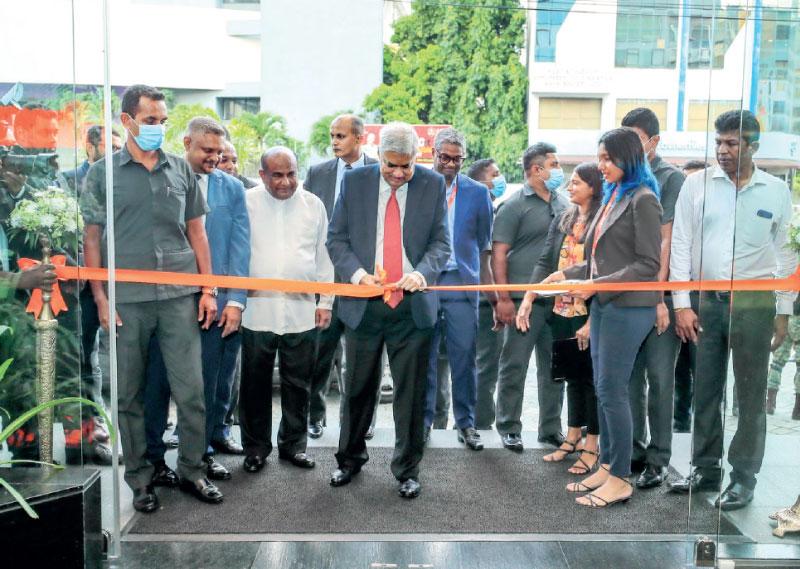 President Ranil Wickremesinghe cuts the ribbon at the entrance of the new headquarters of Daraz in the presence of government officials and senior management of the e-commerce giant 
---
Acknowledges SL has been slow in embracing digitalisation
Suggests following India's lead in this regard
Says govt. aims to run digital economy and green economy side by side
---
President Ranil Wickremesinghe has given the relevant authorities a timeframe of one month to present a plan to accelerate the digitalisation processes, so that there are no more delays in steering the way forward in this regard.
Acknowledging that the island nation has made "every effort" in digitalisation, Wickremesinghe said discussions are underway to explore avenues to kick off and accelerate the process.
"We are now in the age of e-commerce but the initiation of e-commerce in our country has been slow in picking up. I don't think we really need to reinvent the process. Because what takes place in Tamil Nadu, South India would be more than convenient for us if we can use it here," said Wickremesinghe.
He made the comments while addressing the inauguration ceremony of the new headquarters of e-commerce giant Daraz, this week. According to Wickremesinghe, Sri Lanka is also presented with another advantage in embracing digitalisation, as it would have access to a larger consumer base.
Sri Lanka employing the same method as India will allow it to cater to another 50 million consumers, in addition to the island nation's population. "I think most of us in Sri Lanka are conversant with Tamil and English, which is making it very easy for us to work further. So, let's speak with India to see whether we can get help from Tamil Nadu and use the Tamil Nadu system in Sri Lanka," he said.
He went on to share that discussions are underway to look into the need to bring in the necessary legislation, which would not only lay down the format but also put the responsibility on different government organisations and other selected private organisations.