Model to bridge the food gap with organic home gardens – A school in Godagama sets an example
Organic Gardening has become a part of the school culture of the Godegama Subharathi Maha Vidyalaya. The School Home Garden Program has brought with it a contented mind and the produce contributes to a healthy diet.
The Students of the School do not take the food they eat for granted. They are not taken as a matter of course. Seeds have to be collected and tended in Nurseries. The small plants have to be cared for and protected from predators and weeds. The plants have to have organic nutrients and water. Transplanting has to be carefully done and the plants nurtured to grow up and blossom and be ready for Harvesting. Then the Home Science Teachers will work with students on preparing the nutritious meals.
As the project expands, the idea is to make the Home Garden advance to Market Gardening in the surrounding villages, which will involve training in marketing the produce. This will be looked at, by the students doing A Level Commerce.
Over time, home gardening will be incorporated into subjects like Biology so that those subjects will get a new dimension and acquire a new life. The Home Garden will be the Laboratory without any extra cost to the school.
The Subharathi Maha Vidyalaya Home Garden program has been working from its inception with Nest, a Community based organization in Mental Health. Home Gardens and Organic Agriculture are an integral part of School initiative.
This program started in November 2022. The aim of was to create an organic garden in the College premises and then to create 150 gardens in the homes of the students.The first phase was to conduct a training program on organic gardening for fifty students studying agriculture as a subject in the school.
The Home Garden at the school experimented with the "Isuru" variety of Kiri Ala developed by the Department of Agriculture. High quality seedlings from a nursery in Kandy approved by the Department of Agriculture was procured for this purpose. The special feature of this improved variety is that more yields can be obtained in less time and It is also easy to maintain.
Suitable soil for this purpose from the college garden was of great importance. For a start, enriched soil was brought from outside. Coir and Dahaiya were added to the soil making it suitable for yam cultivation. The environmentally friendly the grow bags were filled with soil and coconut husks. All these activities were done in a manner that students were drawn into preparing the bags, thereby gaining practical experience. The parents were involved in preparing the soil.
Food and nutrition crisis in the country has made planting yams vital to supplement the vegetables plots in the gardens. Yams acts as substitute for wheat flour and rice. A crop of 400 kg is expected from the first lot of 70 plants which are being grown.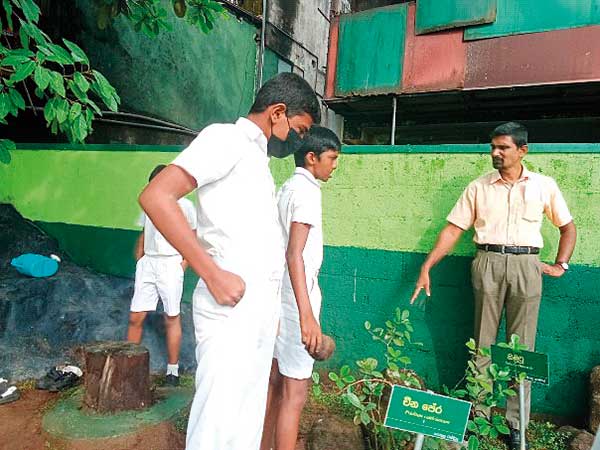 ---