Cabinet hails decisive diplomacy of President to win over Japan
Wednesday, 31 May 2023 00:00 –      – 119
---
Approves rolling out JICA-funded $ 2.2 b LRT project again
Decides changes or cancellations of bilateral projects can only be made with P'ment approval hereafter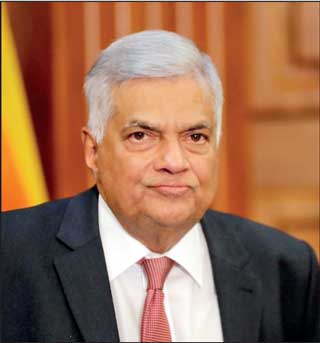 President Ranil Wickremesinghe
By Charumini de Silva
President Ranil Wickremesinghe's "decisive diplomacy" following strained relations with Japan was hailed by the Cabinet of Ministers at its meeting on Monday, whilst approving the interest in picking up the abruptly abandoned Light Rail Transit (LRT) project.
"Before leaving for Tokyo, the President got the approval from the Cabinet to resume the discussion on the LRT project. The official visit to Japan was an important and a decisive step towards winning their trust again," Cabinet Co-Spokesman and Minister Bandula Gunawardena said at the post-Cabinet meeting media briefing yesterday.
Noting that Japan is a key development partner of Sri Lanka, he claimed that the abrupt cancellation of LRT and East Container Terminal (ECT) hit the diplomatic ties between the two countries.
"The Cabinet cleared the proposal furnished by President Wickremesinghe on getting approval, any change or cancellation of a bilateral project could only be made with the approval of the Parliament. He travelled to Japan after creating the background to allay some of these key concerns," Gunawardena explained.
The proposed LRT service can complete the journey from Malabe to Colombo Fort within 30 minutes during peak hours and operate a train every 10 minutes during off-peak hours.
The support in principle was extended after the Japanese Government agreed to help Sri Lanka under Wickremesinghe's leadership to revive the Colombo-Malabe LRT project in December 2022.
The LRT project, stretching from Colombo Fort to Malabe was a $ 2.2 billion project funded by Japan International Cooperation Agency (JICA) and was unexpectedly terminated by the previous regime.
However, in September 2020, on the advice of former President Gotabaya Rajapaksa, Secretary to the President Dr. P.B. Jayasundera abruptly instructed the Transport Ministry Secretary to terminate the JICA-funded LRT as it was very costly and not the appropriate cost-effective transport solution for the urban Colombo transportation infrastructure.
As per a report compiled by the National Audit Office (NAO), Sri Lanka lost nearly Rs. 6 billion due to the previous Government's unilateral cancellation of the LRR project, which was started with Japanese loan assistance to reduce traffic congestion in Colombo and provide a better transport service to passengers. The NAO highlighted in its report that the decision to terminate the Light Rail Transit (LRT) project in 2020 resulted in a waste of Rs. 10.6 billion. At the time the Government decided to cancel the project, multiple parties had already spent the above-mentioned amount.
The Auditor-General has suggested that, while submitting its observations on the Cabinet Memoranda, the Treasury makes every effort to give impartial professional observations that go beyond supporting the actions requested by the Memoranda. These findings were presented in a special audit report on the Japanese light rail project produced by the Auditor General's Department in November 2022.