Wednesday, 31 May 2023 00:20 –      – 80
Ramveer Tanwar – India's Pond Man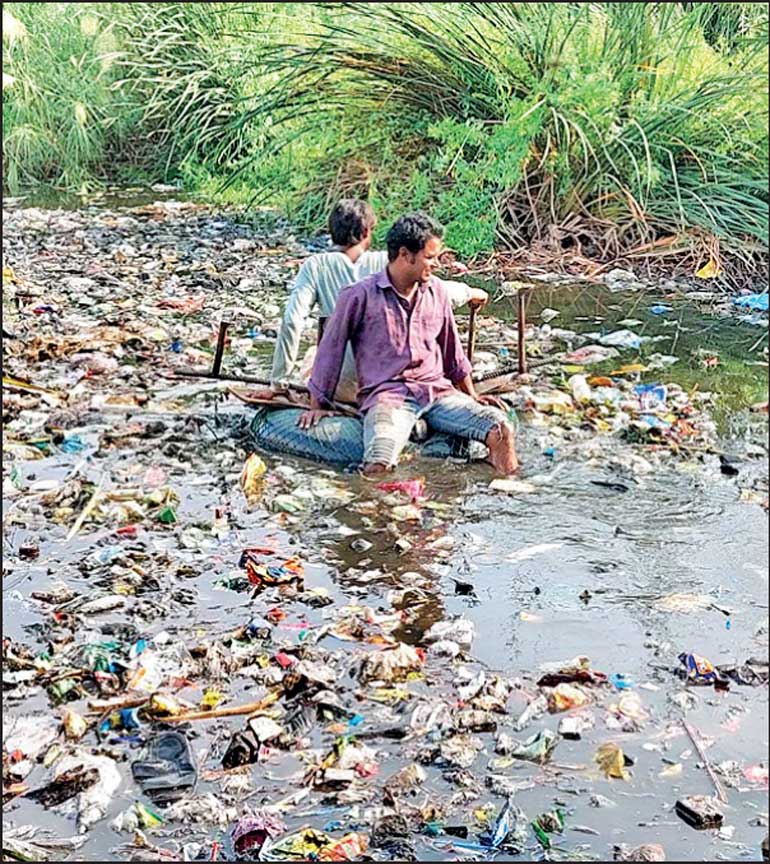 A highly polluted pond in India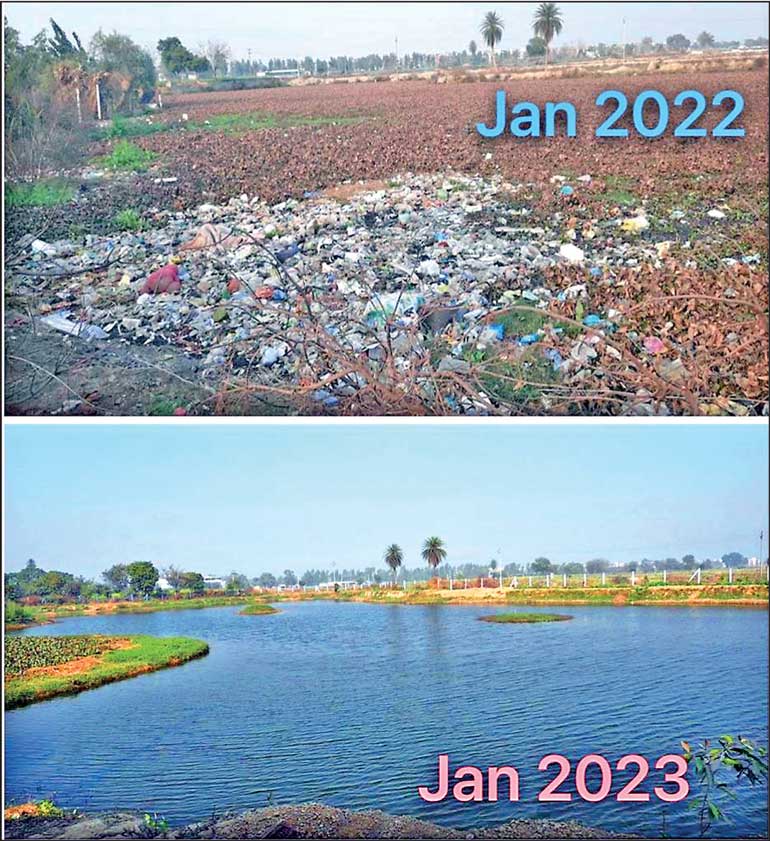 A pond before and after revival
Tanwar in his element
---
A mechanical engineer by profession and an environmentalist at heart, Ramveer Tanwar, gave up his promising career to take up full-time water conservation in India. The 30-year-old Tanwar from Gautam Buddha Nagar in India's Uttar Pradesh is affectionately called 'Pond Man' by his fellow countrymen for his tireless efforts in reviving India's water bodies including ponds, lakes and wetlands.
Tanwar who founded the NGO, 'Say Earth' which is committed to revival of water bodies and creating environmental awareness, also provides consultancy to numerous like-minded organisations in India. On Tanwar's recent visit to Sri Lanka – his first ever to the island, to participate at the second SARNET (South Asia Rainwater Network) conference, Daily FT caught up with the water conservationist who has even been applauded by India's Premier Narendra Modi for his labours.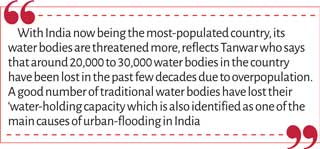 By Randima Attygalle
The youngest of the five siblings, Ramveer Tanwar grew up in a pastoral setting in India's Uttar Pradesh. Born to a farming-family, young Tanwar often ferried himself between school and fields. While the family's herd of buffaloes were allowed to graze, Tanwar finished his homework and plunged into the waters, becoming a self-taught swimmer. "Since my childhood I have had a great connection with water. And watching water bodies in the village dying in front of me kindled me to galvanise myself to revive them," recollects Tanwar.
While reading for his degree in Mechanical Engineering at Uttar Pradesh Technical University (now known as Abdul Kalam Technology University/AKTU), Tanwar started tutoring youngsters in mathematics and physics as means of financing his studies. He was the first in his family to enter College. Together with his students, Tanwar launched the campaign 'Jal Chaupal' or Water Meeting in his village to urge people to conserve water and to save water bodies. In 2015 Tanwar and his team of volunteers including his students and their parents cleaned their first pond of all garbage and planted trees around it. Soon Tanwar was invited by neighbouring villagers to replicate the same in their settings as well. Tanwar's passion for pond-rejuvenating made his office colleagues name him 'Pond Man' – the title he is best known by today.
From engineer to Pond Man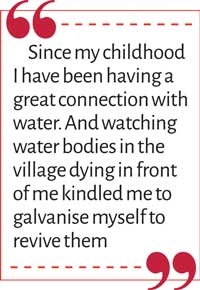 In 2016, while his family was still celebrating his higher education and his lucrative job, Tanwar quit the same to become a full-time conservationist. "For about three months I pretended I was still doing my office job. Soon I was drained trying to keep it under the wraps," says the smiling 'Pond Man'. Tanwar was a family man by this time with two young children and the family was dismayed by his bold decision to put his hard-earned engineering degree behind and to take up an 'unskilled job' as many would see it.
In a conservative social setting, Tanwar's decision was even harder, he says. "Pond-cleaning is looked down upon by many as an illiterate man's job which requires no skill; a manual labourer's task for someone who cannot even dream of an office job. When I used to approach government agencies responsible for the water bodies in India, the officials used to give me that look, 'are you off your head?' kind-of," reminisces the activist who is now a trained conservationist. Having received his training at the Central Pollution Control Board (CPCB) and the Ministry of Environment & Forests (MOEF) in India, Tanwar is a much sought after advisor and a consultant to government agencies and several NGOs committed to environmental protection and also a mentor to many young conservationists. Tanwar was recently appointed the brand ambassador of Swachh Bharat Mission, Ghaziabad and the district coordinator of the Groundwater Force by the Uttara Pradesh government.
Watching Prime Minister Narendra Modi acknowledging Tanwar's efforts in reviving India's water bodies on national television was a momentous moment for the conservationist. Tanwar, who had to strive hard to source funds for the cause with public donations and the private sector, is today supported by some of the leading multinational giants as well. Looking back at his journey todate, Tanwar calls himself a lucky man and humbly admits that he is not doing anything extraordinary. "I think we all have to play our part for the country and I'm merely doing my role," says the advocate who mourns that India's rich hydraulic heritage is at stake with 40-50% of its water bodies already lost to the nation.
India's threatened water bodies
The term 'pond', although would translate into a small, land-based body of water, is used to denote all kinds of water bodies including large lakes in his hometown, explains Tanwar whose mandate extends to all water bodies including wetlands. 'Pond revival' as the conservationist explains, is the process of bringing a pond back to its original condition where it fulfils its original purpose.
"A pond ideally serves three objectives: they support aquatic life, bio-diversity and human life. When a pond starts to fulfil these purposes, we say that the pond has been revived," explains Tanwar who goes on to note that a coordinated approach is required for each pond. "While some are full of garbage, others may be full of aquatic weed, so each needs a different approach."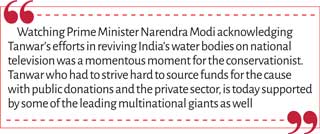 With India now being the most-populated country, its water bodies are threatened more, reflects Tanwar who says that around 20,000 to 30,000 water bodies in the country have been lost in the past few decades due to overpopulation. A good number of traditional water bodies have lost their water-holding capacity which is also identified as one of the main causes of urban-flooding in India, he says. Although laws and policies are in place for rainwater harvesting (collecting and storing rainwater for later use) which serves as a flood mitigating tool as well, the implementation rate of it is only about 30%, says Tanwar.
"The growing population will require more space to build and many water bodies are filled up. It is predicted that 40% of India will not have access to clean water by 2030 which is a serious situation." Although artificial rainwater harvesting systems have been adopted in urban India, natural water harvesting methods such as ponds cannot be undermined, maintains Tanwar. "In case of artificial water harvesting, although we can inject water into the systems, we cannot support biodiversity of aquatic life. On the contrary, natural ponds could support the entire ecosystem, the reason why it is critical that we conserve them."
Shift in attitude
Habits die hard and it is the same with pollution, Tanwar says. "Restoration of water bodies is no rocket science but changing people's minds is indeed rocket science," says the smiling environmentalist whose crusade has not been so easy. Empowering the public to be responsible for their water bodies has been no easy task for the conservationist. In a bid to make the exercise of reviving ponds a sustainable one, Tanwar has linked farmer communities with them, so that they are accountable for their waterbodies. "It is a win-win where they make a living out of the ponds either through fishing or lotus farming. But if their income is to be sustainable, they need to be responsible for the wellbeing of their ponds."
To sensitise the younger generation about the 'back-end picture' of water, Tanwar launched the campaign 'Selfie with a pond' in 2018 which continues to date. "Although the older generation did not have college degrees or apps on their mobile phones, they were more aware of their natural environment. Today many young people would not realise the connection between the natural water sources and tap-borne water. The main objective of the youth campaign I launched was to make them more sensitive to the water bodies in their hometowns." Participants had to take a 'selfie' with a pond and write an account of it- the observations of the state of the pond and recommended means of reviving it and post on social media.
Tanwar who has revived 80 ponds in India so far, aspires to see a 'Pond Man' emerging for each village in India and also looks forward to possible collaborations with Sri Lanka. "I'd be the happiest to see my model replicated in Sri Lanka and even beyond as this is not to be one man's crusade but everyone's," he added.