Govt. inks agreement with Korea to develop two floating 1 MW solar power plants

Thursday, 1 June 2023 02:29 –      – 41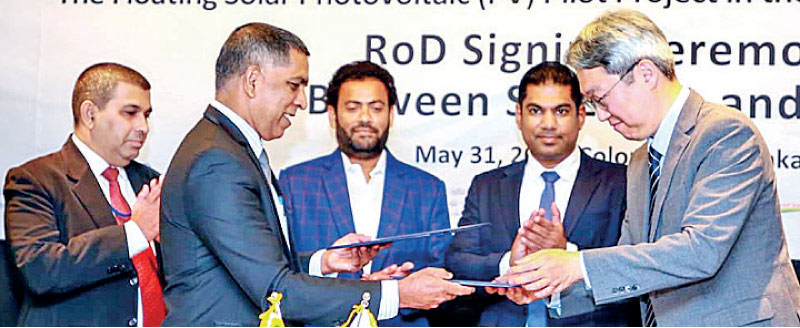 The Government yesterday signed an agreement with the Korea Institute for Advancement of Technology (KIAT) to develop two floating 1 MW solar power plants in the Ratnapura districts.

A grant of $ 5.2 million (8.63 billion South Korean Won) was extended by KIAT to The Sustainable Energy Authority (SEA) to install two floating solar plants as a pilot project on the surface of Kiriibban Wewa in Monaragala and Chandrika Wewa reservoir in the Ratnapura district.

"The project is set to be completed in December 2024," Power and Energy Minister Kanchana Wijesekera said.

The grant was an outcome of the Framework Convention on Grant Aid signed between the Republic of Korea and Sri Lanka in 2009.

The move was also approved by the Cabinet of Ministers at its meeting held on 13 March.

Korea Institute for Advancement of Technology is acting as the monitoring agency for the pilot project on behalf of the Korean Government.

Sri Lanka aims to add up to 2,800 MW of renewable energy into the National Grid by 2025. At present, renewable energy generation has not exceeded at least 1,000 MW.