Neglected plantations of Monaragala cry in silence
---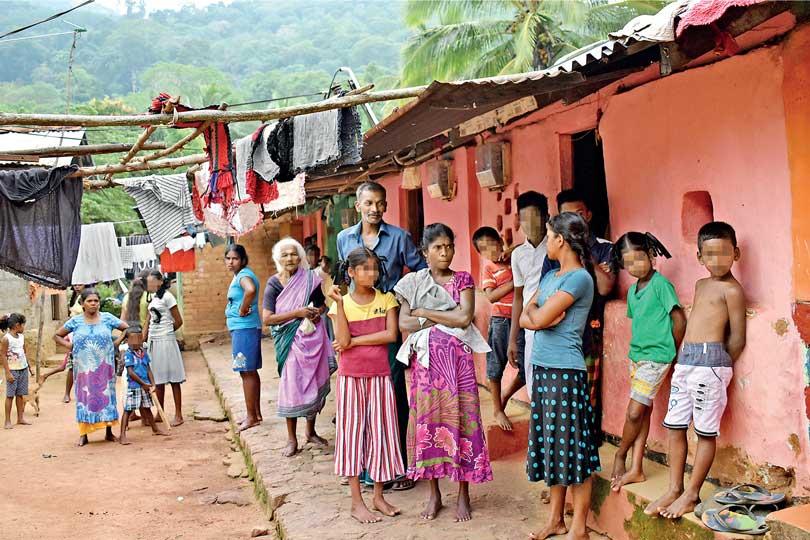 Line rooms at Aliyawatte
pix by Nayanajeewa Bandara
No one pays attention to the labour community that has detached itself from the main estate community and is scattered around small-scale estates in the lowlands
Estate women have fallen victims to microfinance companies
Estates in Monaragala were destroyed due to the work of certain politicians and through mismanagement
There are no public representatives or strong trade union activity in areas like Monaragala

Although the economic crisis that the country is currently facing has affected many layers of the society, the communities that have been marginalised for various reasons have experienced most of the pressure. The Kandurata estate labour community is one strong example that comes to mind. However, no one pays attention to the labour community that has detached itself from this community and is scattered around the small-scale estates in the lowlands. Yes, that's why their story is more serious! Perhaps this is the first time that their issue has received widespread attention in the media.
We met twenty-six-year-old Velu Ambiga some time ago in the village of Monaragala Aliyavatta; an abandoned plantation. A mother of four, she looks older than her age. At first glance, the signs of poverty are strikingly reflected through her. After the estate was closed her husband, who went to Colombo in search of employment, didn't return due to his addiction with drugs. As a result she is struggling to raise her four children.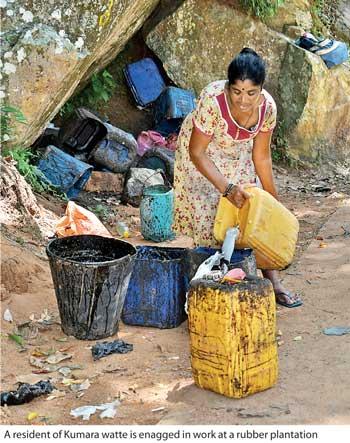 "I support my four children by working in a grocery store in Monaragala town. If you work for a month without taking holidays, you can earn about 20,000 rupees. Half of that is spent on travelling. "The remaining money is used to make ends meet," she said with a sigh.
"The principal of the school is sending message after message to send the two older children to school. How can I buy books for the children with this salary? For the books of the two children, the money I earn after suffering for a month is not enough. They have been home for about three months now. I will send them to school the day I can buy the books. We need to live first before doing anything. This money is not enough to buy food," she said.
"The classes in the village school are held only up to grade ten. If you want to study beyond that you should go to a Tamil medium school in Monaragala Town. Only those who possess some assets can do that. Last year, out of the twelve children who left our school in the tenth grade only three had found slots in the town school to further their education. The rest of the children are employed as labourers at present. It is a challenge to send children to school when people struggle to eat or drink. This is the condition of families in every estate in Monaragala. Due to Covid and the present economic crisis the lives of the estate people were severely affected," said K Kanageshwari, a teacher at Monaragala Aliyavatta Vidyalaya said. She is the wife of P.S Sivakumar, the Principal of this school.
It has been nearly 200 years since the British started planting in this part of the country. At present, considering the districts, there is a greater distribution of people employed in the plantation sector in the districts of Nuwara Eliya, Badulla, Kandy, Matale, Ratnapura, Badulla and Kegalle. 88.4 percent of the plantation workers are Tamils of South Indian origin, 10.7 percent are Sinhalese and 0.8 percent are Muslims. About one percent belongs to other ethnic groups.
"The plantation industry in Monaragala district started in 1875 from Aliyawatte. After that, in 1908, Monara Kele Estate was established. After that other estates were established. Now both the plantations that were originally started are defunct. Most of the other estates are about to close down. This situation intensified with the collapse of the country's economy. So far, similar to those who have made a living by working in the plantations, their children are also destitute. The adults who have lost their jobs in the plantations visit the city and find work as hired labour. Youth rent tuk tuks and undertake hires or visit Colombo's workplaces as helpers. This is the fate of the youth in the plantations. Our people belong to a group of people who do not belong to both the plantation and the villag. We do not get any of the privileges that the people of the village enjoy because we are in the garden. But there is no garden," Pandiram Soburasan (80), a retired principal and a resident of Monaragala Aliyawatta Estate, pointed out.
There are 12 estates in Monaragala district. Those estates are spread around Monaragala, Badalkumbura, Bibila Divisional Secretariat Divisions. According to information generated from estate sources 4,160 families live in these estates out of which nearly 2,200 of them are employed within these plantations. Less than thirty percent of the plantation population in Monaragala district work in plantations. The rest had to find employment outside the plantation to sustain their earnings. At present, the living conditions of people living in most of the estates in the district and outside these plantations are miserable.
Jay Ainish (52), who lives in Monaragala Kumbukana Parawila Estate, joined the estate sector as a labourer 17 years ago. She is a mother of five children. She has to bear all the burdens of the family due to the ill health of her husband. Even if she finds work in the estate for a whole month it is difficult for her to earn a salary of twenty thousand rupees per month. She says that the money she raises is not enough to treat her husband's illness and meet the food expenses of her family.
"For a month, I went to cut rubber trees and suffered, but I did not earn enough money to live. Because of these problems, two of my children have stopped their education and are now working as labourers. But they rarely earn some money. Anyway, with the money they earn, I send the other children to school and give them an education. But still I haven't been able to purchase the school books for those children. The authorities send messages from the school asking us to get the children's books. But the money I earn after working for a month is not enough for that purpose. With this situation and the rest of the children have to be kept at home instead of being sent to school," Ainish said .
---
Many people have reduced the number of meals they have. The food they get is usually rice and one vegetable. It is not easy for a plantation worker to earn around 800 rupees a day and also add even an egg to his food by spending sixty rupees
R. Rajeshwari (47) of Badalkumbura Wayemubura Estate
---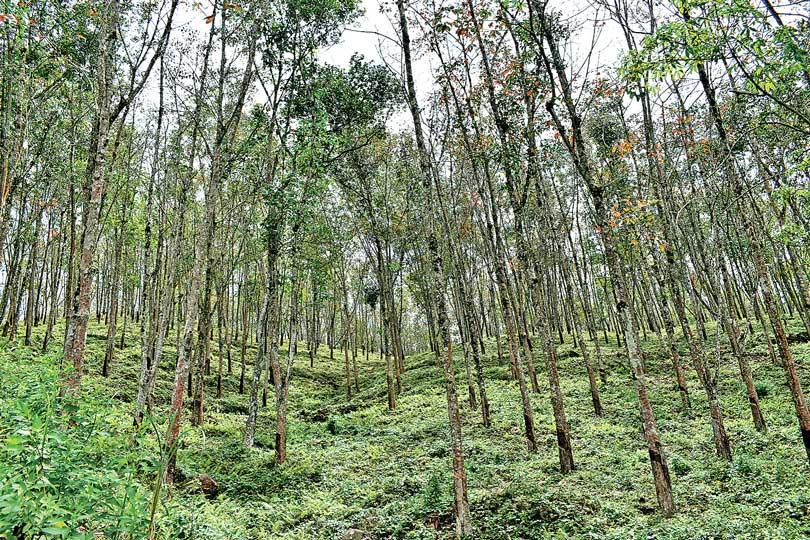 A rubber plantation in Monaragala
No solutions 
Members of this estate community are not only suffering from economic pressure. From birth till death, they are subjected to various injustices, marginalization and neglect. They don't know how to find solutions to their problems. The following is a heart-warming story we've heard and supports our study of the pathetic estate life forced to endure by workers.
The name of Jaypalan Irish is recorded in the birth certificate, national identity card, marriage certificate, the voter's list as well as the salary register of the Kumarawatta Estate where she works as 'J. Aishe'. She is very concerned about the manner in which her name has been faultily written on the birth certificate by the state. "I feel very uncomfortable when my name is pronounced in a wrong manner. It makes no sense now for me to rectify this. No official will intervene to change it and fix the issue. I don't even have time to fix the issue. A day off from work would mean that we have to starve for two days," said a worried Irish.
Among the estates in Monaragala district all the estates including Kumbukana, Paravila, Hulandaoyawatta, Nakkalawatta, Kumarawatta and Muppane Weliwatta, which are currently in operation in the Monaragala Divisional Secretariat, are administered by the Janata Estate Development Board. Private sector small plantation companies manage the estates of Gamewela Watta, VaradolaWatta, KandeWatta, MahathannaWatta, Tanne Kumbura, MadulaWatta and BibilaWatta located in Bibila Divisional Secretariat Division in the domains of Badalkumbura Divisional Secretariat Division. The people in those estates-especially the women of the estates- have faced a lot of pressure in the face of the present economic crisis.
"This economic pressure is unbearable, especially for the women in our estates. During the last two or three months a significant number of women in our estate have left their children behind and found employment in the Middle East as domestic workers. They are not willing to take this step, but are forced to; given that the situation at home offers no other solution. Due to the emigration of estate female workers many other issues have arisen within these families," a resident of Badalkumbura Gamewela Estate and social activist R. D. Dilrukshi pointed out.
Many estate workers opine that planting- an activity which was started by the British -in Monaragala district became chaotic after large shares of private estates were acquired by the state through the Land Reform Commission in 1974. They say that after the acquisition of these lands, at different times they cleared rubber and planted sugarcane through the National Plantation Corporation and private sector companies. The distribution of these lands took place as a result of political interference. Critics point out that if these estates could have been protected to some extent the authorities would have been able to face the current economic collapse much stronger. An employee of the JEDB, commenting on the matter on the condition of anonymity, said that these political interferences have affected the workers. He added that these workers currently employed in the estate and serving the Monaragala Janata Estate Development Board have been made to undergo financial hardships as a result of these political interferences.
"Monaragala estates were destroyed due to these politicians and through mismanagement. What the politicians did was to divide the estates according to their fancies. In recent times, the amount of land that has been freed from the estates due to various reasons is close to 600 acres. Some estate lands in Monaragala town were acquired by Monaragala's government politicians, lawmakers in the opposition and local officials. Some estate officials, who enjoy political blessings, destroyed the estates and stole from them. Even the rubber factory was closed. Not only that, the authorities do not pay or remit gratuity as well as Employee Provident Fund and Employee Trust Fund (EPF/ETF) deducted from the salary of the workers who have worked in these plantations for many years. The EPF/ETF calculations of workers produce a figure close to 05 crore rupees. These plantation workers have had to sue the authorities to get their hard earned monies. This is very unfortunate," said R. Rajeshwari (47) of Badalkumbura Wayemubura Estate .
"There are about 60 families in our estate. They are experiencing difficult times. It's a dream now to provide nutritious food to children at this period of time. Many people have reduced the number of meals they have. People who drink a cup of coffee in the morning and go to work get food again at night. The food they get is usually rice and one vegetable. It is not easy for a plantation worker to earn around 800 rupees a day and also add an egg to his food by spending sixty rupees. Rajeshwari said.
---
'People in the plantations experiencing hard times'
-Minister Pathirana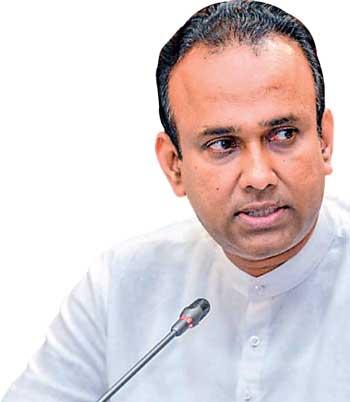 Although Monaragala District Secretary R. M Pasan Ratnayake said that poverty was not considered as the main factor for the distribution of subsidies, the Minister of Plantation Affairs Ramesh Pathirana told this newspaper that this food subsidy was distributed to all the poor families.
"I was in Monaragala for the past few days. We gave the land rights for 7 perches to a large number of families there. We provide this food subsidy to families who were suffering from abject poverty at present. I believe our people from the estates also received those subsidies. Our political representatives representing the people or the area did not inform me that they did not receive that subsidy. I admit that the people in the plantations are experiencing hard times. I will soon find out if injustice has been caused to them. And let me know if there is any problem. I will take action in that regard." the minister promised.
---
K. Dushanthani, a resident of Bibila Estate, said that the fate of 110 families residing in Bibila Estate is the same. "Our plantation workers will not get any relief given to the poor by the government because our parents are plantation workers. It is very unfair. Even though they work in the estate they are not paid monthly. You get paid only for the number of days they work. Even if my mother works for the whole month, she can earn Rs 18,000. How can a family with 05-06 members be supported given this burden of living? Even in our estates, the eldest children of many families have stopped attending school, " Dushanthani said.
As a result of the ongoing crisis, mostly it is the estate women who have become the victims of various microfinance companies. During our visit to the Aliyavatta Estate we saw a representative of a microfinance company who was collecting premiums.  Two women farmers were seen running away from their homes during this time. Kandasamy Jeganathan (40), a resident of this estate, commenting on this issue, said "Those women had obtained loans from those institutions. When the time comes to collect premiums, there is no other option but for them to run".
"Also, due to these micro-financial problems, there have been huge disputes in many families. Some families have been scattered," M.H.N. Naleema (42) of Hulandawa Estate said.
P.G.N.S Kumari, a Monaragala Family Health Officer, whom we met during our visit to Maragala estate, told us that during the last few months in her domain, the number of women who have left even their children behind and gone abroad for domestic work is about eight. Although she was reluctant to comment to the media about the child and maternal malnutrition conditions associated with these estates, we walked around Kumarawatta and Maragalawatta estates and met many mothers who complained about their children suffering from various nutritional deficiencies.
"I have four children. The youngest child is nine months old. The next child is 7. Two are twins and they are eleven years old. Neither I nor my husband is employed. Only if there is daily paid work would the husband find some money. The midwife says that the baby's weight is always decreasing. They say to give nutritious food to the child. How can we do what she says? A child needs two packets of powdered milk per week, and we cannot afford to buy even one. We could not buy the books to ensure that the older children go to school. Children don't even want to go to school now because they are being reprimanded by the school authorities." Maragala Estate resident P. Vijayalakshmi (32) complained.
Due to the food crisis that arose with the economic debacle, the World Food Program and non-governmental organizations implemented subsidy programmes for the marginalised communities of Monaragala district. All those programmes were implemented through the respective regional secretariats. But it is common opinion that great injustice was done to the people in the plantation during the distribution of these subsidies. An NGO activist who spoke with us in this regard said that when 301 families -who are able to find some work- in the Monaragala Maduraketiya domain and leading a relatively good life were chosen to provide subsidies, as few as only 27 families were chosen to receive subsidies from Weliaya domain. People in the latter community live in extreme distress and have worked for estates which are now defunct.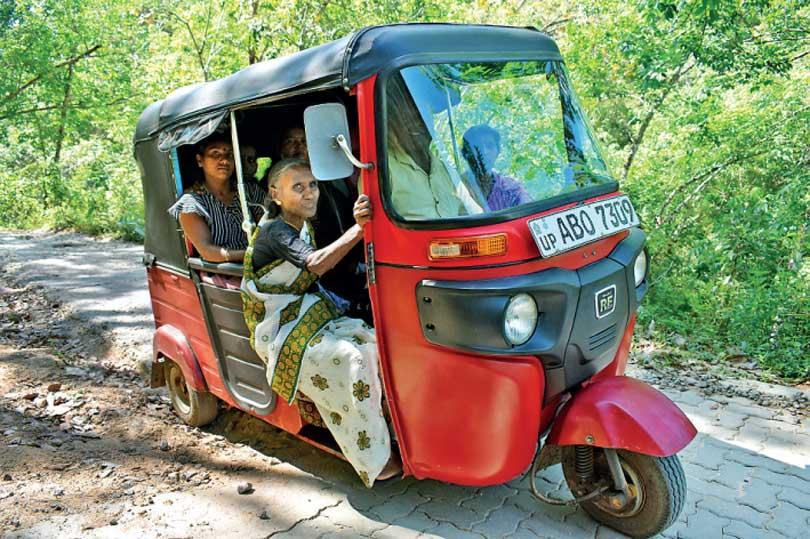 Emplyees of Maragala watte go through hardhsips when they have to travel
Marimuthu Gnanaprakasham (42), an employee of Monaragala Kumbukana Plantation, pointed out that while the businessmen of Monaragala town were given a subsidy of 50 kilos of rice, they did not provide anything to the plantation workers who had no food. This newspaper inquired from Monaragala District Secretary R. M Pasan Ratnayake regarding this general allegation.
"Indeed, this is a programme planned under the World Food Program and the beneficiaries were identified and the programme was implemented according to the instructions given. Its purpose was not to identify the worst among the less affluent and provide food subsidies. This subsidy programme was implemented considering special situations such as pregnancies, families with small children and families where members are suffering from hereditary diseases. Under this scheme some less affluent people didn't get this benefit while those who have some means might have received more than the others. But we have taken the effort to provide these dry rations to the people in the plantation as much as possible," said Ratnayake.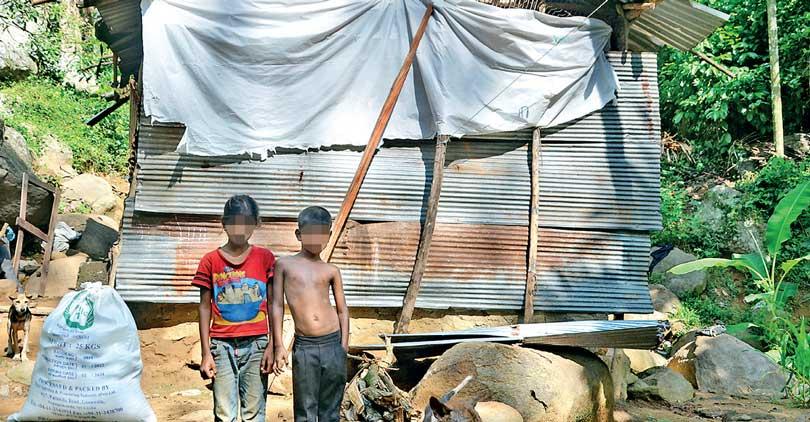 A house at Kumara watte
This kind of honesty is rarely seen among government officials who hold high positions.  Ratnayake also said: "I admit that since our plantation community is living in isolated plantations like Monaragala district our attention is less. This may be due to the lack of political parties or trade unions in these plantations. Even we are not talking about this community. And they don't come to us with their problems. Because of this we don't know about some of their problems. But they also receive the benefits of the respective domains. I don't believe they haven't got anything," said Ratnayake.
---
I admit that since our plantation community is living in isolated plantations like Monaragala district our attention on them is less. This may be due to the lack of political parties or trade unions in these plantations. Even we are not talking about this community. And they don't come to us with their problems 
– R. M Pasan Ratnayake Monaragala District Secretary
---
The life associated with the Monaragala Plantation is a tragedy. Poverty, illiteracy, unemployment, malnutrition, exploitation, indebtedness, neglect and drugs have engulfed their lives. The economic crisis faced by the country due to the Covid epidemic has caused this situation to intensify further. Although there are public representatives and a strong plantation trade union movement to represent the people living in the plantation areas in the country, there are no such public representatives or strong trade union activity in areas like Monaragala where only a few plantations exist. Due to this, the problems in these plantation communities are not exposed to the society.
Commenting on this issue Parameswaran Gokula Ramanan (38), an employee attached to an NGO and works with the community around Monaragala estates, pointed out that due to this situation his community has become vulnerable, excluded and deprived of privileges.
"Our people represent a group which has shed sweat and tears to strengthen the economy of this country. This is a very difficult time for our people. Especially the children and women associated with our estates are experiencing hard times, so it would be good if the subject minister draws the attention of the estate companies to this matter and provides some relief and protection to them," said Ramanan.