How the Pakistani military feel about Imran Khan after protests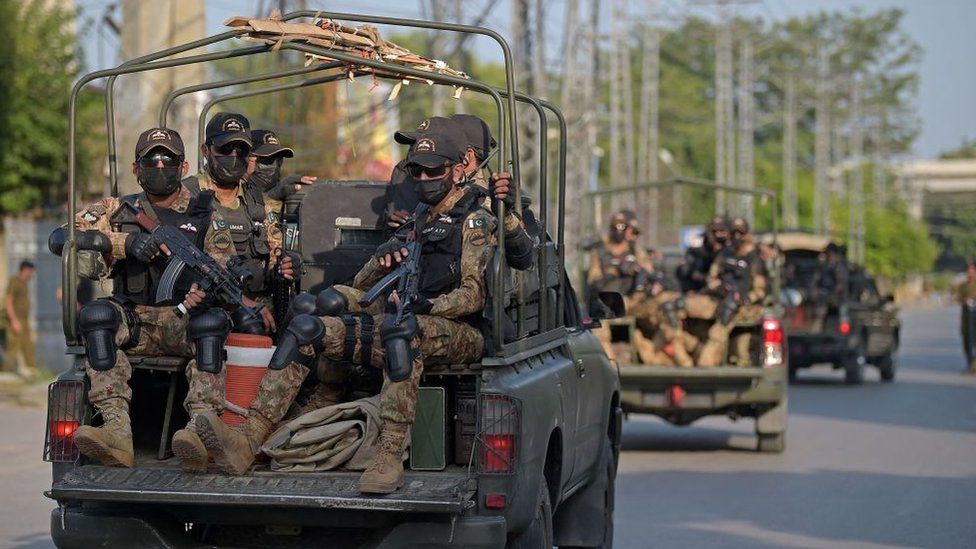 It started off as a regular Tuesday evening. Komal, the wife of a Pakistani army officer stationed in a conflict zone, was chopping vegetables for dinner while her two young daughters watched TV.
But their military compound, arguably one of the safest places in Pakistan, was about to feel very unsafe.
Komal was surprised when her husband rang, much earlier than usual. He told her to keep the doors locked, because military quarters across the country were being attacked by supporters of former Prime Minister Imran Khan. In Lahore, the residence of a lieutenant general had already been set ablaze.
"If they could brazenly attack a general's house, will ours be next? The thought of it sent shivers down my spine," says Komal, who doesn't want to use her real name.
She immediately locked the doors and windows and put food in the storeroom in case they had to hide. She even thought about how to exit the apartment if it was set on fire – could she jump out of the second-floor window with her daughters?
"When I watched videos of the protests, it terrified me," Komal says. "I have never felt so insecure and vulnerable."
But she was also torn – as a staunch Khan supporter, she felt let down.
"I and many others had supported Imran Khan, hoping for a change, but now, I feel betrayed by the very person I had championed. His irresponsible and inflammatory rhetoric fuelled the hatred and violence that has rocked this country," she says.
The protests were an unprecedented challenge to Pakistan's powerful military who have ruled the country for several decades, with three military coups since independence in 1947. Although military rule officially ended in 2008, many believe that the army remains the kingmaker behind politicians. And Mr Khan was widely believed to have their blessing.
Even before his Pakistan Tehreek-e-Insaf (PTI) party came to power in 2018, Khan was known as the "military's darling". His critics say that he was portrayed by the army's social media teams as Pakistan's saviour, and the only leader who would stand up to dynastic politicians and a corrupt ruling elite.
After Khan and the powerful military establishment fell out and he was ousted from power last year, the narrative was so deep-rooted that it didn't change the minds of many in the army's rank and files.
Army medical officer Gul, who speaks on the condition of anonymity, is apolitical but now furious at Khan's supporters. On the night of the riots she was away on duty while her parents were home with her children.
"I wished I were with them. I thought, what if they are attacked or injured or, God forbid, killed? I can't express what was going in my head. I couldn't sleep the whole night. This was all traumatising, especially for a mother who is away from her children," she says.
But many in the army continue to support Mr Khan, who has remained the most popular political figure not just among civilians, but also within military rank and file.
"If given a choice, among the current politicians, it is no-one else but Imran Khan I'll vote for," one officer told me, on condition of anonymity.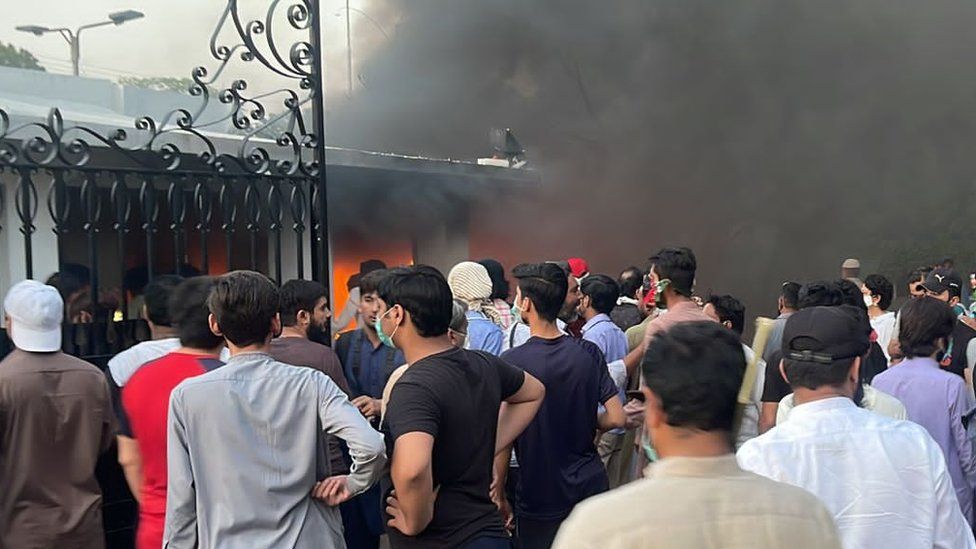 Another officer also still supports the former prime minister.
"I really feel sorry for what happened at the general's residence in Lahore, but we don't know who did it – Imran Khan says his party workers didn't initiate the attack. But nothing has changed my opinion towards Imran Khan. I still support him as a voter and will continue to do so. For me, he is a motivation and a true leader," she says.
A senior officer from a security agency, who did not want to be named, says he regularly fields political questions from his subordinates, whose opinions are also informed by the internet and social media – and who sometimes question the military's influence in how the country is run.
"They want concrete evidence that the military establishment does not meddle in politics. They ask questions about its role and we have to answer them convincingly," he says.
Retired officers, influential in shaping the army's image, also strongly support Mr Khan. Raja Shahryar, a former officer who retired 15 years ago, voted for him in 2018 – the first time he had ever cast a ballot.
"My perspective has not changed but the events of the past few days have angered me because the PTI leadership failed to contain the protesters from attacking government installations and property. They should have acted better than the rest," he says.
After the attacks, the army was quick to show a united front. A spokesperson for the armed forces appeared on the Pakistani TV channel Geo News saying the army and its chief believed in democracy.
"The army is united, despite propaganda by extremists and enemies both inside and outside the country," he says.
Resentment against the military
But the country is divided. Shahryar says he has never before witnessed "this level of political polarisation and expression of resentment against the military".
And while many military families feel a line was crossed when their cantonments were attacked, and some police officers injured, PTI supporters feel law enforcement went too far.
More than 10 protesters were killed during the demonstrations on 9 May.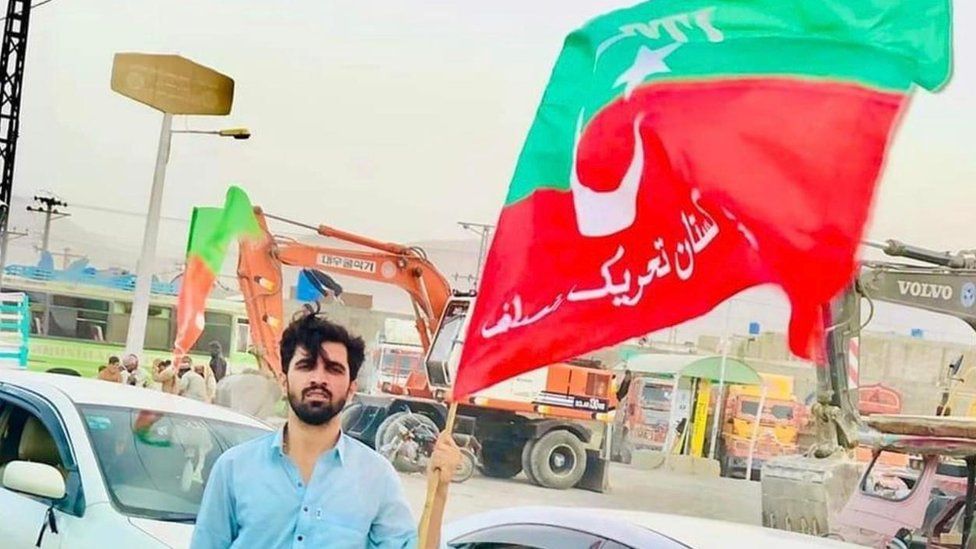 Tariq Nasir spent an hour searching for his brother Omer in a government hospital in Quetta. The 26-year-old had been protesting outside the military's cantonment area in the city, when he was killed.
"There was a lot of teargas shelling. Omer was holding salt and water in his hands for people who were affected. He was unarmed, and peaceful, only exercising his right to hold a peaceful protest. They shot him right in his head. Why was he shot when he was unarmed?" he asks.
Like many others, including Mr Khan himself, Nasir claimed that those who threw stones at police or attacked army installations were not really PTI supporters. He suspects foul play.
The army has announced that those involved in attacks on army installations will be tried in military and anti-terrorism courts.
Videos of men apologising for vandalism, claiming it was at the request of PTI leadership, are being circulated by police authorities. But many allege they are being coerced into recording such videos.
Mr Khan has said those who attacked military installations were not PTI members and has asked the judiciary to form a commission to investigate the matter.
However, dozens of his party leaders and close aides – some of whom were arrested and later released – have also abandoned Mr Khan, condemning the attacks on a general's house and other military installations.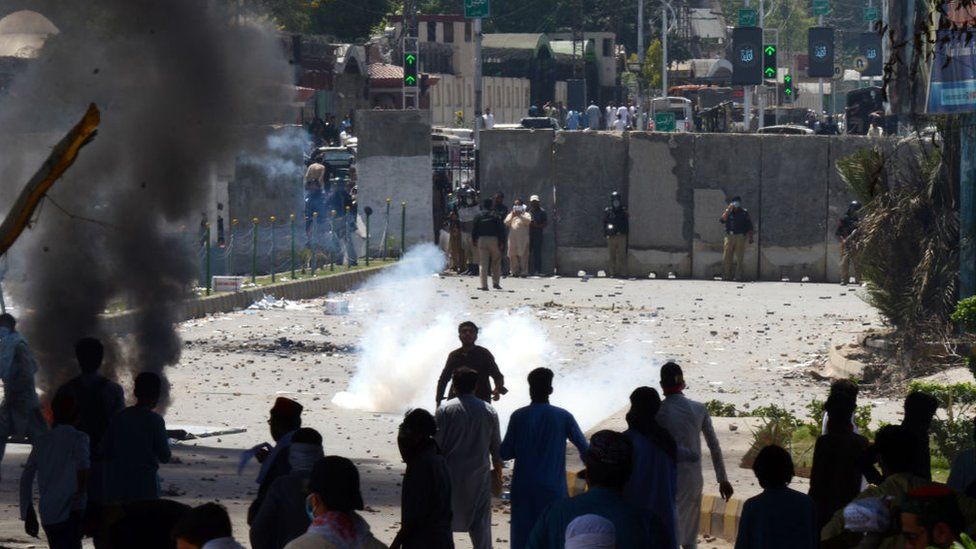 "My brother died while doing a peaceful protest," says Nasir. "When he was killed, he had Khan's flag around his neck. He lived for him and he died for him. He wanted a better Pakistan and Khan was his hope. One day, his dream will come true. And maybe, only then, we will get justice."
Pakistan's powerful military establishment has long been blamed for interfering in politics, installing and removing governments. Ruling parties have also been accused of using state machinery to violently remove political opponents.
Resentment at both the army and the politicians is rising within law enforcement, too.
"Like them, I also wear uniform, and I know them all. They think they are above the law. Only Khan can correct them," a police officer told me.
"And what do we expect from these politicians? Just a decent salary each month to afford our basic needs. Is that too much to ask for? They have also failed us. The military or politicians, they are all too busy fighting amongst themselves, and the country is going to the gallows."