Drug traffickers smuggling crystal meth past South East Asia security – UN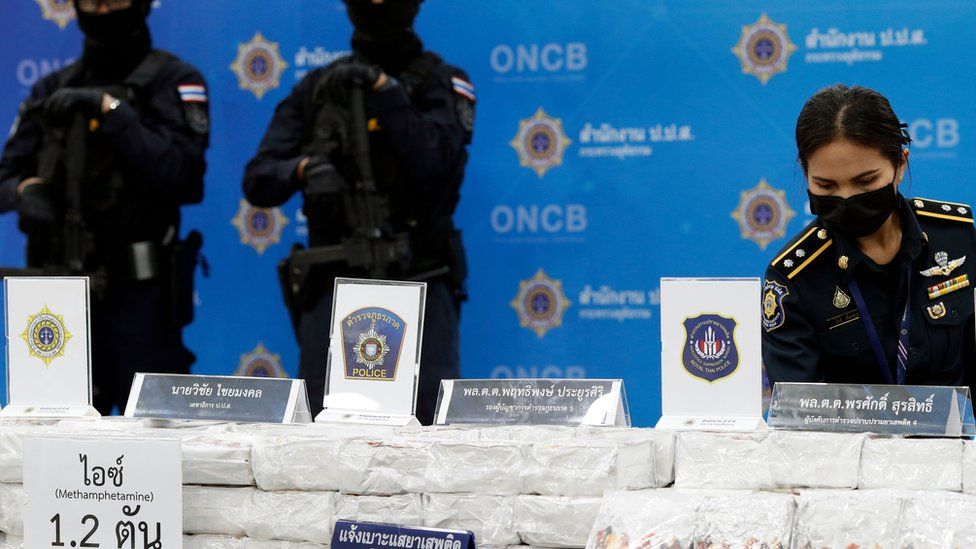 Drug traffickers have found new ways of smuggling crystal methamphetamine, known as ice, out of South East Asia to high-paying customers outside the region, according to a UN report.
Criminal gangs are moving more drugs by sea to evade land patrols in Thailand and China, making them harder to spot.
They have learnt "to anticipate, adapt and try to circumvent" law enforcement, the UN Office on Drugs and Crime said.
The ice is sold in Japan, South Korea, Australia and New Zealand.
The huge trade in methamphetamines and other illegal drugs, which mostly flow from super labs in parts of Myanmar, is also showing no signs of slowing down, the UN agency warned.
Shan state in Myanmar is home to what many believe is the world's largest meth trade. Traffickers ship the drugs out through the borders of Laos, Cambodia and Thailand, an area known as the Golden Triangle.
"In 2022, we saw them work around Thai borders more than in the past," said Jeremy Douglas, the UN agency's regional representative.
"Traffickers have continued to ship large volumes through Laos and northern Thailand, but at the same time they have pushed significant supply through central Myanmar to the Andaman Sea, where it seems few were looking."
The meth comes in two main forms: pills known as yaba or highly addictive crystal meth (ice).
In recent years, both Thai and Chinese police, backed by neighbouring forces, have stepped up operations in the Golden Triangle.
Criminal gangs use Thailand as a transit country to get high value crystal meth to a third country such as Australia or New Zealand where the street value of the drug can be 10 times higher than in Bangkok.
High volumes of Myanmar meth is also making its way into Bangladesh and India, according to the report.
In the last year, Thai and Chinese authorities have seen a significant drop in drug seizures.
Police across East Asia and South East Asia seized nearly 151 tonnes of methamphetamines in 2022, down from a record of 172 tonnes in 2021.
However, the price of 1kg (2.2lbs) of crystal meth is at an all-time low, which suggests that supplies are still high.
Officials believe criminal gangs have found ways to "diversify" their network and move the drugs using alternative maritime routes. Thai drug enforcement agents are managing to intercept some of the supplies at sea.
Earlier this week, after a four-month operation following drug smugglers, Thai authorities seized more than 900kg of crystal meth from a trawler in the Gulf of Thailand, about 32km (20 miles) from the tourist island of Samed. Six crew members were arrested in the operation.
Officers said the drugs would have been transferred from the small Thai boat to a bigger trawler which would have likely taken the drugs to Australia.
Authorities across the region also seized a record 27.4 tonnes of ketamine in 2022, which is an anaesthetic misused as a recreational party drug. That's up 167% on 2021.
The report highlighted one ketamine laboratory in Cambodia which they said was capable of "industrial scale" production.
It also expressed concern that Cambodia had become "a key transit and to some extent production point for the regional drug trade".
"The discovery of a series of clandestine ketamine laboratories, processing warehouses, and storage facilities across the country has set off alarm bells in the region," the report said.