Sir Ivan Menezes: Boss of Guinness maker Diageo dies at 63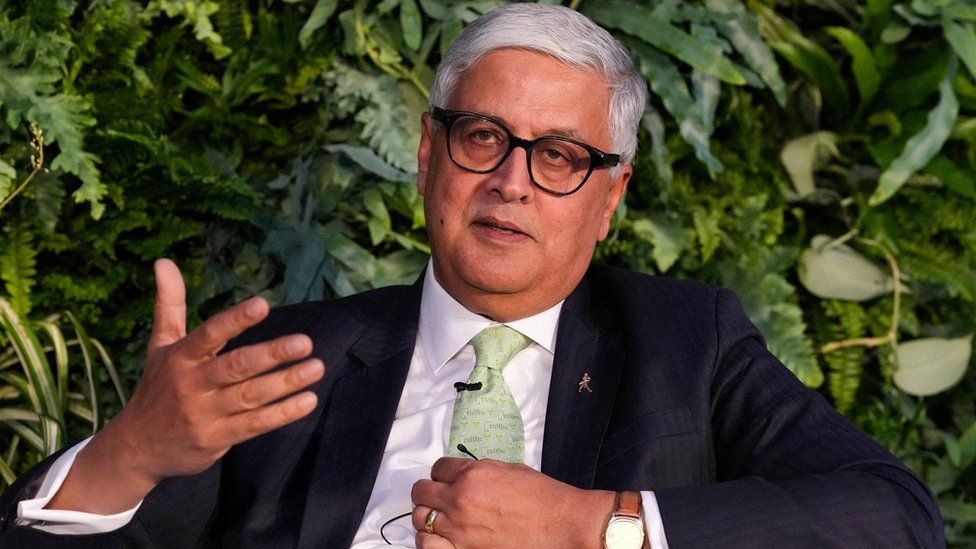 Sir Ivan Menezes, chief executive of the world's biggest spirits company Diageo, has died aged 63.
The British-American national was born in the Indian city of Pune. He was set to retire at the end of the month.
Earlier this week, the firm said Menezes was in hospital for conditions including a stomach ulcer.
"This is an incredibly sad day. Ivan was undoubtedly one of the finest leaders of his generation," Diageo chairman Javier Ferrán said.
"Ivan was there at the creation of Diageo and over 25 years, shaped Diageo to become one of the best performing, most trusted and respected consumer companies," Mr Ferrán added.
Prior to Diageo, he held marketing and strategy positions at major companies including food and beverage giant Nestlé.
Menezes joined Diageo in 1997 when the firm was formed through the merger of brewery giant Guinness and London-based conglomerate Grand Metropolitan.
Over the course of his career, he held several senior roles at the company and was appointed chief executive in July 2013.
Major business leaders have been sharing tributes to Menezes.
Starbucks chief executive Laxman Narasimhan said in a post on LinkedIn that he had interned at a company in London where Menezes was "a leader on the move".
"Over the years, our paths have crossed in the US, India and finally in London – as two CEOs of Indian origin, leading companies through a very difficult Covid period," he said.
"He was classy, bold, kind, thoughtful and so downright modest – a true 'gentle, giant' of a leader," Mr Narasimhan added.
Alexandre Ricard, chairman and chief executive of French drinks company Pernod Ricard, said Menezes was one of the first people to congratulate him on his appointment in 2015.
"In a competitive business world Ivan remained a profoundly genuine and authentic person," Mr Ricard said on LinkedIn. "May he rest in peace."
Over the course of his career, Menezes also held several senior roles at Diageo.
As the firm's global marketing director, he was behind the iconic Johnnie Walker "Keep Walking" campaign, which was launched in 1999.
The Scotch whisky brand has continued to run the campaign saying it "embodies our desire for progress, the fuel to tackle adversity, and the joy of unfiltered optimism."
In 2012, Menezes was named as an executive director of Diageo and appointed to the company's board. He was promoted to chief executive a year later.
Under his leadership, the company's sales grew as it bought several brands, including Philippine rum brand Don Papa.
Diageo currently has more than 200 brands, which it markets in over 180 countries.
Earlier this year, the company announced that Menezes planned to retire on 30 June, after a decade as its chief executive.
He was set to be succeeded by chief operating officer Debra Crew.
On Monday, Ms Crew was appointed as Diageo's interim chief executive as Menezes was undergoing medical treatment.
He was awarded a knighthood in King Charles' first New Year Honours for services to business and equality.
Menezes is survived by his wife, Shibani and their two children, Nikhil and Rohini.