Why Imran Khan has disappeared from Pakistan's media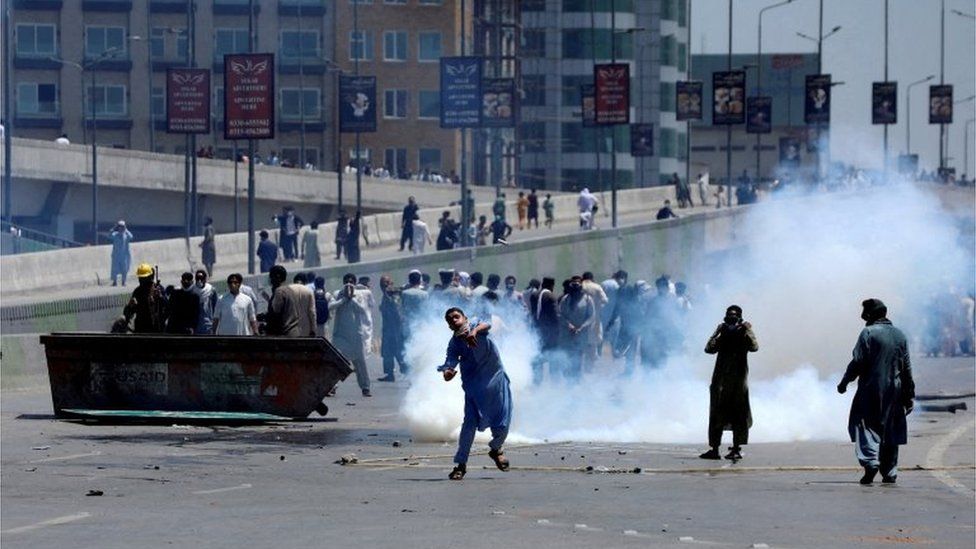 It was a surreal moment. On Tuesday night during his live TV show, Pakistani anchor Kashif Abbasi was talking about a legal petition filed by a lawyer against former prime minister Imran Khan.
Mr Abbasi says his name, then stops himself: "He filed an application under article six against Imran Khan… I apologise, against the chairman of Pakistan Tehreek-e Insaf."
We tried to speak to Mr Abbasi, but he did not get back to us.
Over the last week, you will have struggled to hear Imran Khan's name or see his picture on Pakistan's media.
His arrest a month ago on corruption charges is the backdrop to this crackdown. When Mr Khan was taken from a court complex in Islamabad on 9 May, protests were sparked around the country. Some protested peacefully, but there was also violence.
Military buildings including the home of the most senior military commander in Lahore were attacked. The police arrested thousands of Khan supporters and the military have said they intend to try the alleged perpetrators of the attacks in military courts, something human rights groups including Amnesty International have said is against international law.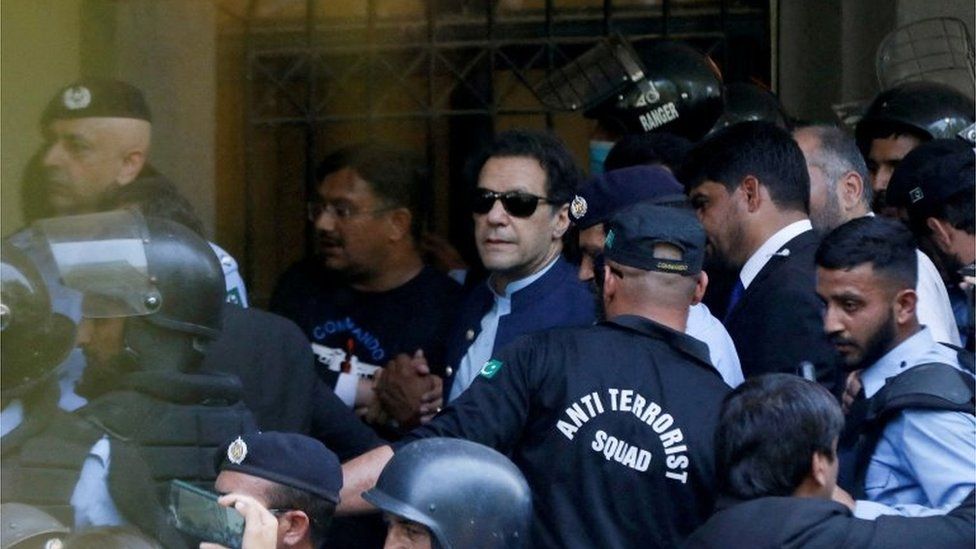 On 31 May, Pakistan's media regulator Pemra sent out a directive to Pakistan's news channels. After mentioning the events of 9 May, the directive reminds media channels that they must refrain from providing airtime to individuals who propagate hate speech.
There is no mention of Imran Khan's name in the directive, but we have spoken to several individuals at different TV stations who told us that the message had been conveyed in clear terms to their channels.
Imran Khan's name should not be mentioned, his picture not shown, his voice not heard, even a mention on the channels' ticker tapes was not allowed, they told us. If there was any need to mention him, Mr Khan should only be referred to by his title, the chairman of his party, the PTI.
Two sources told the BBC that they had spoken directly to the owners of the TV channels they work for. They say the owners had been called into a meeting with senior officials from the military and intelligence services who told the channels in clear terms what was expected.
"They were told you will not run any news that bears his name and if you do you will be responsible," says one source who works in Pakistan TV. All contributors from the media spoke to us on condition of anonymity.
The BBC has approached the army for a response, but has not yet heard back from them. Pemra's director general confirmed that they had issued the directive but said that no instruction was given to news channels to stop mentioning Imran Khan.
It's not the first time that a politician has been subject to a ban; during Imran Khan's time in power, his political opponent Nawaz Sharif's speeches were banned.
"Censorship has always been there in some way or another in Pakistan," one journalist told me. "I used to get calls from the ISPR [the military's press wing] saying there would be consequences about talking critically about Imran Khan.
"Back then we struggled to find opposition leaders to speak to because they were in jail. Now we struggle to have someone on from the PTI. The major difference between Khan's tenure and now is that now they have this justification of the 9 May violence."
Those in the media spoke to us about how this policy could affect their channels.
"The top channels here said: 'How are you going to manage this?' The fear is that the channels will lose credibility sooner rather than later if they are not showing any news about the PTI and pushing government press conferences.
"A very large number of people also watch TV because they want to get news about Imran Khan. The day he was arrested, the viewership was incredibly high."
After being arrested then released, many of the PTI's senior leadership announced they were leaving the party. The limits on the media are just the latest attempt to reduce Imran Khan's influence before an election due later this year.
There are some who disagree with the way that this has been portrayed.
"It's been twisted for political gains, saying that his name is banned," says Faisal Vawda, former PTI leader and previously a close Khan aide. He left the party in late 2022. "It [the Pemra directive] doesn't say officially anywhere in terms of law that this is about him.
"Anyone involved in terrorism, any kind of violence will not be allowed on media, that's the basic law of the country.
"Technically he [Khan] fits into that scenario because he was the one who was commanding it. All the witnesses say that they got the instructions from him."
That's something that Mr Khan disputes, saying the violence was encouraged by the intelligence services, although he has not provided proof of this.
Those involved in the media that we spoke to have found it frustrating.
"It is farcical," says one regular contributor to TV news channels. He takes part in discussions about 9 May, but is not allowed to name Imran Khan.
"When you arrive, they ask you not to talk about the establishment's interference in politics as they worry this will get them into trouble. Even if you mention his name, because of the time delay they will just beep you out. It's just an environment of fear, it's like we are living under martial law."
The establishment is the short-hand term for Pakistan's powerful military and intelligence agencies that many analysts believe are behind the recent crackdown.
Despite there being precedent for limits on Pakistan's media – it is currently ranked 150 out of 180 on press freedom by the Reporters without Borders index – there are concerns that recent weeks have made a lasting impact on free speech.
"I think [that since 9 May] we've lost the space that we had since Musharraf era. We lost that freedom of speech," one journalist told me. "In the past year, the way military was criticised on TV channels and papers – I've never seen that.
"Now I think it will take us years, if not a decade, to recapture that space."
"This is an unprecedented level," says another. "It's the self-censorship that is actually the worst. It makes me second-guess myself, my team second-guess themselves. They come to me scared they will get something wrong, some header, inviting a particular guest because they might mention Imran Khan or be sympathetic towards what is happening to the party.
"You never know who can be picked up. We are really under pressure."