Rishi Sunak and Joe Biden announce green funding agreement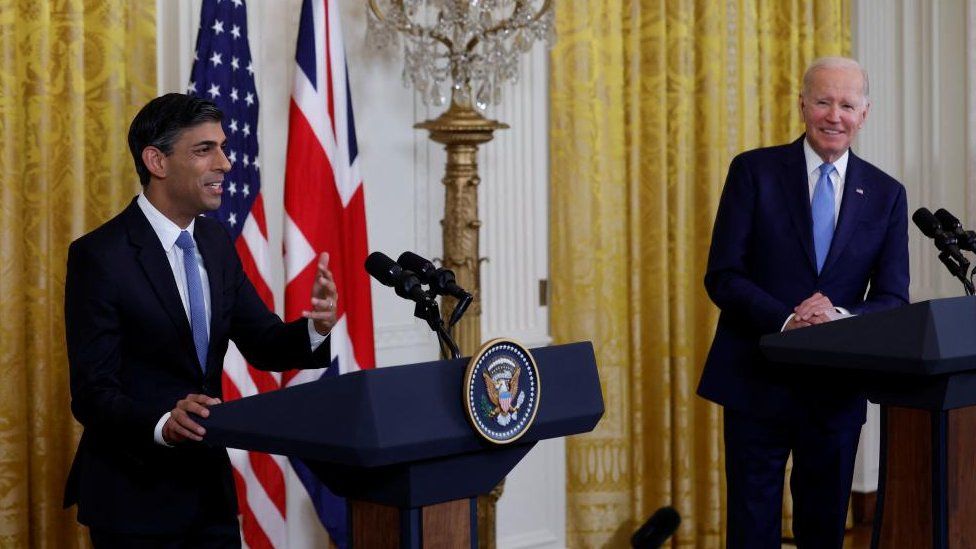 UK firms could gain access to US green funding as part of plans to boost UK and US ties announced by Rishi Sunak and Joe Biden.
The pair unveiled the Atlantic Declaration, to strengthen economic ties between the two countries, at a White House press conference.
The PM said the agreement, which falls short of a full trade deal would bring benefits "as quickly as possible".
UK electric car firms may get access to US green tax credits and subsidies.
As the pair unveiled their partnership to bolster economic security, Mr Sunak said the UK-US relationship was an "indispensable alliance".
The Atlantic Declaration, includes commitments on easing trade barriers, closer defence industry ties and a data protection deal and steps up co-operation on AI.
Asked by BBC Political Editor Chris Mason whether the new deal was an "acknowledgement of the failure" to strike a broader trade agreement between the UK and US, Mr Sunak said today's deal "responds to particular challenges and opportunities we face right now".
A UK-US free trade agreement was a key pledge in the Conservative Party's 2019 general election manifesto.
Mr Sunak insisted the more targeted approach of the declaration was about "what can do the most benefit to our citizens as quickly as possible".
"Be in no doubt, the economic relationship between our two countries has never been stronger," Mr Sunak said.
Plans for a full free trade agreement were abandoned months ago. On the plane ride over to Washington Mr Sunak said: "For a while now, that has not been a priority for either the US or UK."
However, Labour's shadow foreign secretary David Lammy criticised Mr Sunak, saying the government has left "Britain's cupboards bare" by not securing a trade deal.
"This statement shows the government has failed to deliver the comprehensive trade deal they promised in the 2019 manifesto, or to secure the ally status under the Inflation Reduction Act that is so important for the automotive sector and for the green transition," Mr Lammy said.
Mr Biden said the special relationship with the UK was in "real good shape", referring to their co-operation on Ukraine.
"Together we are providing economic and humanitarian aid and security systems to Ukraine in their fight against a brutal invasion from Russia," he said.
Under current policy, the IRA provides tax credit worth $3,750 (£3,000) for each electric vehicle (EV) manufactured in the US, or which use components mined, processed or manufactured in the country.
The UK is already a net exporter of raw materials for EV batteries to the US. But nations without a US trade deal are barred from accessing IRA subsidies.
The Atlantic Declaration commits the UK and US to working on a new critical minerals agreement – which would give buyers of vehicles made using critical minerals processed, recycled or mined by UK companies access to tax credits.
The declaration says the agreement would be launched after consultation with US Congress.
Japan already has a similar deal, which allows Japanese firms to also swerve export duties on minerals used in producing EV batteries.
The declaration also includes a commitment to a "new UK-US Data Bridge" which would allow UK firms to transfer data freely to certified US organisations without paying a levy.
Downing Street estimate the change will affect around 55,000 UK businesses – translating into £92.4m in direct savings per year.
Mr Biden also supported Mr Sunak's plans to set up an international summit on AI safety which will be hosted in the UK later this year.
The prime minister said: "The UK and US have always pushed the boundaries of what two countries can achieve together.
"So it is natural that, when faced with the greatest transformation in our economies since the industrial revolution, we would look to each other to build a stronger economic future together.
"The Atlantic Declaration sets a new standard for economic cooperation, propelling our economies into the future so we can protect our people, create jobs and grow our economies together."
Both Mr Biden and Mr Sunak agree to carry out work to improve the resilience of supply chains and efforts will be stepped up to shut Vladimir Putin's Russia out of the global civil nuclear market.