Govt. mulls lifting of vehicle import restrictions
Saturday, 10 June 2023 00:54 –      – 219
 State Finance Minister Siyambalapitiya hints move likely to boost Govt. tax collection
 Says proposal is being prepared to develop a system in which all payments for automobile imports be made in origin country
 Asserts Customs Ordinance being amended to support judicial proceedings
 Reveals during 2015-2020 over 2.49 m vehicles were imported by 100 firms from 68 countries
 Vehicles value over Rs. 1,300 b, tax collected by Govt. is over Rs. 900 b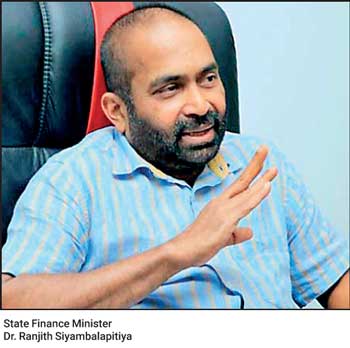 The State Finance Minister Dr. Ranjith Siyambalapitiya hinted yesterday that the Government is likely to resume vehicle imports to boost tax collection.
Speaking in Parliament yesterday, he stressed that a proposal would be made to develop a system in which all payments for automobile imports may be completed in the country where the relevant import takes place.
The State Minister also said that a report on increasing tax receipts and safeguarding the exchange is presently being developed, and the pertinent suggestion is ready to be included.
He said the Customs Ordinance will be changed to enable the commodities held at Customs due to various legal concerns to be released on bail during court proceedings.
As per him, over 600 vehicles, and many more goods have been detained by the Customs following various legal procedures.
"Between 2015 and 2020, over 2.49 million (2,498,714) vehicles have been imported into Sri Lanka. If the number is divided between 13% of the child population and 5% of the older population, then from the remaining population one of every five persons have imported a vehicle," he told the Parliament yesterday.
Siyambalapitiya said these imports have been made under 100 companies from 68 countries, whilst the value of imported vehicles during this period is Rs. 1331.51 billion and the tax revenue collected by the Government during the five years was at Rs. 991.12 billion.