US-China tensions: Biden calls Xi a dictator a day after Beijing talks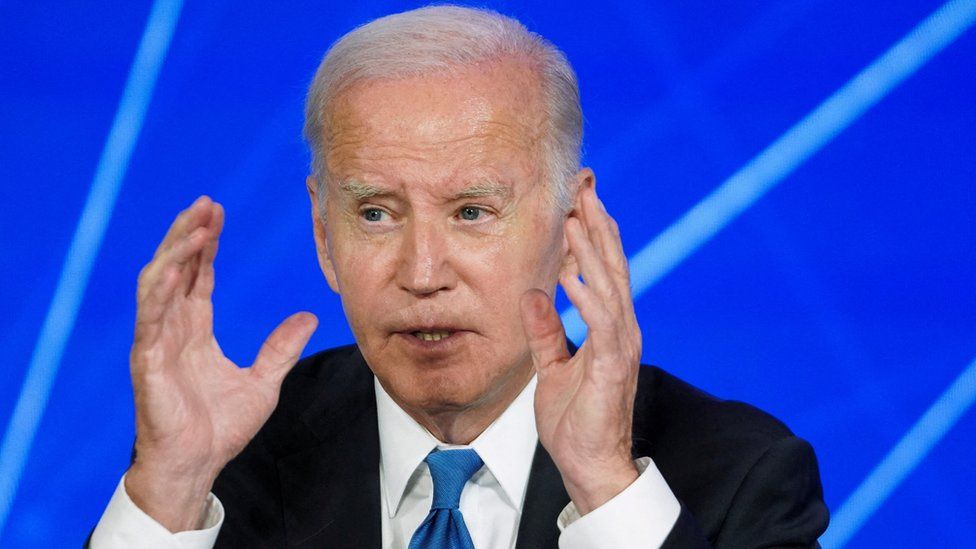 US President Joe Biden has called Chinese President Xi Jinping a dictator at a fundraising event in California.
His remarks came a day after US Secretary of State Antony Blinken met Mr Xi for talks in Beijing, which were aimed at easing tensions between the two superpowers.
Mr Biden also said Mr Xi was embarrassed after an alleged Chinese spy balloon was shot down by the US.
China said it "firmly opposes" Mr Biden's comments.
"The reason why Xi Jinping got very upset, in terms of when I shot that balloon down with two box cars full of spy equipment in it, was he didn't know it was there," Mr Biden said at the event on Tuesday.
"That's a great embarrassment for dictators. When they didn't know what happened," he added.
The balloon, which China says was monitoring weather, drifted across the continental US before being destroyed by American military aircraft in February.
Washington later said it was part of a sprawling Chinese intelligence collection programme. Mr Blinken, who was meant to visit Beijing at the time, postponed the trip in the wake of the incident.
China's foreign ministry spokeswoman Mao Ning called Mr Biden's remarks "extremely absurd and irresponsible". Speaking at a regularly scheduled press conference on Wednesday, she said that the comments were "an open political provocation" that violated diplomatic etiquette.
Mr Blinken's visit over the weekend, the first by a US secretary of state in almost five years, restarted high-level communications between the two countries.
Mr Xi said some progress had been made in Beijing, while Mr Blinken indicated both sides were open to more talks. Major differences, however, remain between the two countries.
Relations have plummeted in the wake of a Trump-era trade war, Beijing's assertive claims over Taiwan and the shooting down of the alleged spy balloon.