Wickremesinghe, Yellen meet for debt relief discussions, sustainable development
Saturday, 24 June 2023 01:38 –      – 36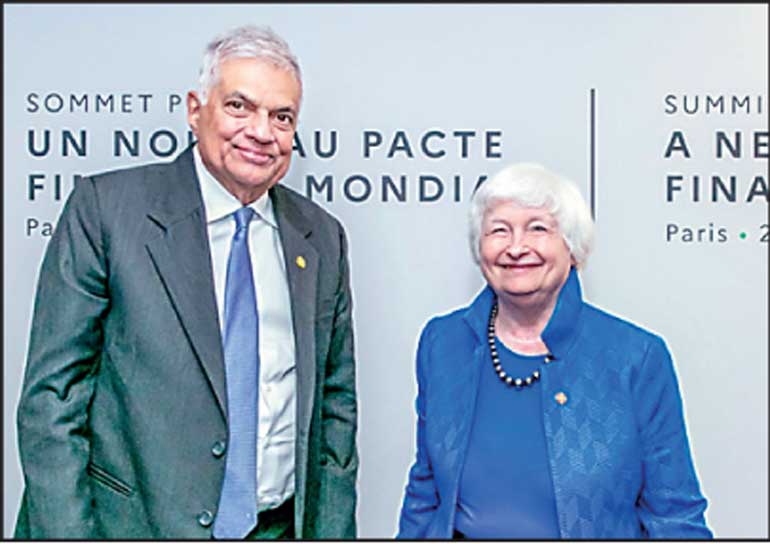 President Ranil Wickremesinghe met with US Treasury Secretary Janet Yellen on Thursday on the sidelines of the Paris Summit for a New Global Financing Pact.
The President expressed his sincere appreciation to the United States for its support in Sri Lanka's debt relief measures and increased financial assistance for sustainable development.
President Wickremesinghe commended Secretary Yellen's leadership in this regard. Secretary Yellen reaffirmed the United States' backing for Sri Lanka's reform agenda and requested an update on the country's progress with the International Monetary Fund (IMF) procedures.
The President briefed Secretary Yellen on the current situation and highlighted the challenges faced in the debt restructuring process. Nevertheless, he said that Sri Lanka had chosen to take control of the situation and move forward with determination. President Wickremesinghe also provided an update on the on-going discussions with bilateral creditors.
Secretary Yellen was also briefed on the Sri Lankan Government's economic objectives and climate prosperity plan. The President emphasised Sri Lanka's intention to involve the private sector in this process.
The US delegation was also updated on the upcoming visit and the engagement between the two countries.
The President in conclusion, extended an invitation to Secretary Yellen to visit Sri Lanka.