Wagner chief vows to topple Russian military leaders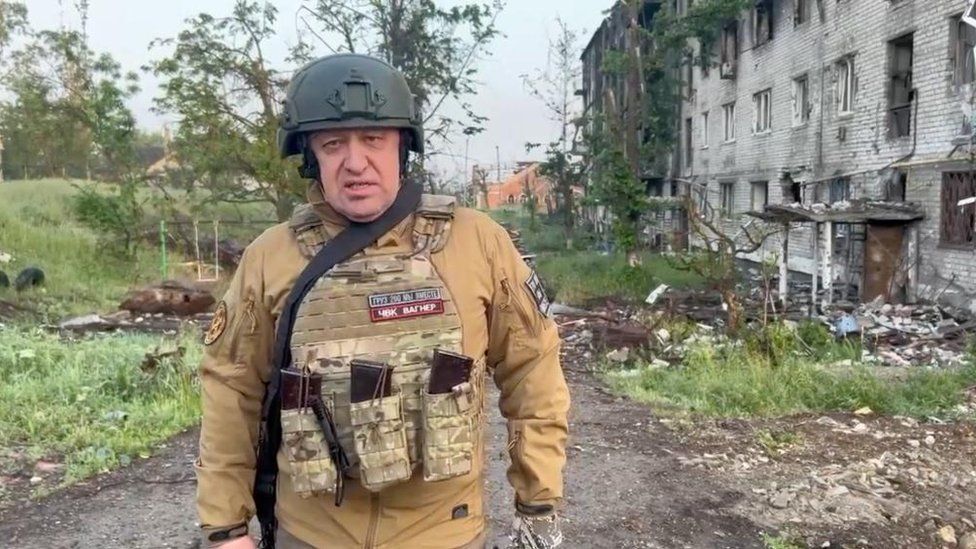 The head of Russia's Wagner mercenary group has vowed to "go all the way" to topple Russia's military leadership, hours after the Kremlin accused him of "armed rebellion".
Yevgeny Prigozhin said his Wagner fighters had crossed the border from Ukraine into Russia, entering the city of Rostov-on-Don.
Mr Prigozhin said his men would destroy anyone who stood in their way.
The local governor urged citizens there to keep calm and stay indoors.
Mr Prigozhin claimed that his forces had shot down a Russian military helicopter that "opened fire on a civilian convoy". He did not give a location and the assertion could not be immediately verified.
The Wagner Group is a private army of mercenaries that has been fighting alongside the regular Russian army in Ukraine.
Tension has been growing between them over how the war has been fought, with Mr Prigozhin launching vocal criticisms of Russia's military leadership in recent months.
On Friday, the 62-year-old mercenary leader accused the military of launching a deadly missile strike on his troops and vowed to punish them. He did not provide evidence.
Authorities have denied the strike and demanded he halt his "illegal actions".
Mr Prigozhin said the "evil" in Russia's military leadership must be stopped and vowed to "march for justice".
"Those who killed our lads, and tens of thousands of lives of Russian soldiers [in the war in Ukraine] will be punished," he said in an audio message posted to the social media platform Telegram.
"I ask you not to resist. Anyone who does will be considered a threat and destroyed. That goes for any checkpoints and aviation on our way.
"Presidential power, the government, the police and Russian guard will work as usual.
"This is not a military coup, but a march of justice. Our actions do not interfere with the troops in any way."
Russia's President Vladimir Putin is receiving round-the-clock updates on the situation, his spokesman said.
Security in Moscow was stepped up on Friday night at prime locations in Moscow, including government buildings and transport facilities, Russia's state-owned news agency TASS said.
The governor of Russia's Lipetsk region is also asking residents not to travel south.
Lipetsk is around 280km (175 miles) north-east of the nearest Ukrainian border, and more than 500km north of Rostov.
Writing on Telegram, Igor Artamonov said security measures in the region are being tightened, with a particular focus on protecting critical infrastructure facilities.
The White House said it was monitoring the situation and would consult with US allies.
Gen Sergei Surovikin, the deputy head of the Russian forces in Ukraine, whose leadership Mr Prigozhin has praised in the past, called on him to "stop the convoys and return them to their bases".
"We are of one blood, we are warriors," he said in a video. "You mustn't play into the enemy's hands at a time that is difficult for our country."
Another senior commander, Lt Gen Vladimir Alekseyev, described the Wagner chief's actions as "a stab in the back of the country and the president".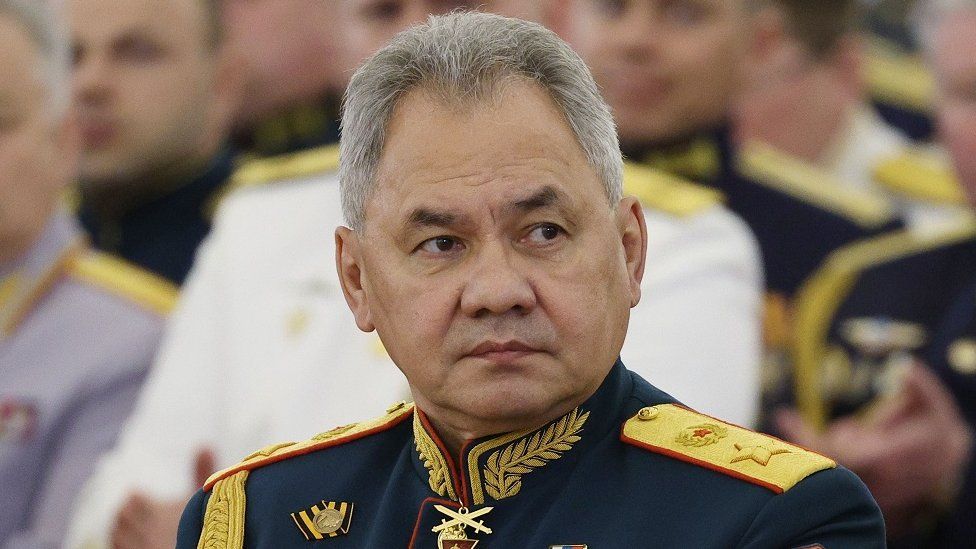 Russian state media reported that the FSB, Russia's security service, has opened a criminal case against Mr Prigozhin, accusing him of "calling for an armed rebellion" and attempting to start armed civil conflict in Russia.
The FSB also reportedly called on Wagner fighters to disobey his orders and to take steps to apprehend him.
Russia's defence ministry said in a statement that "all reports by Prigozhin spread on social media" of Russian strikes on Wagner camps were "not true and are an information provocation".
It comes after a video message in May in which Mr Prigozhin stood surrounded by the bodies of his troops and berated Russian defence minister Sergei Shoigu – as well as Chief of the General Staff Valery Gerasimov – for not providing them with enough ammunition.
On Friday, he declared that the war in Ukraine had been started "so that Shoigu could become a Marshal".
"The Ministry of Defence is trying to deceive the public, deceive the president and tell a story that there was some crazy aggression by Ukraine, that – together with the whole Nato bloc – Ukraine was planning to attack us," he said.