SJB to oppose DDR if impacting people and stability
Monday, 26 June 2023 04:26 –      – 57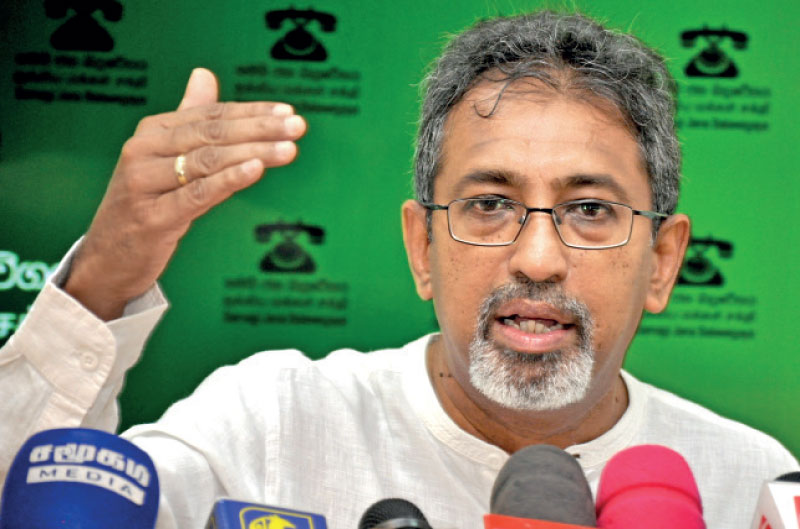 SJB Paliamentarian Dr. Harsha de Silva – Pic by Lasantha Kumara  
---
 Main Opposition MP Harsha de Silva says public savings and SMEs cannot be impacted adversely
Willing to consider any workable solution
Claims country has gone back a decade with no real plan for progress
Opines all MPs must put aside petty personal and party politics and do what is best for nation and people as the economy continues to contract
---
By Darshana Abayasingha
---
The Main Opposition, Samagi Jana Balavegaya (SJB), yesterday said it will oppose any form of domestic debt restructuring (DDR) that will put pressure on the financial sector. SJB MP Dr. Harsha De Silva told the media that his party has always maintained that DDR cannot entail any write offs, and the party will not lend their support to any such measure.
In addition, there cannot be any adverse impact to the Employees Provident Fund (EPF) and people's savings, but noted his party is willing to consider any workable solution with respect to the fund.
De Silva, said the Opposition has received information that proposals relating to domestic debt restructuring will be approved by cabinet this week and then discussed at the Parliamentary Committee of Public Finance on 29 and 31 June, before it's debated in Parliament during the first week of July.
"However, all of this would have to be agreed up at the party leaders meeting on Tuesday. If necessary, as a people's opposition his party will propose relevant legislation or bring in necessary amendments to protect the people, and seek support from members in the house for this purpose," SJB MP said.
He noted that all members of Parliament must put aside petty personal and party politics and do what is best for the nation and its people at this juncture, as the economy continues to contract and Per Capita Earnings drop to the level of 2013. "The present Government which was led by President Gotabaya Rajapaksa and the incumbent has set this country back by nine years," he claimed and noted the country will only achieve a growth of 3% in 2027.
"I pointed out to the President that in order to achieve his development target of 2048, and for people's earnings to reach $ 13,200, Sri Lanka must achieve 6.5% growth every year. One of the fundamental prerequisites to grow this contracting economy is to strengthen the Small and Medium entrepreneurs. But today we see that many industries and institutions are struggling due to local and global factors," de Silva pointed out.
"Automation will impact employment numbers as less people are required around a machine. How do we face up to this reality? We have many questions and concerns before us. The President had reportedly said in Paris that there is still no definitive roadmap on how to grow the economy. The SJB has presented a blueprint on how this could be done, over a year ago," SJB MP said.
However, any plan to develop the nation requires a mandate from the people, the MP said, noting his party will place the proposals before the people for their approval at the first possible opportunity.