SJB challenges RW to measure popularity with mandate test
Thursday, 13 July 2023 02:28 –      – 87
Claims Govt. still not concerned for people's welfare
Calls for enhanced policy platforms; warns import-focus will erode stability
Faults RW's inaction on corruption
Expresses commitment to amend EPF Act to ensure  2.6 m members receive minimum rate of return at a fixed rate, representative of market rates or reflective of inflation
---
By Darshana Abayasingha
---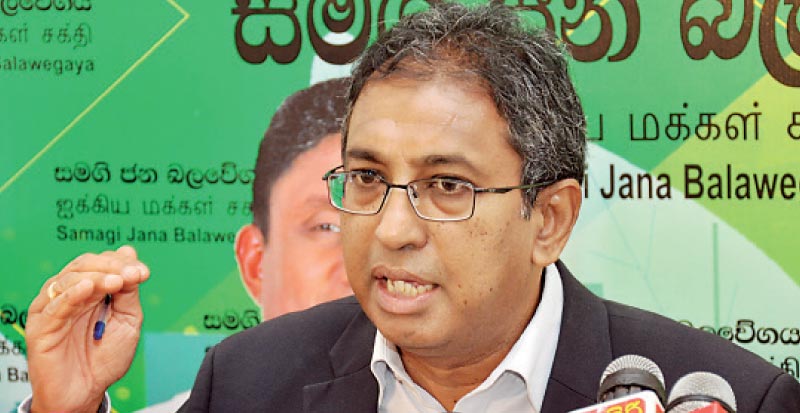 SJB MP Dr. Harsha de Silva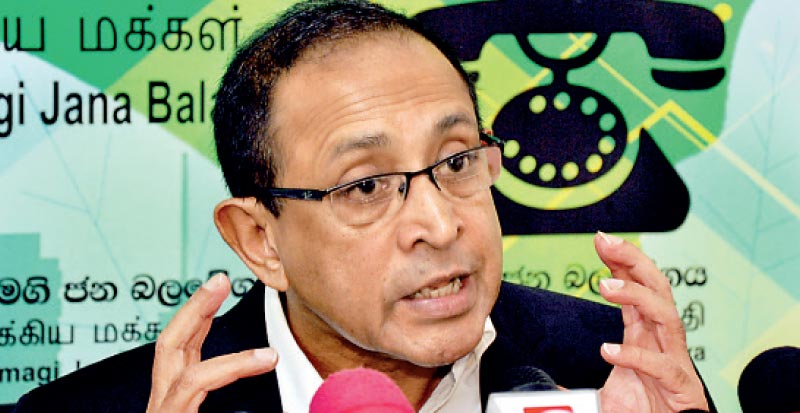 SJB MP Kabir Hashim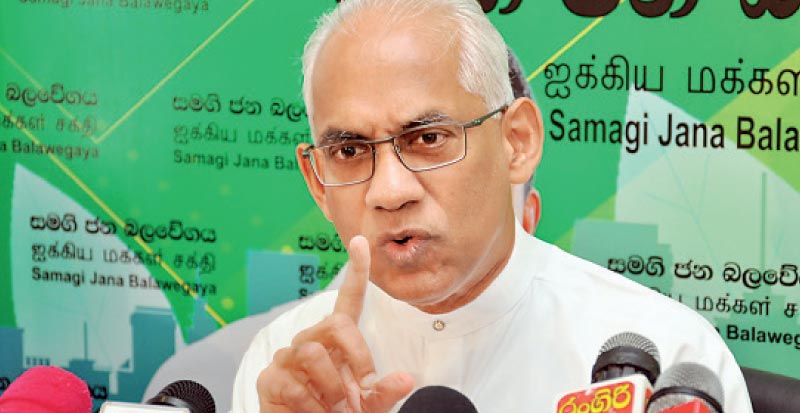 SJB MP Eran Wickramaratne 
---
The main opposition, the Samagi Jana Balavegaya (SJB) reiterated yesterday that President Ranil Wickremasinghe and the ruling Sri Lanka Podujana Peramuna (SLPP) Government lack the mandate from the people to govern, despite President Wickremasinghe holding the executive position.
Holding a media briefing the SJB's economist trio, Parliamentarian Dr. Harsha de Silva, emphasised the need for political stability to sustain the achieved relative economic stability, whilst calling for elections to be conducted at the earliest opportunity.
He noted that recent surveys by Verite Research on the 'Mood of the Nation' shows the Government's popularity has risen to 20% due to lack of queues, but the people must be given the opportunity to exercise their democratic will with suitable alternatives.
"The SJB's proposal is cantered around a socio-market economy. This is what JVP-leader Anura Kumara Dissanayake also alluded to in Australia, when he said two ambulances often come to attend to patients," de Silva said.
He emphasised that the current market system fails to provide equitable access to ambulances, as they are predominantly accessible to wealthy individuals in Colombo.
"Through our Suwa Seriya program in 2018, we have provided free ambulances accessible to all Sri Lankans anywhere, and in fact sometimes two ambulances go for one patient. That is a good example of a social-market economy working, which our Government delivered for the people when the market failed to offer a solution. This is the kind of solution we proffer; this is our alternative and we want to take that forward with the people's mandate," de Silva averred.
Joining the discussion, SJB MP Eran Wickramaratne accused the Rajapaksa-led Government of regaining power by capitalising on the alleged Bond Scam, which served as the election slogan for the SLPP. "Despite multiple forensic reports and a presentation to a parliamentary select committee, no action has been taken against any individuals involved in the scandal," he added.
Wickramaratne emphasised the comprehensive nature of these reports and expressed disappointment over the Government's inaction even after four years.
In the context of enhancing Sri Lankan exports, SJB Economic Council member MP Kabir Hashim called on the President to closely evaluate the Government's policy framework, as domestic industries are being swept aside by imports due to lack of policy.
He noted that Sri Lanka has a foreign exchange issue, but the country has now fallen to a position where it must import eggs due to wrong policies concerning maize and chicken feed. He pointed to hundreds of poultry farmers who have been affected by this issue, and valuable foreign exchange lost for egg imports.
"Inaction and lack of policies will only send us back towards bankruptcy. Therefore, we hope the President will consider these matters and advise his ministers to take necessary action and boost exports not imports," MP Hashim warned.
Commenting on reports of reducing job numbers, Dr. de Silva attributed it to the advent of automation and AI that are transforming various markets.
He noted 'sewbots' are transforming the apparel industry, whilst only five people are needed around a machine now where 20 people may have been required earlier, plus, reduced demand for tellers, accountants and even stockbrokers.
Dr. de Silva said Governments need to be cognisant of these changes and look to develop industrial exports, whilst paying significant attention to generating employment through service industries and others with less industrial input.
"The technology revolution is coming. So, we must look at high-spending markets that consume electrical items, for instance, and develop industries to serve those markets. We need an export economy. But we need to consider what we will do for our people and their broader employment opportunities. This is what the SJB is looking at through its economic blueprint," De Silva stated.
The SJB Economic Council also said it will continue to pursue bringing in amendments to the 1958 EPF Act, to ensure the active membership of 2.6 million beneficiaries will receive a minimum rate of return at a fixed rate, or representative of market rates or reflective of inflation.