Is the Health Minister bluffing over drug shortage?
---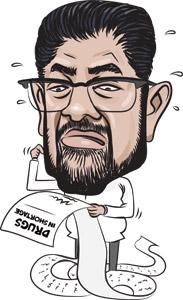 Despite Health Minister Keheliya Rambukwella claiming on May 31 that there was a shortage of only 111 drugs as of May 30 and that this shortage was further coming down, a senior Health official on Tuesday revealed that a total of 270 drugs are in shortage at present.
This revelation was made by Health Ministry Additional Secretary Dr. Saman Rathnayake at a news briefing held on Tuesday (11).
The Health Minister on May 31, speaking to Daily Mirror said "There were about 200 drugs in shortage and it has come down to almost 100. Within the next two weeks, it will come down to 60 or 70, which has been the normal thing forever in the history"
Even though the Health Minister said so, it had not come down to the amount he mentioned, rather it had gone from bad to worse by now.
Speaking at the press briefing, Dr Rathnayake said "There are about 1300 drugs in use of which 383 are essential drugs and 14 are lifesaving drugs,"
"However, there are 270 drugs in shortage at present and plans are afoot to procure them as soon as possible," he added. (Sheain Fernandopulle)