Lean times hit the vertical farming business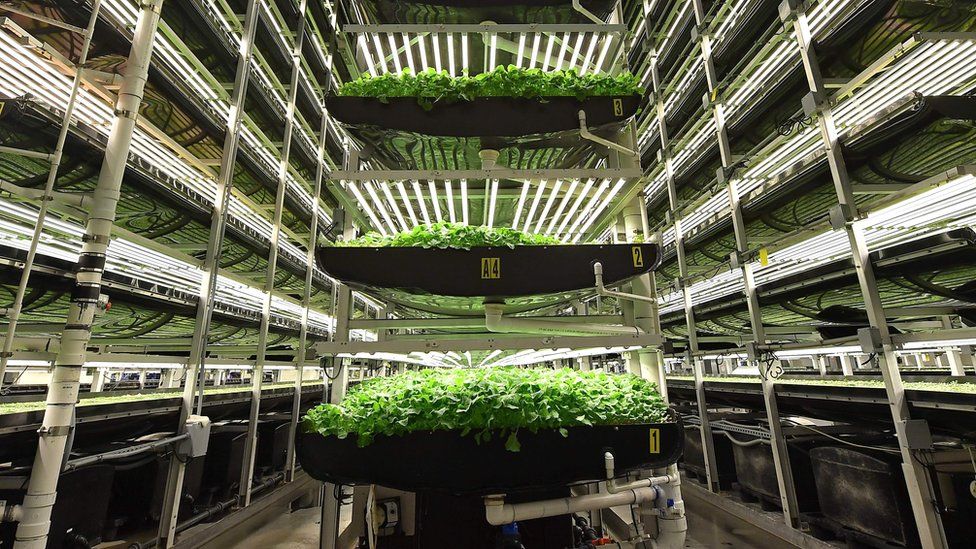 Not long ago, vertical farming seemed unstoppable. Big tech was going to supercharge agriculture, one of the oldest industries in the world, and the revolution would start with salad leaves.
Warehouse-grown greens, flourishing in trays neatly stacked beneath row upon row of glowing LEDs. It was not any old lettuce – it was sci-fi salad.
US-based AeroFarms considered itself to be one of the leaders in the industry.
"We are so far above everybody else in this technology," AeroFarms' chief executive David Rosenberg boasted to the New Yorker in 2017. "It will take years for the rest of the world to catch up."
Hard times caught up with AeroFarms instead. In June, the firm filed for bankruptcy protection in the US and Mr Rosenberg stepped down.
It is all part of a "reset" or "pivot", insists co-founder and chief marketing officer Marc Oshima: "We're growing product every day, we're shipping product every day."
But lately, AeroFarms has struggled to find investors to fuel its soaring ambition. "The money just has not been there," admits Mr Oshima. When asked whether initiatives, such as one targeting low income communities in Jersey City, New Jersey, will continue, he adds that these are currently "being evaluated".
A spokeswoman for Jersey City says, "We do not anticipate our operations to be interrupted in any way."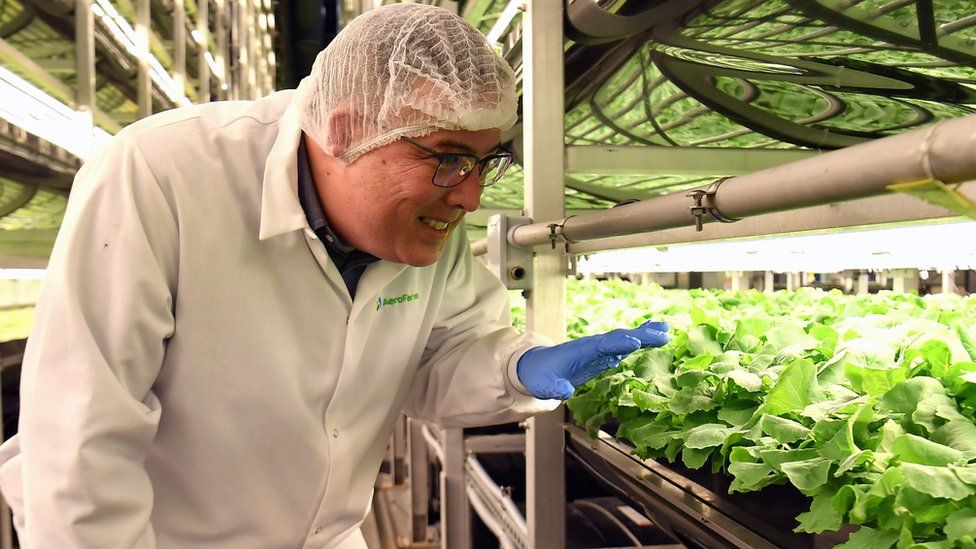 A long list of other vertical farms have run into trouble in recent months.
French firm Agricool went into receivership earlier this year, Pennsylvania-based Fifth Season shut down in late 2022, Iron Ox of California has laid off nearly half its workforce and Infarm has closed its operations in Europe – making 500 staff redundant.
"Infarm has decided to shift its geographical focus from Europe to high-potential regions better suited for indoor farming, with low energy prices and healthy market demand," the company says in a statement.
Besides the major economic challenges that have hampered many industries during the last few years, within vertical farming a debate rages over the extent to which some companies may have set themselves up for a fall.
"My opinion is that we'll continue to see failures. It is bad," says Andrew Lloyd, chief operating officer at Intelligent Growth Solutions, which makes equipment for vertical farms. "Many people are growing the wrong crops, they're very heavily focused on leafy greens."
He also argues that some have foolishly attempted to design and build their own technology – such as robots that tend to the baby plants as they develop.
That might sound like too easy a riposte for someone who sells such technology himself but Mr Lloyd does make a good point, says Mark Lefsrud at McGill University in Canada, who consults for the industry.
"I've seen to the extreme where one company redeveloped their own pipe," he says. "Literally just a plastic pipe to transfer water through.
"I was like, 'I think the pipe has been developed'."
AeroFarms famously designed its own indoor growing systems. "We think it has served us well, we have unique technology,"
What people don't often hear about vertical farming, though, is how an ability to care for plants, over technology, is what really matters.
Mr Lefsrud says he has occasionally been called in by firms fretting over copious trays of crops that have started to die.
"You need somebody who's going to be full-time," he has told them, explaining that farming means giving constant attention to living things – not just firing up a few gadgets and waiting for the profits to roll in argues Mr Oshima.
"You have to be growing them properly all the time. You can't go, 'I'm not gonna work this weekend because I want to have a party' – and all the plants die on you. Which I've seen repetitively," he says.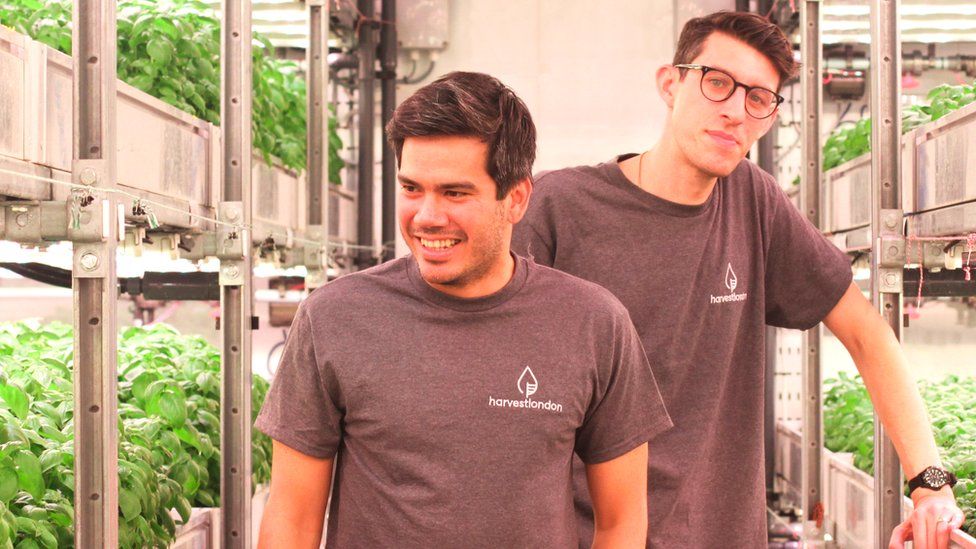 The industry has been blighted by "hubris", argues Chris Davies, chief executive and founder of Harvest London, which plans to open a new vertical farm in Beddington next year. The firm grows salad for companies including HSBC and Google.
Mr Davies says he and his colleagues are trying to be cautious. For one thing, their new facility will be built near to a power-generating waste incinerator so that they can take advantage of cheap energy when it is available.
"Let's say we know that an hour from now power pricing is going to go up, we can just turn out the lights," he says.
The firm has also successfully grown tomatoes, cucumbers and strawberries at a small scale and hopes to diversify its product line in the near future with these potentially higher value crops.


It can be tricky to expand beyond growing just a few varieties of easy leafy greens, says David Meszaros, founder of Smartkas, a Dutch agricultural technology firm that owns the largest vertical farm in the UK – a 27,000 sq m facility in Harlow, Essex dedicated to growing strawberries.
Dr Meszaros stresses that Smartkas operates a range of growing environments, including greenhouses, meaning the firm has not put all its eggs in the vertical farming basket alone.
His company has still faced plenty of headaches lately, though. "The big challenge came with the chip shortage," says Dr Meszaros, explaining how growing at one newly built facility was delayed by many months because Smartkas could not obtain the chips it required for the safety systems in robots tasked with moving around trays of plants.
Without those chips, the robots would not have been able to detect collisions in the warehouse or dangerous levels of water or humidity, for example.
Despite pitfalls, vertical farming still has a future, say many observers – even those who are critical of some business models.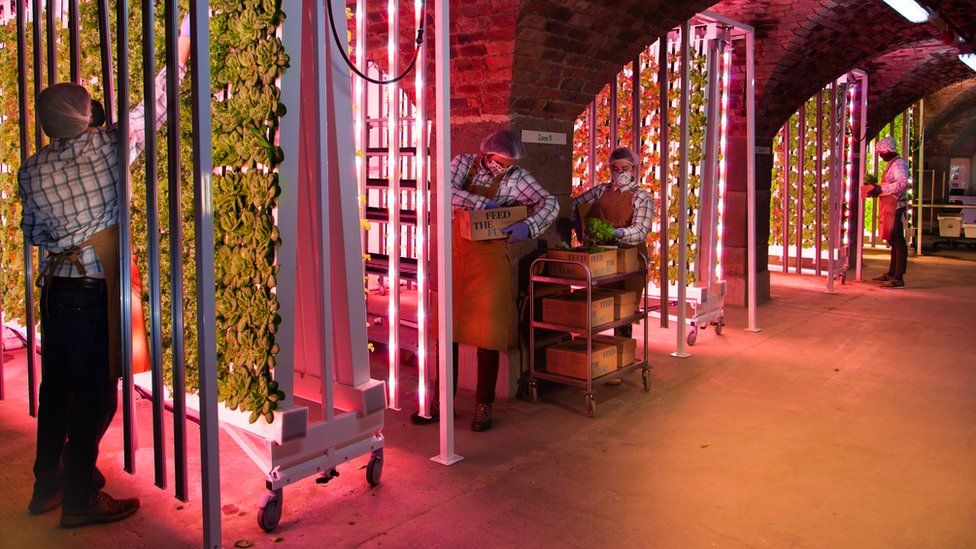 Growing more food indoors, and in urban places, is a matter of "security" says Paul Myers, managing director at Farm Urban, which is based in Liverpool. He mentions the veg shortage that hit British supermarkets earlier this year.
"What that highlights is that, actually, the UK should be investing in long-term solutions," he says.
Britain is "exposed" to supply issues, agrees Jessica Davies at Lancaster University. She and colleagues published a study last year that suggested urban farming, including vertical farming, could boost agricultural production.
For Mark Lefsrud, the vertical farming businesses falling by the wayside do not represent a death knell. Rather, they are a sign that the industry is maturing as the truly hardy growers emerge.
"It's a pruning that's required," he says. "We do it to plants, so it makes sense to do it with businesses, too."