Father of modern Ceylon Tea Merrill J. Fernando no more
Friday, 21 July 2023 00:26 –      – 121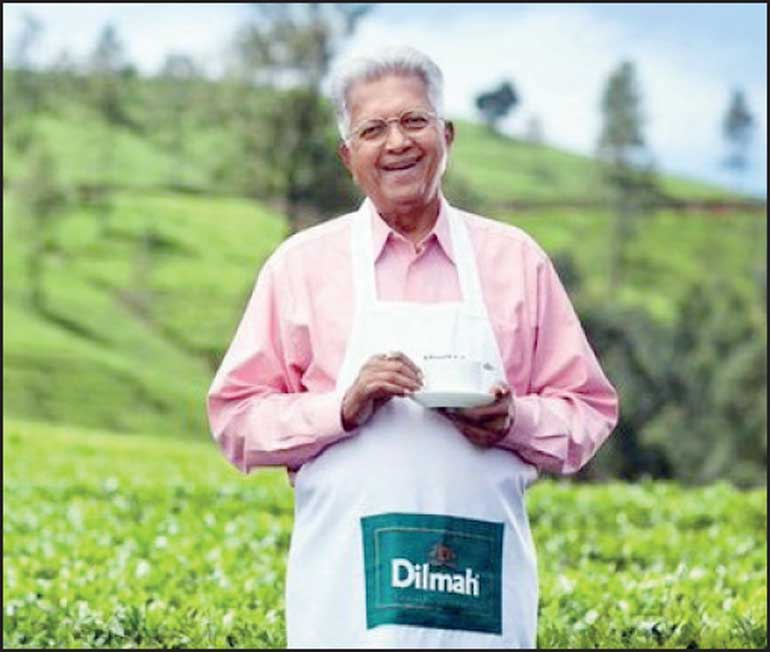 Merill J. Fernando
---
The visionary founder of Dilmah Tea and the father of modern Ceylon Tea Merrill J. Fernando passed away yesterday morning at the age of 93.
His demise marks the end of an era for the tea world, as he leaves behind an extraordinary legacy built on passion, quality, integrity and an unmatched love for Ceylon Tea.
The Dilmah Family took to Twitter to announce the passing of Merrill J. Fernando, stating that he peacefully passed away surrounded by his loved ones. The tweet further conveyed that his generation will follow, as he rests in the arms of his Lord.
His remains will lie at the Respect Funeral Parlour today from 8.00 a.m. to 8.00 p.m. and tomorrow from 8.00 am to 12 noon, followed by a private burial at St. Mary's, Pallansena, Negombo.
Merrill J. Fernando's journey in the tea industry began in the early 1970s when he laid the foundation for Dilmah Tea. With an entrepreneurial spirit and a vision to showcase the distinct flavours of single-origin Ceylon tea to the world, he embarked on a path that would revolutionise the global tea landscape.
Under the Dilmah Brand, Merrill J. Fernando's tea empire soared, reaching over 100 countries worldwide. His unwavering commitment to maintaining the integrity of Ceylon tea and promoting single-origin tea set new standards in the industry, earning him the admiration of tea enthusiasts globally.
More than just a business venture, Dilmah Tea became a reflection of Merrill J. Fernando's passion for tea and his desire to share the essence of Sri Lanka's tea culture with the world. Through his dedication, the world discovered the authenticity and richness of Ceylon tea, elevating its status in the global tea market.
Beyond his remarkable commercial success, Merrill J. Fernando was known for his philanthropic endeavours. He made significant contributions to uplift the lives of those involved in tea production and to support various social initiatives in Sri Lanka.
His pioneering efforts in the tea industry, combined with his philanthropy, earned Merrill J. Fernando the respect and admiration of not only tea enthusiasts but also the nation of Sri Lanka and the global tea community.
As the tea industry mourns the loss of an extraordinary visionary, Merrill J. Fernando's legacy will continue to shine brightly, serving as a trailblazer and inspiration for future generations in the world of tea. His enduring impact on the global tea industry and his commitment to elevating Ceylon Tea to new heights will forever be cherished and remembered for years to come.
Following the outpouring of affection from people around the world, the Dilmah Family has set up a website; mjf.dilmahtea.com where friends of tea maker Merill J. Fernando can share their sentiments.