World Bank Country Director lists five things Sri Lanka must do on its path to recovery
Friday, 21 July 2023 00:25 –      – 24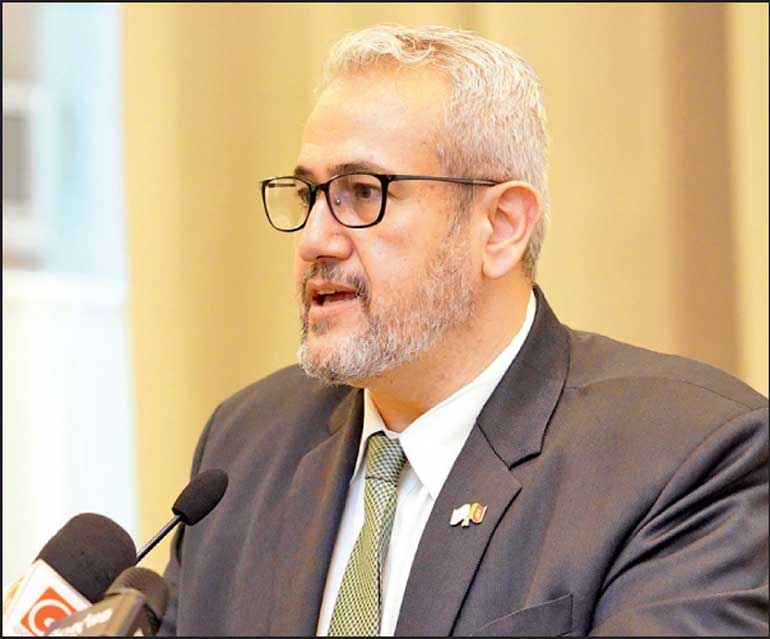 Faris Hadad-Zervos
---
Towards Sri Lanka's recovery: Green, resilient and inclusive development
Following is the speech made by World Bank Country Director for
Maldives, Nepal and Sri Lanka Faris Hadad-Zervos at the "Towards Sri Lanka's Recovery: Green, Resilient and Inclusive Development" Press Club Event, organised by the Sri Lanka Press Institute at the Hilton Colombo this week.
I am pleased to be here with you today to discuss Sri Lanka's path to recovery and how the World Bank, as a development partner, is supporting the country's journey towards green, resilient, and inclusive development.
We are all too familiar with the unprecedented multiple crises Sri Lanka currently faces.
It was this time last year, a mere 12 months ago, that we saw the peak of Sri Lanka's worst economic crisis in decades.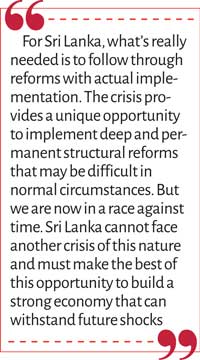 The economy contracted by 7.8% in 2022 and 11.5% in the first quarter of 2023.
The crisis has had devastating impacts on people's standards of living, exacting a heavy toll on the poor and vulnerable and jeopardising Sri Lanka's past development gains.
We estimate that poverty doubled from 13.1 to 25% between 2021 and 2022—an addition of 2.5 million poor people—and we expect this to increase by another 2.4% in 2023.
Many more people are just one shock away from poverty. We estimate that 5.7% of the population lives less than 10% above the poverty line, and a further 5.6% between 10 and 20% above the poverty line.
This dramatic increase in poverty and vulnerability has wiped out decades-long human capital gains. For example, there is now a serious learning crisis in the country. Only 14% of Grade 3 students have acquired minimum competency in literacy and only 15% in numeracy.
These harrowing circumstances for the country and its people demand deep reforms to stabilise the economy and bold action to protect the poor and vulnerable.
The people of Sri Lanka have demonstrated incredible resilience in the face of these extraordinary challenges.
This was clearly demonstrated during acute shortages of basic necessities last year of food, medicines, and cooking gas. People supported each other and found innovative solutions to overcome difficulties.
In just one year, Sri Lanka has made good progress in addressing serious challenges facing the economy.
The country is now in an economic recovery phase. Some difficult reforms have been implemented and economic recovery has started.
We congratulate the Government on securing the IMF Extended Fund Facility, the parliamentary approval of the Domestic Debt Restructuring, and securing international financial support from the World Bank and the Asian Development Bank.
The Government has committed to an ambitious reform agenda and implemented some difficult and necessary reforms, including tax reforms, cost-reflective utility pricing, a stronger social safety net, and debt restructuring to stabilise the economy.
There have been some signs of stability in the past few months compared to 2022. Inflation is trending downwards from 69.8% in September 2022 to 12% in June 2023.
Market interest rates are also declining as the uncertainty over domestic debt restructuring wanes and the foreign exchange liquidity picture has also improved.
Yet, this is not the end of the road. The path to recovery is long and Sri Lanka must stay the course.
The next two years will be critical for Sri Lanka's recovery. There are further significant headwinds that need to be closely monitored.
The key downside risk is a prolonged debt restructuring process, which would lead to greater uncertainty.
Slow or uneven implementation of the reform agenda could further delay the recovery process and the return of confidence in the Sri Lankan economy.
The volatile global economic environment is another source of risk. Continued elevation or a further increase in commodity prices could make it more difficult to buy essential goods and a global economic contraction could delay the nascent recovery of tourism in Sri Lanka and reduce demand for exports.
The financial sector needs to be carefully monitored, given high exposures to the public sector, rising non-performing assets, and tight liquidity conditions.
There are strong concerns about the scarring effects of the crisis on growth, income, and jobs going forward. As the crisis continues, more people, especially the high-skilled, may leave the country. Families in difficulty are likely to take children out of school. Companies may sell assets that are essential for businesses to stay afloat. These negative coping mechanisms will eventually lower the capacity of the country to grow and generate more jobs and income.
The social protection reform must be carefully implemented to prevent the poor and the vulnerable from falling deeper into poverty.
We are committed to supporting the Government on its reform path. These much-needed reforms are not going to be easy and will require strong political will, broad-based consensus and consultation, and support from development partners.
This is where our new Country Partnership Framework (CPF) comes in. The World Bank Group's new Country Partnership Framework and $ 700 million financing support through the RESET DPO and the Social Protection project is our commitment to the Sri Lankan people at this difficult time.
In response to both COVID-19 and the economic crisis, the World Bank repurposed significant undisbursed funds from its existing portfolio to sustain institutions so they could continue to provide essential goods and services, protect the vulnerable, support livelihoods, and address food insecurity.
Building on that work, the CPF lays out a two-phased approach that starts with a focus on urgent macro-fiscal and structural reforms and support to protect human capital and the most vulnerable population.
After the first 18-24 months, and subject to successful implementation of the reform program and international debt relief and financial support, the CPF's focus will gradually shift to investments in longer-term development needs that will help promote private sector job creation—particularly for women and youth—and boost resilience to climate and external shocks, while continuing to invest in social protection and human capital.
If I could leave you with five things Sri Lanka must do on its path to recovery, it would be these:
1. Shifting to a more productive and outward-looking economy
Our estimates show that Sri Lanka's untapped export potential for merchandise is at $ 10 billion annually. This could create an additional 142,500 jobs.
Tapping this missing potential requires liberalising trade and attracting more and better investments. I am glad to see the budget speech announcement that para-tariffs will be gradually phased out. This will ultimately need to be followed by a broad reduction in tariffs to increase competitiveness and export orientation.
In parallel, a streamlined institutional and legal framework is required to improve the regulatory and policy environment to attract and retain investment. We are pleased to see Sri Lanka moving in this direction with a plan to put in place a comprehensive stand-alone 'Investment Law' to facilitate all aspects of the investment lifecycle.
2. Transforming economic governance to prevent another crisis
Sri Lanka needs to strengthen fiscal oversight and debt management that led to the current crisis. Independent and non-partisan oversight by Parliament over fiscal and debt management would be important. Parliament's approval, on June 20, of the bill to establish a Parliamentary Budget Office is a promising step in this direction.
I am glad to see strong commitment of the Government to improving governance, as announced by the budget for 2023. A new public financial management law and debt management law will improve the transparency and accountability of public resource management. Establishing a comprehensive legal framework to address corruption issues is critical.
3. Addressing competitiveness constraints and governance issues posed by SOEs
SOEs can play an important role in a country's economy. However, misallocation of resources in favour of SOEs, along with weak governance of public assets, result in financial losses, undermine competitiveness and investment, as well as the quality of goods and services provided to the people.
This has unfortunately been the case across much of the SOE landscape, including poorly managed access to finance that has also undermined the financial standing of State-Owned Banks (SOBs).
The recent SOE Reform Policy approved by the cabinet, maps out a comprehensive approach to restructure and divest commercial SOEs and SOBs to improve competitiveness, investment, service delivery and governance, and address associated social and environmental considerations.
Successful implementation will require extensive engagement with stakeholders and mobilisation of high-quality expertise to ensure restructuring and divestment transactions are completed through best practice and transparent due diligence.
We remain committed to supporting the Government in implementing this major reform that can have a transformative impact on the fiscal balance and private sector-led growth.
4. Continue to strengthen the country's social protection system to improve coverage and enhanced protection of the poor and vulnerable, including from future shocks
We welcome the passing of the Welfare Benefit Payments Scheme (WBPS) and the implementation of the social registry.
Moving forward, Sri Lanka must ensure the social protection system is dynamic, effective, transparent and resilient, through: (i) open registration that benefits from robust communication; (ii) timely recertification of current WBPS beneficiaries; (iii) the further development of robust grievance mechanisms that allow anyone to appeal eligibility decisions; (iv) the provision of integrated support to eligible beneficiaries by enabling other social programs to use the social registry to deliver services and (v) embedding in the system adaptive features that allow the WBPS to be scaled up and/or services and benefits to be adjusted in the event of a shock.
5. Prioritising investments in human capital
Addressing the dramatic increase in learning losses in the early years and in basic and secondary education, as well as promoting access to quality essential health care services will be critical to ensure those who are already most disadvantaged, are not left behind and are able to achieve their full potential.
Strengthening links between health and disaster risk management and surveillance systems for pandemic preparedness will be important to respond to the next impending shock.
Finally, strengthening access and quality of Tertiary and Vocational Education and Training (TVET) for skills development and upskilling youth and adults, including for the green transition, will be critical.
For Sri Lanka, what's really needed is to follow through reforms with actual implementation.
The crisis provides a unique opportunity to implement deep and permanent structural reforms that may be difficult in normal circumstances.
But we are now in a race against time. Sri Lanka cannot face another crisis of this nature and must make the best of this opportunity to build a strong economy that can withstand future shocks!
I encourage you as journalists, media, and experts – but most importantly, as citizens, to support these critical reforms and to hold decisionmakers accountable to deliver on these reforms so that Sri Lanka comes out of this crisis faster and stronger.
In the past, Sri Lanka has experienced significant reform reversals, and I urge us all, including development partners, to work together to ensure that the Government stays the course on difficult reforms.
It is urgent, and it is possible. We must all come together at this vital moment to help Sri Lanka build back better.