Tuesday, 25 July 2023 00:18 –      – 99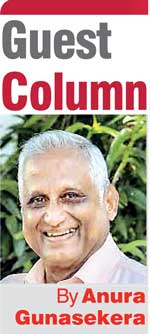 Merrill J. Fernando, the founder of "Dilmah" and the elder statesman of Ceylon Tea, passed away on 20 July, after a seven-decade commitment to the tea trade. As a passionate ambassador of Pure Ceylon Tea from the very inception, and a humanitarian business leader with a genuine social consciousness, he leaves a large void in the community. Fernando's impact on his world was profound.
When Fernando entered the Ceylon tea trade it was totally dominated by British interests. As he leaves it, led by Fernando's "Dilmah", brands birthed in Sri Lanka are being paraded, with varying degrees of success, in the supermarket shelves of many affluent countries. However, Merrill Fernando was the trailblazer, challenging the most powerful multinational tea traders in their own domains, with "Dilmah". The worldwide acceptance of "Dilmah" has undoubtedly added lustre to the global image of Ceylon Tea.
Beginnings
Merrill Fernando was born in 1930, the youngest in a devout Catholic family of modest means, in the village of Pallansena, close to the city of Negombo. The overlapping influences of an upbringing anchored to the faith, within a then typical rural community, were reflected later in both his public and private life. He frequently referred to his mother's role in shaping his attitudes, particularly in the developing of a sensitive social consciousness, the latter being decisive in fashioning his business philosophy, later.
Fernando's school life and education, disjointed but of wide-ranging influences, would also have contributed to the moulding of the man and the entrepreneur. He commenced his education at the Pallansena village school, and then moved to St. Mary's College, Negombo. From age 11 he spent four unhappy years at the St. Aloysius Seminary in Borella, in preparation for the Catholic priesthood. Released at age 15, he recommenced schooling at Maris Stella College, Negombo, and completed his secondary education at St. Joseph's College, Colombo.
Despite the controlling influences of the faith and parental guidance, from youth itself, Fernando's strong individuality was reflected in an aversion to the docile acceptance of prevailing orthodoxies and conventional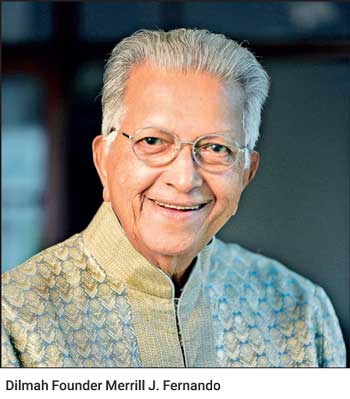 wisdom. Clearly, those attributes contributed later to entrepreneurial success, against seemingly unconquerable challenges. Visible early was the fierce will, reinforced by an unshakeable faith in God and in his own worth, which rejected both the wisdom of retreat and the possibility of failure.
Post-schooling, in 1950, Fernando was selected by the Tea Commissioner, for training in tea-tasting, then the preserve of the British. Upon completion of training he left tea for a brief stint in the Standard Vacuum Oil Company, but soon returned to tea, as a taster at A.F. Jones & Co. (AFJ); a company founded, owned and managed by a British family. Shortly thereafter, he spent several months at Joseph Travers & Co, Mincing Lane, London, in further training as a tea taster.
The making of an entrepreneur
Fernando's progress at AFJ was rapid, with elevation to the Board in 1958, followed by the purchase of the company in collaboration with two friends, and appointment as managing director in 1959. However, in 1962, disagreeing with his partners on matters of principle, he left A.F.J and set up MJF Company. Thereafter, as a bulk tea exporter he achieved much success, in 1973 recording the highest profit per pound of any locally based tea exporter, exceeding even that of Brooke Bond & Co.
The idea of a brand of his own had evolved during his training stint in UK, as a reaction to what he defines as the "multi-nationals' debasement and exploitation", of the most valuable product of his native Ceylon. In helpless outrage, he observed the wealth created in the West, by the value addition overseas to a Ceylonese product of genuine worth, thus depriving the local farmer and the plantation worker of a share of the surplus value. The global tea trade was then dominated by UK based multi-national companies and in the industry value chain, the native component was an insignificant link at the bottom end. As Fernando always said, the sweat and toil of the third-world plantation worker, enriched the affluent in the West.
The launching of Merrill J Fernando Exports in 1974, was a turning point in Fernando's career. The years in AFJ had provided him with invaluable connections to the tea trade in Japan and Russia, as well as the Middle-Eastern consumers, Libya, Iraq, Syria and Egypt. However, despite early success – in his own words – the export of bulk tea was neither challenging, nor fulfilling. But, finally, with the launching of his value-added brand, "Dilmah", in Australia, in 1985, the modest teamaker with extravagant dreams fulfilled his aspirations.
Within a couple of decades "Dilmah" was being marketed in over a hundred countries, as a Single Origin, Pure Ceylon Tea. The global success of the brand, driven by a man who, according to himself, had never read a book on marketing, is now posited worldwide, by international marketing specialists and business schools, as the quintessence of successful marketing strategy! However, Fernando insisted on modestly attributing his success to his Lord and the inherent quality of Pure Ceylon Tea. "I was simply a messenger for a wonderful product," he would say deprecatingly, with his charming smile. Yet, Dilmah is now an international case-study, as a unique example of entrepreneurial success underpinned by the advocacy of social responsibility.
Industry rebel and champion of Pure Ceylon Tea
From the inception of his career, the maverick in Fernando was always visible. He challenged the establishment, in every situation he perceived a threat to the interests of Pure Ceylon Tea. To him, Ceylon Tea was as sacred a national symbol, as the Lion Flag. The British domination of the tea industry in that era was reinforced by many trade protocols, designed to promote multi-national interests and, by extension, to hamper the local exporter. One was the stranglehold on the shipping of tea, by the Conference Lines, which excluded Lankan vessels from carrying Ceylon tea. Fernando, through confrontation, guile, the leverage of influence, and the assistance of national-minded public servants, facilitated changes to restrictive export shipping conventions, much to the benefit of the local exporter.
In 1969, in a parallel development, Fernando became a key player in engineering a 'palace coup", resulting in the British-controlled committee of the Ceylon Tea Traders' Association (CTTA), being ousted, and replaced by five local shippers. Simultaneously, for the first time since the inception of the CTTA, its chairmanship was contested and a Ceylonese elected to the position.
Over the years Fernando has held important ex-officio and honorary positions in numerous tea regulatory entities and, often, also been an appointee to various special panels, related to the development and export marketing of Ceylon tea. However, all such bodies, including the Ceylon Tea Propaganda Board and, subsequently, the Ceylon Tea Board, had to contend with his fierce championship of Pure Ceylon Tea, and his aggressive opposition to any proposal, with adverse potential to it. As a passionate advocate for value addition at source, he was also openly critical of the subservience of local packers to foreign-owned tea brands.
Fernando's commitment to the cause of Pure Ceylon Tea was best demonstrated, in his relentless opposition to the "Tea Hub" proposal to import cheap, low-quality, multi-origin tea, in order to position Sri Lanka as a blending and re-export centre, similar to Dubai or Rotterdam. Leveraging his commanding industry profile and the assistance of like-minded individuals and associations, he marshalled successful counter-action to what many in the industry considered to be an existential threat to the integrity of Pure Ceylon Tea.
Business as a matter of human service
Millions of tea drinkers, worldwide, customarily associate Merrill Fernando with the success of Dilmah". However, he considered his most important life-achievement to be the contribution to social justice and environmental conservation, funded by the earnings of Dilmah, and delivered through the Merrill J Fernando Charitable Foundation (MJFCF). A locally owned international brand was returning full value to the country of origin. As he himself has said, wherever in the world a cup of Dilmah tea is drunk, it empowers a marginalised community or a needy individual, or drives an environmental rehabilitation mission, in the country where that tea was grown. The transformational initiatives funded by the MJFCF have enriched the lives of tens of thousands of people, especially disabled children, from communities all over this country, and even overseas. A genuine humanist, Fernando committed early to the entrepreneur's responsibility to society, determining a greater purpose than pure profit, by dedicating his business to his Lord and defining it "As a Matter of Human Service".
During his lifetime, the contribution of his enterprise to the ethical marketing of Ceylon Tea, and the remediation of social inequities, has been recognised by a series of prestigious international and national awards. It is my privilege to have worked closely with Merrill Fernando, in the final decade of my career in the tea industry. Despite my previous experience of over four decades in the industry, working with him was a steep learning curve. What I saw was an unpretentious man, but of steely resolve, with an infectious belief in the success of his enterprise. His legendary personal attention to detail ranged from the crafting of a tiny tea pack, to the designing of a multi-storied production plant. He was authoritative, impatient, and benchmarked diligence by personal example, whilst his relentless demand for excellence challenged the competencies of his people on a daily basis; nobody was spared, not even his two sons, Malik and Dilhan. However, whilst demonstrating all the conventional hard skills common to entrepreneurial success, his persona remained an intriguing amalgam of paradoxical facets; pragmatic and visionary, disruptive and creative, imperious and humble, non-conformist and traditional, hard-nosed and humane.
In our island, bereft of heroes and reduced to being a refuge for the mediocre and the corrupt, it is easy to tower over the herd. But the exceptional Merrill Fernando would have stood tall in any milieu. It is tempting to say that he was the last of an ilk but that would be misleading. In the context of his time and his achievements, it would be difficult to find a peer.
Merrill Fernando moves on, respected by many, and venerated by the many more who have benefited from his kindness. However, that powerful voice will continue to resonate, as his vital message and cherished legacy will be carried, by sons Malik and Dilhan, and the grandchildren, who have inherited Merrill Fernando's passion for Pure Ceylon Tea, along with the imperative of running the business as a matter of human service.
(The writer is a retired plantation specialist with over 50 years' experience in the industry.)