Singapore political scandals a 'setback' says deputy PM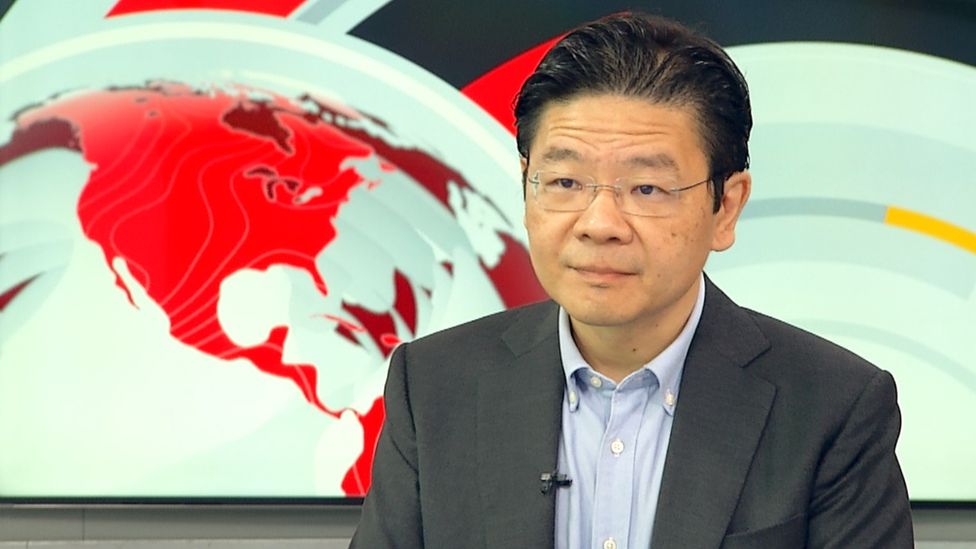 Singapore's government will work "doubly hard" to regain public trust after a spate of recent political scandals, its deputy PM tells the BBC.
Lawrence Wong acknowledged damage to the ruling party from a corruption probe and MPs' extra-marital affairs.
He told the BBC's Newsday programme: "The incidents are a setback for the ruling party and the government".
But he dismissed criticism his government had not been transparent with the public or accountable.
"We have been upfront about the cases, investigated them thoroughly and [are determined to] have a full accounting to the public," Mr Wong said.
Singapore prides itself on its reputation for clean governance. The city-state of five million is seen as a business and legal hub in Asia.
Its political leaders are also the best-paid in the world, with the highest government salaries.
However in recent weeks, the city-state's residents have been rocked by cases involving a senior minister's arrest in a corruption probe, as well as two lawmakers' resignation over an extramarital affair.
Mr Wong acknowledged the public frustration over a perceived delay in revealing the arrests of Transport Minister S Iswaran and billionaire hotelier Ong Beng Seng – who are at the centre of a corruption probe. The minister has been released on bail and placed on leave.
Mr Wong said the watchdog had chosen to reveal the arrests three days after they had taken place due to "operational considerations".
He reiterated the Corrupt Practices Investigation Bureau's independence.
"I believe Singaporeans have full trust in the work of the CPIB. Throughout our history, the track record is clear and evidence for all to see. We have zero tolerance for corruption," he said.
In June, the watchdog was also involved when two senior ministers were accused of improper access in the property market. They were cleared by the CPIB in a case review.
Political analysts say the events could dent support for the long-ruling People's Action Party, which has been in power since 1959 and holds 83 of 93 seats in parliament.
Two of those seats are vacant after a pair of MPs, including the Speaker of the Parliament, resigned over their extramarital affair.
Such impropriety scandals have stained the government's reputation.
"To be clear, we set high standards for propriety and personal conduct," Mr Wong said.
"But in dealing with such cases, which are cases of human frailties, we are also very cognisant of the impact that our actions have on innocent parties, including families, especially the spouses and their children."
Singapore's Prime Minister Lee Hsien Loong revealed he found out about the affair between former Speaker of Parliament Tan Chuan-jin and fellow lawmaker Cheng Li Hui sometime in 2020, and that Mr Tan had resigned in February this year. This led Singaporeans to question why it was only disclosed to the public recently and why Mr Tan still carried out lawmaker duties.
The city-state faces a presidential election later this year – an executive role long aligned with the party in power. A general election for government must be held by November 2025.
Mr Wong told the BBC that he would "work doubly hard" to re-earn the trust of Singaporeans, but did not elaborate on how.
"If I do have a chance to take over [leadership of the country], I know that it's not just about me taking over because I also have to earn that trust from Singaporeans themselves. I have to win their confidence and mandate to lead the country," he said.