Malik, Dilhan appointed Co-Chairs of MJF Holdings
Thursday, 3 August 2023 04:16 –      – 76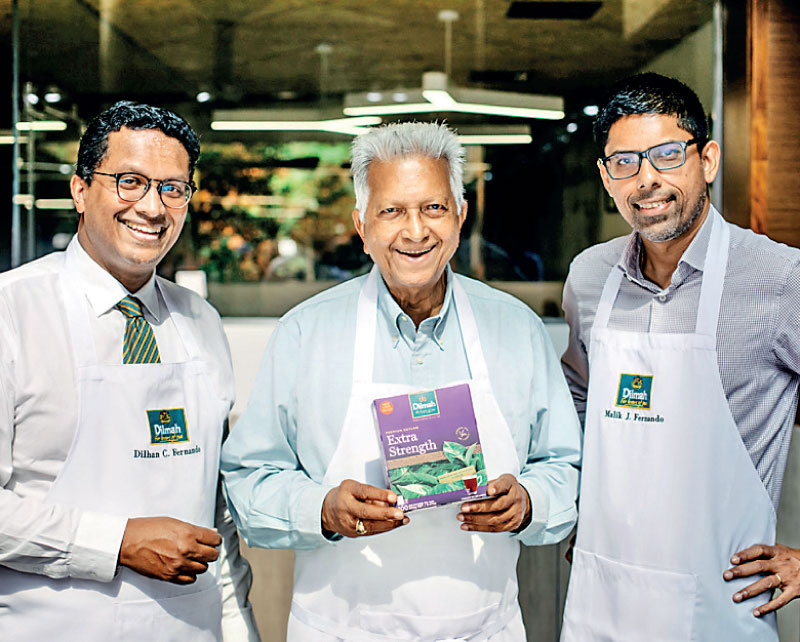 Malik J. Fernando (right) and Dilhan C. Fernando with Dilmah Founder Merrill J. Fernando (centre) 
---
Sons Malik J. Fernando and Dilhan C. Fernando have been appointed Co-Chairs of MJF Holdings Ltd., in compliance with the wishes of Merrill J. Fernando, Founder and Chairman who passed away recently.
MJF Holding is a conglomerate with diversified business interests, covering the entire value chain in the tea industry from growing, manufacturing, packaging and exporting value added tea under Dilmah brand name, Resplendent Ceylon hotels and resorts, real estate investment, etc.
Fernando's sons have pledged to continue and expand the impact of the MJF Charitable Foundation and Dilmah Conservation which were established by Merrill J. Fernando to fulfil his commitment to making business a human service.
Dilhan C. Fernando is appointed Chairman of Dilmah Ceylon Tea Company PLC and Kahawatte Plantations PLC.
Malik J. Fernando is appointed Chairman of MJF Leisure Ltd., the leisure arm of the group and Chairman of Forbes & Walker Ltd.
Both Malik and Dilhan in a statement expressed their deep appreciation to the overwhelming number of people who joined them in their grief, and in laying their beloved father to rest. They reaffirmed their commitment to building on the formidable legacy that Merrill J. Fernando built in tea and leisure with kindness to people and nature.