Sajith slams water tariff increase
Friday, 4 August 2023 00:30 –      – 34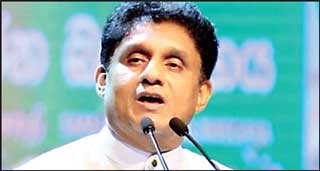 Opposition leader

Sajith Premadasa
Opposition leader Sajith Premadasa slammed the Government yesterday at a press conference over its decision to increase water tariffs this week.
Premadasa called the decision oppressive and arbitrary. "Despite its claim to revive the country in crisis, the Government has taken the decision to increase the water tariff, imposing a substantial hike ranging from 23% to 50% for consumers across different levels," he noted.
Premadasa accused the Government of perpetuating a farce by claiming that the country is now stable and all issues have been resolved. "However, now suddenly they have increased the tariffs from 23% – 50%. We consider this an oppressive and arbitrary act," he said.
"How does the Government expect to rebuild the country by burdening the common man? There are reports of an impending LP gas price hike. How can people live in such circumstances?" he asked.
According to the Assistant General Manager of the National Water Supply and Drainage Board, Piyal Pathmanatha the tariff increase in 2022 was insufficient to cover the costs incurred by the organisation. He also pointed out that the increases in electricity tariffs have led to a further rise in the organisation's costs. "Therefore we have now received approval to increase tariffs in order to partially cover the incurred costs," he said.
However, consumers are already facing difficulties in paying the hiked tariffs, evident from recent reports of mass disconnection of water supply services due to the non-payment of bills.
In July it was reported that the National Water Supply and Drainage Board had disconnected the water supply of 90617 customers due to non-payment of outstanding bills, while legal action was initiated against 5277 consumers.