Opposition: Speaker's ruling undermines people's judicial powers
View(s): 38
JVP says resolution is not law; SJB says Speaker acting like Executive's representative and interfering with judiciary 
By Sandun Jayawardana
A ruling given by Speaker Mahinda Yapa Abeywardena that no court is empowered to issue orders or judgments of any nature against a resolution already passed by Parliament created uproar in the House on Friday due to protests by the opposition.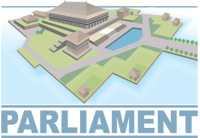 Thursday's ruling by Speaker Abeywardena was given after Tourism Minister Harin Fernando raised a privilege issue on Tuesday asking him to give a ruling on court hearings into the government's debt restructuring process. Mr Fernando pointed out that the resolution for the implementation of Domestic Debt Optimisation had been duly passed by Parliament by a majority vote.
"As the resolution for the implementation of the Domestic Debt Optimisation to restore sovereign debt sustainability was passed by Parliament on 01.07.2023, the resolution is beyond the jurisdiction of the Supreme Court or any other court established under the 1978 Constitution of Sri Lanka and cannot be questioned and/or reviewed and/or challenged," Speaker Abeywardena said in his ruling on Thursday.
The Speaker further stressed that "no court established under the Constitution of Sri Lanka is empowered, to issue orders or judgments of any nature against a resolution, already passed by Parliament having followed the due Parliamentary process, and any such order or judgment of courts would amount to a violation of item 01 of Part B of Parliament (Powers & Privileges) Act, No. 21 of 1953 (as amended)."
Opposition MPs protested the next day and asked the Speaker to withdraw his ruling. While Standing Orders dictate that MPs cannot question a ruling given by the Speaker, a serious discussion needs to be had about this particular ruling given that the Speaker's rulings become a precedent in Parliament, National People's Power (NPP) Leader Anura Kumara Dissanayake told Speaker Abeywardena.
"You gave your ruling in the morning when a case related to domestic debt optimisation was due to be taken up by court that same afternoon. If you felt that the court decision was wrong, you could have given a ruling after it was given," said Mr Dissanayake.
He claimed that the Speaker's ruling was wrong. Mr Dissanayake said the Constitution clearly lists what can be classified as motions. For example, there are clear procedures to follow when presenting a no-confidence motion. When it comes to the Budget, Parliament votes on the Appropriation Bill, which is a law. People have a right to go before court before it goes to Parliament. "I would like to know if the motion to subject Employee Provident Fund (EPF) funds to domestic debt restructuring was a law. Is it a draft bill? Is it a regulation? It is none of these. It is simply a resolution presented to Parliament," he insisted.
"Supposing a government MP presents a resolution tomorrow stating that all courts in the country should be closed. Government MPs approve it. What happens then? Can that resolution not be considered by the courts? Parliament can only impose laws after the courts decide if they are consistent with the Constitution."
Kurunegala District Sri Lanka Freedom Party (SLFP) MP Dayasiri Jayasekara pointed out that Section 91 of the Standing Orders of Parliament state that MPs must not speak on matters that are before court. If an MP starts talking about such matters the Speaker or the presiding MP can tell them to sit down. "These are things that you must do as the Speaker. But you have violated this same Standing Order with your ruling," Mr Jayasekara noted.
Government MPs have raised privilege issues in Parliament in recent times to frighten independent commissions and the courts, charged Opposition Leader Sajith Premadasa. "Under the government's domestic debt restructuring, the burden has been shifted onto the working class while multi-millionaire primary bond dealers remain untouched. When people go to court over their fundamental rights being violated over this programme, someone else comes and says his privileges as an MP are being violated through this legal action. Through this ruling, you are acting like a representative of the Executive and interfering with the courts,"
Mr Premadasa told the Speaker.
If the implementation of an order given by Parliament results in unequal treatment, the Supreme Court has not only the right but also the responsibility to look into it, Freedom People's Congress (FPA) MP Prof. G.L. Peiris remarked. Even the Court of Appeal has power to issue writs in this regard. "This is unbelievable. There is an active case before the Supreme Court. An MP raises a privilege issue. You give a ruling on it within hours. Parliament and the Judiciary must respect each other. That is the mortar that holds our Constitution together," he stressed.
Prof. Peiris warned that if the legislature interferes with the judiciary by raising privilege issues, it will topple the foundations of the Constitution. He urged the Speaker to withdraw his ruling.
House Leader Susil Premajayantha, however, said he did not believe the Speaker's ruling on Minister Fernando's privilege issue did not amount to interference in the judiciary. "There is no bar on you to give a ruling on this matter," he told the Speaker.
As per Parliamentary tradition, once the Speaker gives a ruling, it can only be challenged by bringing a no-confidence motion against the Speaker, said Civil Aviation Minister Nimal Siripala De Silva.
Speaker Abeywardena said he gave the ruling after consulting legal advice and after several hours of in-depth discussion. He said the ruling only affirms the supremacy of Parliament and that it has full control over public finance. He added he would not withdraw his ruling.