When JRJ wanted us to get out of the UN
Tuesday, 15 August 2023 00:10 –      – 46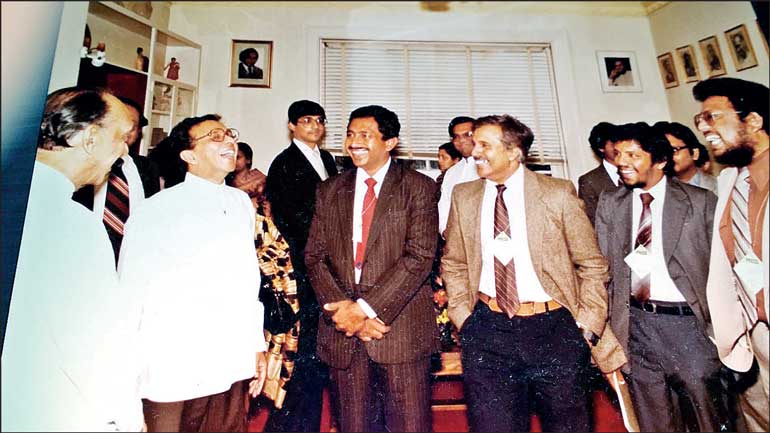 A group of Sri Lankan journalists share a joke with President J.R. Jayewardene (JRJ) and Ambassador Ernest Corea during the President's state visit to the US in 1983
By Thalif Deen
UNITED NATIONS: Come September, over 150 world leaders, including Presidents and Prime Ministers, will make their annual political pilgrimage to New York to address the UN General Assembly for its 78th sessions since the creation of the world body in 1945.
Among Asian countries, Sri Lanka and India hold a rare family distinction.
In the case of the Bandaranaikes, three generations addressed the UN, including Prime Minister S.W.R.D. Bandaranaike, his wife Sirimavo Bandaranaike and their daughter President Chandrika Bandaranaike Kumaratunga.
But they were not the first "first family" to achieve that distinction because India joined the privileged ranks with the Nehru family, beginning with Prime Minister Jawaharlal Nehru, then daughter Indira Gandhi followed by son Rajiv Gandhi.
If President Ranil Wickremesinghe addresses the General Assembly on 21 September, as scheduled in the UN's provisional list of speakers, there is a different family relationship that can be traced back to the role played by his father Esmond Wickremesinghe in our admission to the world body.
Our first attempt at seeking UN membership was in May 1948 – three months after independence. The application was signed by D.S. Senanayake, the country's first Prime Minister, who also held the portfolio of Minister for External Affairs.
But unfortunately, we got embroiled in big power politics not of our choosing. The application was rejected by the Security Council where the USSR used its veto against us. The Council resolution said it "resolves to postpone" the decision of our admission until there was "sufficient proof that Ceylon is a sovereign and independent state."
The argument against Sri Lanka was the Brits were still entrenched in our Trincomalee naval base challenging the concept of our sovereignty.
Sensing the deadlock, Prime Minister Sir John Kotelawela handpicked Esmond Wickremesinghe, a media mogul and a consummate political power broker, anointing him as a Special Envoy, with a single-minded mandate: to lobby US and Soviet diplomats for a politically-smooth passage for admission to the world body.
Esmond, father of Ranil Wickremesinghe, was not only a highly influential press magnate of outstanding stature, but also a political kingmaker and a skilled behind-the-scenes negotiator. With strong support from R.S.S. Gunewardene, (who later became our first Permanent Representative to the UN), Esmond played a key role in successfully negotiating a "package deal".
Ambassador Ernest Corea, a former editor of the Daily News and later the Observer, and who worked closely under Esmond at Lake House, said Sir John rewarded Esmond with an offer of a knighthood: a deserving title of Sir Esmond Wickremesinghe. But Esmond apparently turned it down – and the knighthood went to R.S.S. Gunewardene, later Sir Senerath Gunewardene.
Even as Managing Director of the Associated Newspaper of Ceylon Ltd., Esmond always kept out of the limelight – even instructing all his editors never to publish his photo or feature him in any of the Lake House newspapers.
Our admission to the UN only proved his skills as a successful negotiator – away from the public eye. Sir John, unfortunately, did not get to make the planned "grand entry" at the UN because the UNP was swept aside by a political landslide in 1956 and S.W.R.D. Bandaranaike, the new SLFP prime minister, headed the country's delegation to the 1956/57 sessions of the General Assembly.
And according to Ernest, Bandaranaike made his first and last appearance at the UN where he had the distinction of speaking ex-tempore before an Assembly where most leaders read out a prepared text or more recently employ a teleprompter.
In September 1988, President Kumaratunga, to the delight of feminists at the United Nations, was the only female head of state to address the male-dominated UN General Assembly session that year.
But her unique presence also prompted a question from a female CNN reporter who asked her at a UN press conference: "As a woman, and a Head of State, what is your view of the Clinton-Lewinsky affaire?" (US President Bill Clinton's much-publicised affair with Monica Lewinsky, a White House intern)
For a moment the briefing room remained silent. But far from being rattled, the President smiled at the reporter and said it would not be appropriate for her to make any comments. And then, with characteristic diplomacy, she added: "I think it is a matter for the American government and the American public to decide."
When I reported the press conference, I pointed out that President Kumaratunga, who is known to be "punctually late" at political and social events at home, surprisingly arrived early for the UN media briefing but was kept waiting for at least 20 minutes because the French Prime Minister overshot his time limit at the same press room.
Among Sri Lankan leaders, President J.R. Jayewardene (Junius Richard Jayewardene, affectionally called "Dicky" by his family) was a rare exception because, for some unaccountable reason, he never addressed the UN, nor did he step into the Secretariat building although he broke journey in New York, staying at the Waldorf Astoria Hotel, following his state visit to the White House in April 1983.
Did he think the UN was a colossal failure? Or was the UN an exercise in political futility? No one had an answer.
During President JRJ's visit to the US in 1983, most TV newscasters got their pronunciations wrong—Jayewar-deen instead of Jaye- wardene'. So, when my American friends and colleagues asked me whether I was related to the visiting president, I told them with a straight face: "Yes. Our President is Jayewar-deen and I am Thalif Deen—and he is my uncle." I told this to JRJ when I interviewed him at the Waldorf Astoria. And he laughed.
The scene shifts to Geneva where a Sri Lankan delegation, led by JRJ's brother H.W. Jayewardene (HWJ), an eminent lawyer, was discussing a strategy to beat a proposed Western-inspired resolution aimed at condemning Sri Lanka for human rights violations during its battle against the Tamil separatist movement in the north.
The resolution was expected to come up before the Geneva-based Human Rights Council—even as our delegates were holed up in a hotel room late into the night trying to figure out how best to upstage the sponsors.
During the middle of the discussion close to midnight (Geneva time), HWJ called his brother Dicky in Colombo for advice as to how best to beat the move by Western powers.
The tail-end of the conversation, as reported by delegates who were privy to the phone call, went as follows: "Yes Dicky, Yes Dicky, No Dicky, You can't do that, Dicky." After hanging up the phone, HWJ turned to the delegates and said: "He wants us to get out of the UN".
(This article contains excerpts from a book on the United Nations titled "No Comment – and Don't Quote Me on That," available on Amazon and at the Vijitha Yapa Bookshop.
The link to Amazon via the author's website follows: https://www.rodericgrigson.com/no-comment-by-thalif-deen/)