This "great grand lady" will always live in our hearts
SEELA DE ALWIS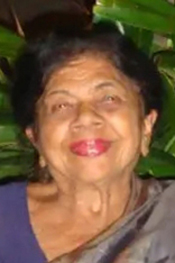 Our dearest Amma, Seela, who  married our father  Earle de Alwis, was called to eternal rest on  June 22.  We were fortunate to watch Amma peacefully passing away to be with our Lord Jesus Christ.
She was a most compassionate, large-hearted, humble lady from a highly connected background – ever proud to be one of the daughters of George and Dulcie Amerasinghe of 93, Templers Road, Mount Lavinia and granddaughter of Mudliyar Christopher Gabriel Abeywardene, Superintendent of Mails.
Amma took good care of her parents until the last, visited them almost every day from Pamankade.
No.93 was home for all relatives and friends with never-ending card games. Her father George was a well-respected tutor at STC, Mount, and Amma used to say with pride that her father tutored four eminent statesmen of the country, namely SWRD, Dudley, Sir John and W. Dahanayake.
If ever she heard that someone was ill, she would be the first to visit with home-cooked meals. She went to the extent of advising doctors with regards to medication. I recall when my friend entered hospital for her first confinement, Amma was insisting that no forceps be used by the gynaecologist and eventually the doctor had to find a different route to escape a barrage of questions. She was available during our confinements and sickness at all times.
Amma and Daddy were loving parents. We have wonderful memories of our childhood. Daddy being at Elephant House for 35 long years, the house was filled with goodies, tables never empty, and our home was Fountain Cafe. Friends and relatives still speak of their lavish entertainment.
Amma was truly beautiful, always attired in saree with hair styled and matching lipstick. We were so proud to have her at parent teacher day in school. Amma was possessive of her children, irrespective of ages, especially of her two sons. She would accompany us to job interviews, and we were well prompted, how to greet the panel and never to sit until offered a seat. She was such an interesting and amusing Mum.
Amma had the privilege of seeing 12 grandchildren along with 14 great grandchildren who all carry  fun and fond memories of her. This "great grand lady" will always live in our hearts. Until we meet on that beautiful shore, rest in peace, darling Amma.
 Washika and all family members
---
To my brother who inspired me
Cedric De Silva
It is very likely that Cedric was born in our mother's ancestral home 'Wasala Walauwwa' near Dickman's Road Colombo and baptised a Christian as I was in St. Paul's Church, Milagiriya. We lost our mother when we were children and grew up during the colonial era with our father who lived and worked in Galle.
Educated at Richmond College, Cedric was awarded the class prize for best student practically every year. Many years later he confided in me that at the age of 12 years, he had decided to work hard and succeed in life. In my view he had a sharp intelligence, was talented, and had the motivation and ambition to succeed.
Although as youngsters we began piano lessons and coaching in tennis at the same time, I never measured up to his standard of achievement. I remember watching him play football once for the school against a rival team when he ran forward and kicked the ball into the goal with his left foot. However tennis was the sport he excelled in, winning the All Ceylon Junior Tennis Championship by defeating an opponent regarded as the favourite, also reputed to have a powerful serve. The 'Daily News' sports writer described the game as a match between 'David and Goliath', no doubt about who 'David' was. Cedric probably continued to play competitive tennis over the next two decades and won trophies.
After gaining several distinctions in his school leaving exams, I recall that he left for Colombo aged 16 with the intention of eventually studying medicine, later changing course to become an accountant. The year he passed he was the only candidate to qualify as a chartered accountant. A few years later he took over a firm of chartered accountants and became senior partner. Whatever task he had to accomplish, I believe he prepared himself with great care so that success would often be within his grasp both in the academic sphere as well as the field of sport. I daresay Cedric would have been considered a role model for any aspiring young man of his day.
I left Ceylon in my twenties, migrated to England and settled there. However, I kept in touch with him in my infrequent letters and occasional visits to Sri Lanka, the country of my birth. I often stayed with him and enjoyed his boundless hospitality.
I know that in later years Cedric extended the scope of his work beyond the accountancy practice to include tourism, hotel management and a variety of government bodies as well as charities. I trust he knew how to navigate his life through these multiple channels and eventually pass on his knowledge and experience to an upcoming generation of business leaders.
One of the last projects he undertook before retirement was to set up the George Keyt Foundation dedicated to the memory of the distinguished artist. He became the first chairman of the Foundation whose objective was to promote the work of local artists and encourage them to cultivate their talent. He may be remembered for years to come for the legacy he left.
Cedric passed away in May 2019. He was my elder brother who inspired me when we were both young. May he rest in peace.
 Mark De Silva
---
You have left me with a host of nostalgic memories
 Chandraratne Jagodaarachchi
Our long journey in life began exactly on September 2, 1986, when we joined Sri Lanka Air Force together. I can still remember the days of training at Diyatalawa which happened to be your hometown. During our routine PT runs in the morning, you couldn't resist acknowledging the waves of acquaintances on the road which would inadvertently result in punishments for the whole lot. But you couldn't simply stop it.
When we did fall in, in the morning for the day's activities, you were always next to me being the tallest of the clique. You were chubby in stature whereas I was kind of skeletal. I still remember how I had to carry you on a fireman's lift. It was such an ordeal though I now reminisce about it with laughter.
After our training period, you were posted to Anuradhapura and I ended up at Morawewa. We used to meet each other whenever I made hazardous journeys through the terrorist-infested jungles to fetch rations. In those days, Morawewa was considered to be the killing field for airmen as scores of airmen paid the supreme sacrifice being caught in landmines. You were always waiting to hear some horrendous tales of war from me.
Eventually, you were posted to Morawewa to taste the raging war yourself. You always impressed high-ranking officers with your technical savvy and administrative prowess.  You had an amazing general knowledge, especially in the realm of history.  And your proficiency in speech craft in Sinhala was second to none.
I felt really bad when you had to leave the Air Force abruptly.  However, we were constantly in touch although I continued to serve in the Air Force.  Whenever I had a doubt about something in the service, you were the first one I turned to. You were such an excellent advisor, be it official or personal.
Then you had a quite long stint at Sri Lanka Telecom.  Ultimately, you joined the staff of the Governor of the Central Province where you worked as the Coordinating Secretary until your untimely demise three months ago.
You were always a happy-go-lucky person. Whenever you came on leave, a trip to some distant place was always on your agenda. I still treasure bundles and bundles of photographs we had taken together during such excursions.
You were lucky in your death too, my friend. You dwelt in the proximity of the Dalada Maligawa which allowed you to pay homage to the Sacred Tooth Relic regularly.  Although you were not very religious, you amassed enough merit for your Samsaric journey.
You left me with a plethora of nostalgic memories spanning 36 years as my dearest friend. Goodbye, Chandra as I always used to call you. May you attain the supreme bliss of Nirvana.
  Lasitha Mendis
---
Why did you leave us?
Yogathas Ashokath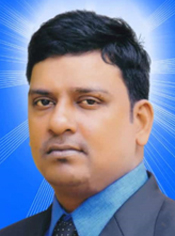 You are the best of my cousins
You showered your love on my family
Just a single phone call was enough for you
To attend to our needs.
You looked after my father so caringly
You donated your blood to revive him back to life.
When my mother was affected by a stroke
You stayed at the hospital till her recovery.
But when you got a stroke you had to suffer by yourself.
We thought you would be returning to life,
But you left us soon just leaving your deeds behind.
Anyone may say, you are responsible for your own destiny.
But the reflections at your funeral revealed the reality,
That your loss is irreparable.
 Thambipillai Mohan
---
A prayer is all I can give you
 Pramila Fernando
It's your birthday today
Precious daughter dear
Though far far away
I feel your presence near
No birthday card to send
No gift to show I care
Just some beautiful memories
With a special birthday prayer
My love for you will always stay
Cause no one on earth can ever take your place.
Your beloved Ammi Freeda
---