An all-rounder in every sense
Dr.W.O. WADUGODAPITIYA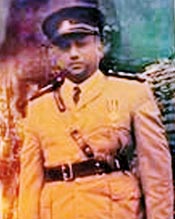 On July 11, 2023 around 5.30 p.m., a very colourful personality passed away.
Dr. Winston Wadugodapitiya, a humane medical administrator, rugby player, environmentalist and brilliant all-round product of Trinity College, Kandy, is no more.
He had a brilliant academic and sports record at Trinity winning prizes like the Sinhala Elocution prize, while still in the lower forms, and the C.N. Lemuel Shakespeare prize in the upper forms. Although he was a science student he loved anything that was aesthetic – he had a liking for poetry and literature and was a good ballroom dancer.   He earned a first class pass in the Senior School Certificate examination, the only one from Trinity College to have that distinction in that year. There were twelve students in that Science class but he was the only one to become a doctor while the others opted to become planters.
Having passed out of the Medical College, he went in for medical administration posts.  He was the first DMO of Bogawantalawa.  He had the distinction of being the first Medical Superintendent of the newly constructed Peradeniya Teaching Hospital.   He loved and managed that hospital as if it belonged to him.   He was later Director of the Kandy General Hospital as well as the hospital at Kurunegala.    He spared no pains to help anyone in need.  To this day the employees respect him for being a very humane yet  strict disciplinarian.
With his dedication and expertise,  the WHO grabbed him for their projects after his retirement. He always had the nation at heart and enlisted as a volunteer Superintendent of the Police. His daughter Manoji put it that he had a "fearless strength", for he served mostly in the Eastern Province during the time of conflict.
He was a great environmentalist and had been a consultant to the Ministry of Environment and Parliamentary Affairs for many years.
He was brilliant not only in the classroom but also on the sports field.  He was a senior member of the Trinity Rugby team which won the Bradby Shield in 1952 starting off a run of six wins in a row in that decade. At the time of his demise he was the most senior Rugby coloursman of Trinity College.   I recall playing against him when he was at Medical College.
His exterior was deceptive for he had a soft heart.    His hand was long enough to help anyone in need and on one occasion he constructed a house at his expense for a family in need. His was a family one could depend on as their motto was to help others at any time and give and not count the cost.     They took my son under their wing just before he sat for the GCE (O'L) and the good results he obtained were mainly due to his coaching and supervision.
Many were the time when we visited his home even without prior notice and were always welcomed, even treated to a meal sometimes prepared by him for he was a very good cook. We were always able to depend on him and the family.    I still remember him happily doing the household chores with a towel around his waist. Many were the times I just took his car when the need arose.
The family used to come to my bungalow on the estate and spend wonderful evenings relating many episodes and anecdotes.
I remember him as a prefect in school but I have known his charming wife, Kamala even before.  Kamala, and the children Dharshka, Manoji and Ralinda have lost a dutiful husband and father.  Our family that was so close to them has lost a pillar.
May he attain Nibbana.
-Gamini Weerasinghe
---
A sincere friend and respected geologist
PROF. ANANDA GUNATILAKA
Ana completed his education at St. Joseph's College, Colombo 10 and Aquinas College from where he entered university in New Zealand, along with his lifelong friend Dr Robert Perera (botanist). Both of them often reminisced about their fun times in New Zealand when we had our gatherings as they had been up to many pranks.
It was after his graduation that he had met Gayathri in the University of Peradeniya. He married Gayathri in 1967. Theirs was a love marriage. They have two professionally qualified sons Dinesh and Varuna and have been blessed with three grandchildren, namely Dilini, Seth, and Aari. Ana and Gayathri adored their grandchildren and enjoyed being with them whether in Sri Lanka or overseas. Ana was essentially a family man and his attachment to Gayathri was unfailing.
Many years later he sought employment in Uganda and Kuwait as giving their children a professional education was a priority of his. He sacrificed much to keep the home fires burning and built a very spacious house ably assisted by our very close friend, architect Professor Luxshman Alwis. As a father he earned respect from his children, grandchildren and in-laws. He was considered a man whom they could talk to who would listen, understand, and provide the family with a sense of security. Perhaps his philosophy was that one's life holds endless possibilities and one had to build a solid foundation – he worked hard for it.
He also exhibited the humility of a truly great person. He faced challenges with courage, compassion and conviction till the end.
Ana was an academic his forte being research in geology. This was recognized by countries where he worked and in Sri Lanka too, as his expertise was sought by the Presidential task force which was at one time headed by Naveen Gunaratna, the architect and entrepreneur.
Ana was very much involved with the Sri Lanka National Science Foundation, and presented his research papers, including on the Indian Ocean megatsunami of December 2004 and on petroleum depleting reserves, rising prices and the unfolding energy crisis.
Ana and Gayathri were good entertainers, and never failed to host our "poker" parties or to entertain their friends for their birthdays and anniversaries. They hosted many parties with their university comrades too.
On many of our "outings" together with other friends to various parts of the country, Ana was our adviser on geological discussions. We are certainly going to miss him in our adventures.  Ana was a very sincere friend who was always very courteous and never spoke harshly to anyone. It is friends like him who remind us that life's precious gifts are free.
Ana, all your friends thank you for being our friend. The lovely memories we retain of you will live in our hearts forever!
– Nihal de Alwis (on behalf of all your loving friends)
---
A tribute to Ma
CHANDRA WEERASENA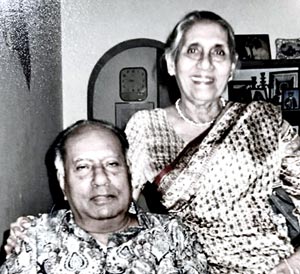 A lifelong philanthropist, distinguished office bearer of the Narada Center Sasana Sevika Samithiya, Sarana, Mettaramaya and of the Methodist College OGA.
A beautiful summer afternoon
Claridge's at the heart of Mayfair,
Excited or nervous or both, if I was
I remember not
At the lobby, sharp at the appointed time.
Her black and sporadically silver wavy hair
Neatly and cleanly parted at the middle,
A tightly knotted konde at the back of her neck
Lips coloured in red, flawlessly
Saree so elegantly draped
Colour or pattern, I cannot recollect
Earlobes and neck adorned
With pure white pearls,
He in a bush shirt and pants, cool and casual.
"I am Channa, this is my husband Milton"
Sounding so calm
The warmth of the gentle hand
and beautiful broad smile
Our first meeting
Etched in my memory like it was yesterday.
Now, a half century gone by
Weddings and anniversaries
Births and deaths
Pinkamas and parties
You were always in the forefront
Guiding, directing and participating
Always with an approach so calm and cool
Never was panic or chaos permitted in your midst
Always the mind and voice of sound reason.
Your dedicated services to the sasana
Gratitude to your alma mater
Your unstinted generosity
To the numerous charities
You showed how joyful and varied
Giving could be.
Your thoughts were kind
Words and tone were always gentle
Actions magnanimous
Domestics Pushpa, Prema and Sita
Joined the household to assist you
They left, accomplished and independent, with handsome dowries, wedded and on to their happily ever afters
All this and innumerable more
Your actions of immense and genuine interest in the well-being of others
Now Ma, as a near century of
Content, comfortable, complete,
Uncomplicated and exemplary living
Came to an end here with us,
The love of your life, PaPa,
Your bosom gal pals
Aunty Thelma, Aunty Chitra, Aunty Charmaine
All are awaiting your arrival with open arms
The bunting and food and champagne
in place, for a typical
"Channa style" celebration!!
Ma, you are the definition of timelessness, we will miss you more than words can even begin to say.
You and Papa will continue to be loved until eternity ends.
Your everloving son (in-law)
Vasantha Jayasuriya
---
Happy Birthday in heaven
JOAN DE ZILWA MOONESINGHE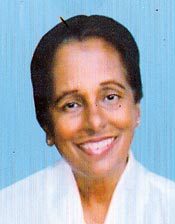 Today is filled with memories
With happiness and tears,
Of birthday celebrations we've
Shared through the years.
And though we'll always miss you
The happiness you brought
Warms our heart with gratitude
And fills our every thought.
Where ever you are resting
We hope that you can see
How precious and uplifting
Your memory will always be.
We feel that you are with us
In everything we do,
So we will celebrate your birthday
But spend it missing you.
-Previn and Priyanka Moonesinghe
and all her loved ones
---
An erudite priest 
REV. FR. DON LINUS KURUKULA ARATCHI
Rev. Fr. Don Linus Charles Paul Kurukula Aratchi was from Ampitiya. Affectionately called 'Dahanayake', he was the eldest in a family of 10.
His parents were Don Joseph Kurukula Aratchi and Dona Charlotte Wickramasinghe, a Principal and a teacher. He was born on September 23, 1932 and attended the Roman Catholic Sinhala School, Ampitiya, Berrewaerts College, Ampitiya, St. Michael's College, Batticaloa and St. Xavier's College, Marawila.
His studies and formation for the priesthood was first in the then Papal Seminary, Ampitiya in Kandy and later in the same institution in Pune, India, when it was shifted there.
He held Licentiates both in Philosophy and Theology from the Pontifical Athanaeum and was an avid reader.
Fr. Linus served in many parishes such as Bolawatte, Kurunegala, Katupotha, Nalawalana, Kuliyapitiya, Madampe, Polgahawela, Waikkal, Kirimetiyana and Udubaddawa. Fr. Linus also functioned as the Co-ordinator for Liturgy Apostolate, the Chancellor of the Diocese and the Chaplain to the Missionaries of Charity in Meth Nivasa at Wellawa.
I knew him well and had the privilege of going on a pilgrimage with him to Rome, Lourdes and Padua in April 2010 and even sharing a hotel room in Rome and Lourdes. He spent a few years of his retirement at Metiyagane attached to St Philip Neri's Church. He passed away peacefully on August 5, 2023 at the home for retired priests at Malkaduwawa in Kurunegala.May Rev. Fr. Linus rest in peace.
Ridley Casie Chitty
---