Tuesday, 13 June 2023 00:00 –      – 37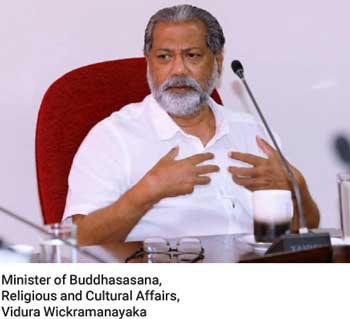 Minister of Buddhasasana, Religious and Cultural Affairs, Vidura Wickramanayaka yesterday confirmed that Department of Archaeology Director General Professor Anura Manatunga has stepped down from his post.

The Minister said Manatunge had tendered his resignation to the Secretary of the Ministry, Somaratne Vidanapathirana.

Prof. Manatunga's resignation followed closely on the heels of a meeting between President Ranil Wickremesinghe and officials from the Department of Archaeology, where he was admonished by Wickremesinghe.

The President criticised the Department's recent acquisitions of excess land under the pretext of Buddhist heritage sites. During the meeting, the President instructed officials from the Archaeology Department to adhere to Cabinet policy and abstain from acquiring lands that belong to the general public.

During an exchange of words at the meeting, the President harshly asked if he should educate the officials on Sri Lankan history, especially relating to the placing of stones to mark various borders. The President also conveyed explicit instructions to the officials of the Archaeology Department to eliminate border marker stones that are being used as justification for acquiring publicly owned land.

Tamil politicians and activists have recently been accusing the Department of Archaeology of engaging and facilitating efforts in the Buddhistisation and Sinhalisation of the North and East.