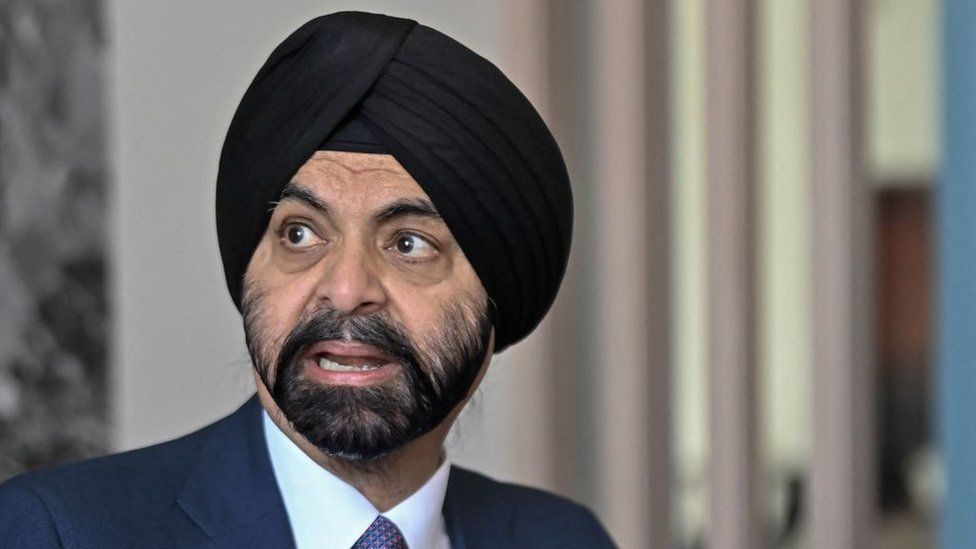 Former Mastercard boss Ajay Banga has been elected to lead the World Bank as it strives to help low-income countries overcome debt and combat climate change.
Mr Banga, nominated by President Joe Biden for the post, is the first-ever Indian American to head the bank.
He will replace David Malpass, who had sparked outcry by appearing to question the role of humans in climate change.
He begins his five-year term on 2 June.
Now a US citizen, Mr Banga started his career in his native India, where his father was an officer in the army. He worked at Nestle and Citigroup before joining Mastercard where he stayed for more than a decade.
US President Joe Biden called him "a transformative leader" who had the experience to run the World Bank.
"He will help steer the institution as it evolves and expands to address global challenges that directly affect its core mission of poverty reduction — including climate change," Mr Biden said.
In announcing Mr Banga's confirmation, the bank's executive directors said in a statement that they looked forward to working with him "on all the World Bank Group's ambitions and efforts aimed at tackling the toughest development challenges facing developing countries."
The US, the World Bank's biggest shareholder, has traditionally been in charge of selecting the person to lead the institution, which lends billions of dollars to countries each year.
Developing countries have in the past complained about this, but Mr Banga was the only candidate for president.
"Ajay was elected with resounding approval from the executive directors, and will start his mandate with incredibly strong support from the membership of the World Bank," a senior US official said about the vote.
Mr Banga's appointment comes at a consequential moment for the development organisation.
The US and other wealthy nations have been pushing the bank to increase its lending to fight climate change. The bank's $100bn (£80bn) per year or so of loans to help developing countries cope with climate change falls far short of the $1tn they say is needed.
Many developing nations are worried the focus on climate change will divert attention away from its anti-poverty efforts.
Developing countries have been hard hit by the pandemic, rises in food and in energy prices, and unsustainable levels of debt.
As president of the World Bank, Mr Banga will have to address these issues – all without any clear additional money on the table.
In an interview with the BBC in in March, when Mr Banga was on a listening tour in Africa, he said he wanted the bank to be a "catalyst" and "thought leader" for action,
"We also need to bring in the private sector to be able to reach these ambitious targets that we all have," he said.