Friday, 5 May 2023 00:40 –      – 185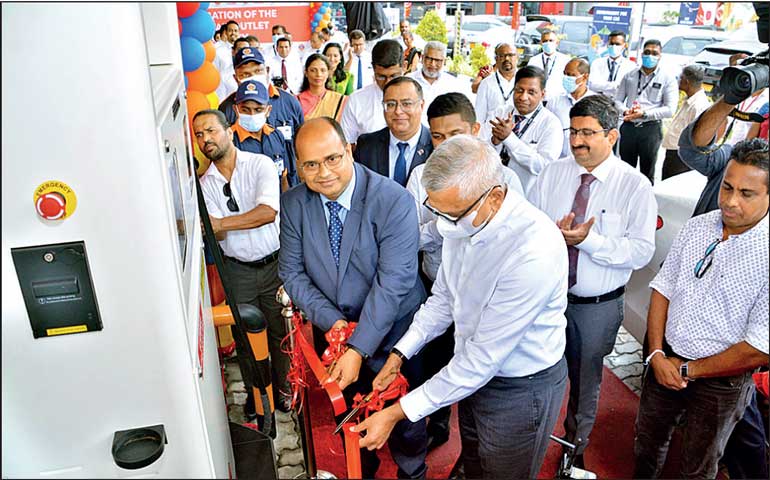 Cargills (Ceylon) Deputy Chairman Ranjit Page and Lanka IOC Managing Director Dipak Das officiate at the opening of the fuel station at the Wattala outlet
---
Cargills (Ceylon) PLC is marking a new milestone by opening Lanka IOC fuel stations at its Cargills Retail outlets.
The first Lanka IOC fuel station was opened at the Cargills Food City – Wattala outlet on Wednesday, offering unprecedented convenience to customers.
Cargills (Ceylon) PLC Deputy Chairman Ranjit Page said: "We are delighted to inaugurate the first Lanka IOC fuel station at the Cargills FoodCity – Wattala outlet to offer customers a complete retail experience. We have had a longstanding relationship with Lanka IOC, as Cargills Express outlets were located at many of its fuel stations. We are pleased to leverage further on this valuable relationship by venturing into retail sale of fuel in partnership with Lanka IOC, and plan to open a series of fuel stations at our Cargills Retail outlets across the country in 2023 – to become more than a supermarket chain as we are focused on adding convenience to customers."
The expansion into fuel retailing is yet another milestone in Cargills' 179-year history, to build a sustainable and socially responsible business that touches the lives of millions of Sri Lankans every day. Cargills introduced the supermarket experience to Sri Lankans from all walks of life and is the only private sector food retailer to serve all 25 districts of the country. Today, Cargills Retail has an island-wide reach of over 500 outlets across the length and breadth Sri Lanka.