The Prince of Wales has paid tribute to his "Pa" King Charles the day after the Coronation, saying the late Queen Elizabeth II would be "a proud mother".
Addressing the crowds at Windsor Castle for the Coronation concert, William said his grandmother was "up there, fondly keeping an eye on us".
He said this weekend was "so important" because it was all about service.
Highlighting King Charles' achievements over the last 50 years, William said: "Pa, we are all so proud of you."
And the heir to the throne made his own vow to the nation, saying: "I commit to serve you all. King, country and Commonwealth."
King Charles and Queen Camilla – colour-coordinated in blue, with the Queen in a royal blue jumpsuit – smiled and waved their own flags during the evening.
The Princess of Wales attended with her and William's oldest children, Prince George and Princess Charlotte. Prince Louis, who has just turned five, stayed at home after his busy day at the Coronation on Saturday.
The Duke and Duchess of Edinburgh were seated near the King and Queen, with Prime Minister Rishi Sunak behind them. Prince Andrew, Duke of York, and his ex-wife the Duchess of York, Sarah Ferguson, also attended, as did Zara Tindall and her husband Mike.
The crowd of 20,000 people got their tickets in a public ballot, with many more watching performances from stars including Katy Perry and Take That on BBC One and BBC Radio 2.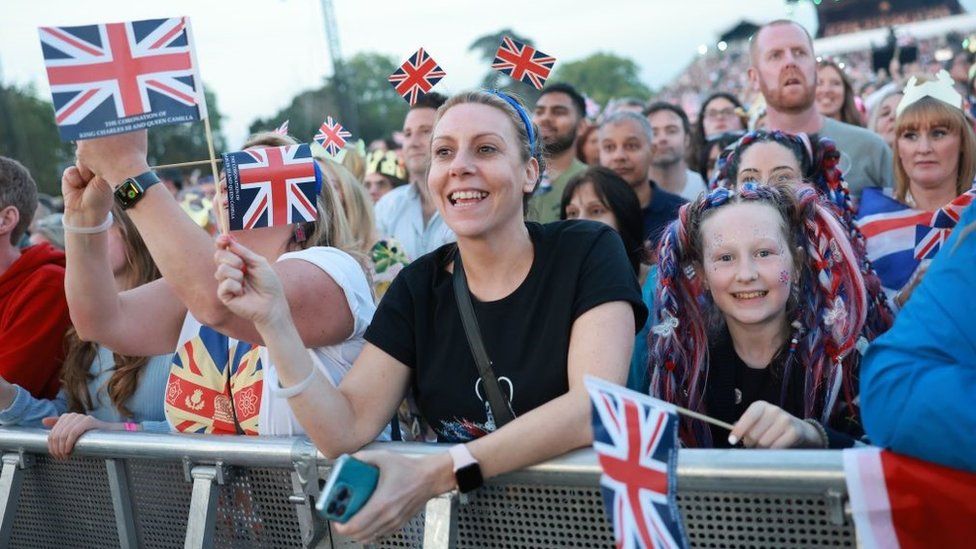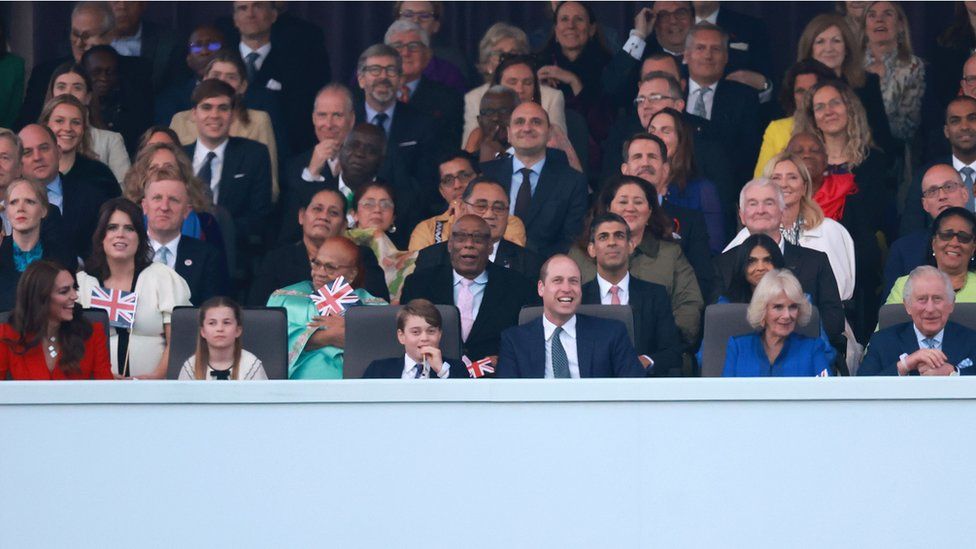 Host Hugh Bonneville – the Paddington and Downton Abbey actor – addressed the royal guests as the show began and acknowledged the King's love of the arts, joking he was "the artist formerly known as prince".
The concert featured musical acts including maestro Andrea Bocelli and Sir Bryn Terfel collaborating on You'll Never Walk Alone, and Olly Murs, who sang Dance with Me Tonight, while there were also spoken word pieces amidst the music.
Cold Feet actor James Nesbitt performed work by poet Daljit Nagra, while fashion designer Stella McCartney spoke about conservation.
There were video cameos from a range of stars, including British acting legend Joan Collins, former James Bond actor Pierce Brosnan, artist Tracey Emin and Welsh singer Tom Jones – all of them recounting little-known facts about the monarch.
And Top Gun actor Tom Cruise delivered a video message from his War Bird plane, saying: "Pilot to pilot. Your Majesty, you can be my wingman any time," before saluting and banking off.
The King seemed to enjoy a skit involving Bonneville and Muppet Show stars Kermit and Miss Piggy, in which Miss Piggy said "King Charlesy Warlesy" was expecting them in the royal box.
At the end of the show, Kermit was seen to have made it to the box, waving a flag in front of Prince Edward but there was no sign of Miss Piggy.
The Royal Shakespeare Company, Royal Ballet, Royal College of Art, Royal College of Music and the Royal Opera also took part in the show.
The royal patronages came together for the first time, with a one-off performance from Romeo and Juliet featuring actor Ncuti Gatwa – the new star of Doctor Who – and Olivier Award nominee Mei Mac.
Members of the Royal Family were seen dancing and singing along to Lionel Richie's All Night Long – with even the King getting to his feet, as did the Duke and Duchess of Edinburgh, Edward and Sophie, and Zara and Mike Tindall.
William's speech on stage came immediately after Richie's performance – with the prince referring to the US singer-songwriter's hit, saying: "I won't go on all night long", which drew a laugh from his father.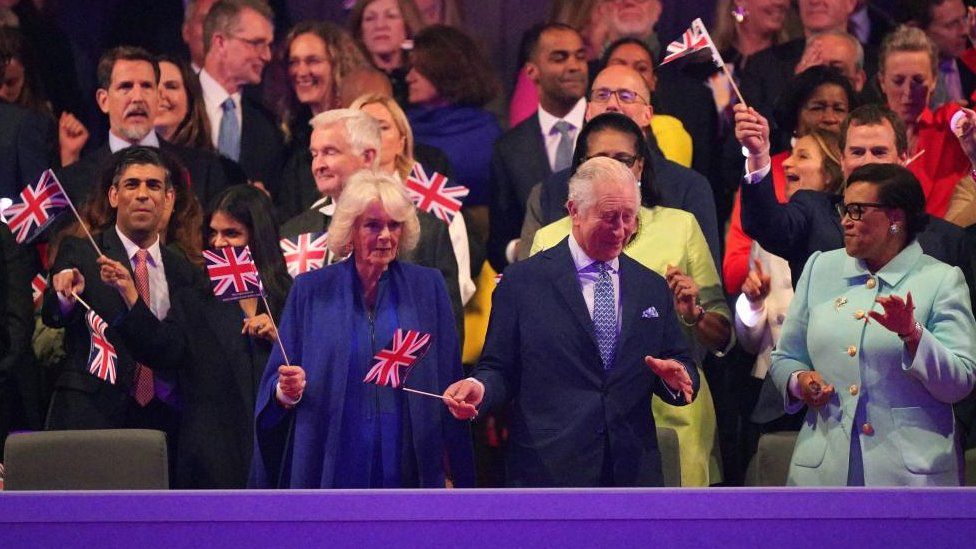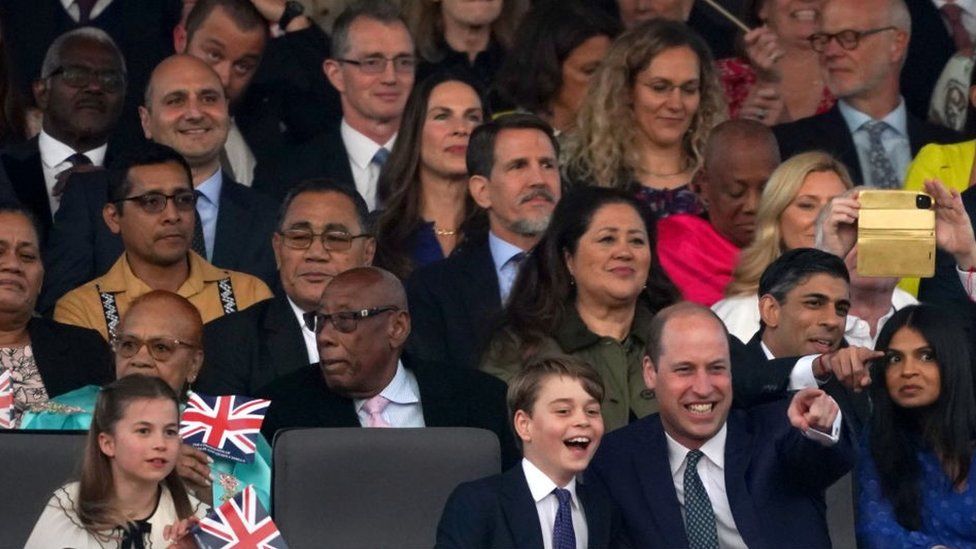 In his speech, William thanked everyone for making it "such a special evening" before turning to the significance of the weekend.
"As my grandmother said when she was crowned, coronations are a declaration of our hopes for the future," he said. "And I know she's up there, fondly keeping an eye on us. She would be a proud mother.
"For all that celebrations are magnificent, at the heart of the pageantry is a simple message. Service."
He said that after entering Westminster Abbey for Saturday's service, the first words spoken by his father were his pledge to continue to serve.
The prince praised the King for warning about damage to the environment "long before it was an everyday issue", and for his work with the Prince's Trust, the charity Charles set up which supports young people.
"Perhaps most importantly of all, my father has always understood that people of all faiths, all backgrounds, and all communities, deserve to be celebrated and supported," he said.
"Pa, we are all so proud of you."
The prince gave his thanks to those who serve "in the forces, in classrooms, hospital wards and local communities" before offering his own vow of service.
He finished by saying "God save the King", which was repeated loudly by the crowd before the national anthem was sung.
It was a tender and heartfelt message from William. There was an element of taking on the baton here too.
At last year's Platinum Jubilee concert it was Charles who as Prince of Wales gave thanks to his mother. Now it was William as Prince of Wales who gave the vote of thanks, stepping into the role of heir.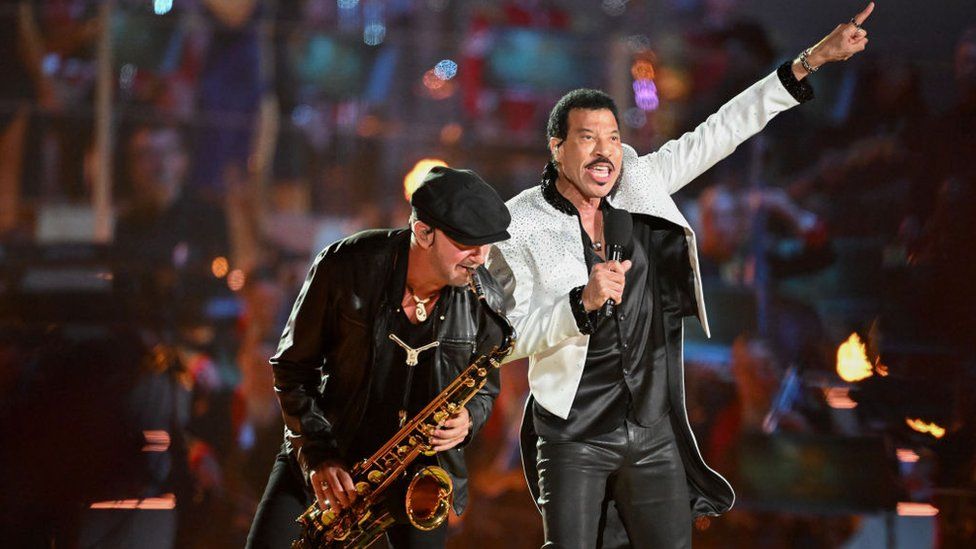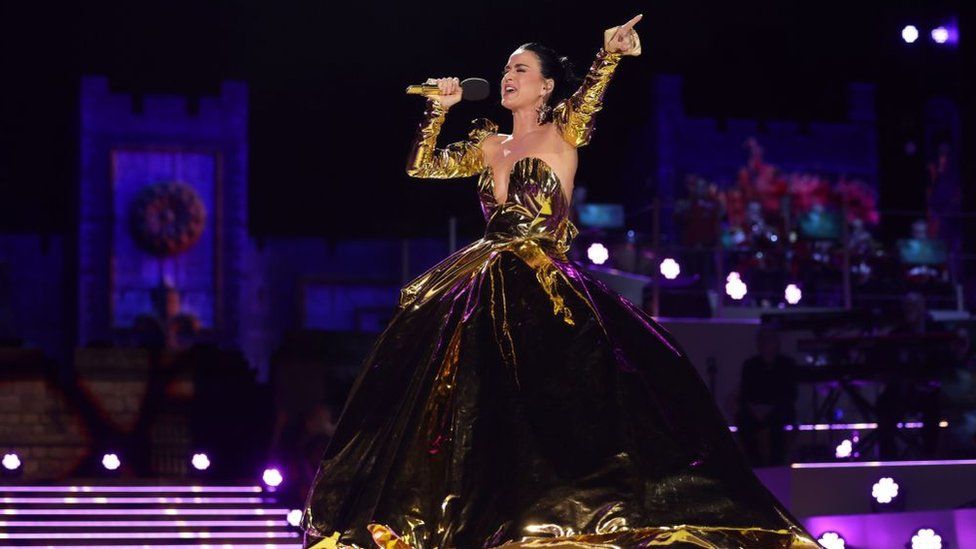 The stage, in Windsor Castle, resembled the union jack with catwalks jutting out from the centre creating multiple levels for the 70-piece orchestra and band.
Singer Paloma Faith sang as landmarks around the UK were lit up in celebration – including Blackpool Tower, Edinburgh Castle and Wales Millennium Centre in Cardiff.
And there was the first multi-location drone show to be staged in the UK, with 1,000 drones in formation: a Welsh dragon, spanning 140m, was seen in Cardiff, while a watering can was seen over the Eden Project in Cornwall.
Take That closed the show with Never Forget – with the choristers of St George's Chapel, Windsor Castle, singing the song's introduction.