Monday, 17 April 2023 03:32 –      – 158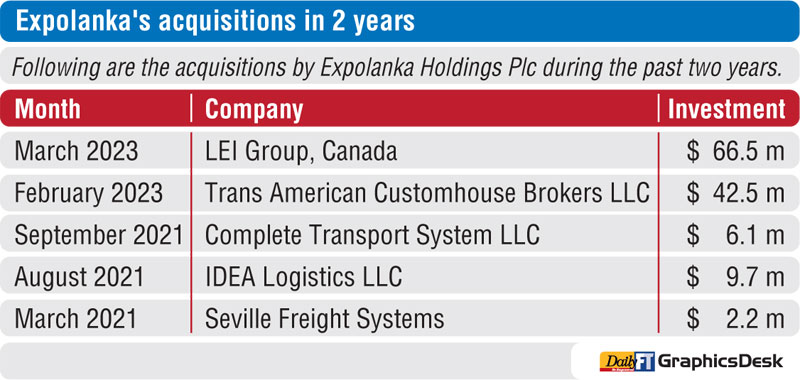 Recent $ 110 m twin acquisitions to bolster business in major revenue source markets US and North America 
Move to help cross-sell solutions including high potential brokerage business
Expolanka catapults to Top 10-15 logistics companies league in US and North America
Acquisition of Canadian giant LEI gives entry to Europe and new business out of Asia
Terms pricing of acquisition as good at a time global freight markets have softened
Expo continues to look for more acquisitions as part of broader long-term plan to become major global logistics brand
Opines global freight markets showing signs of bottoming out
---
By Nisthar Cassim
---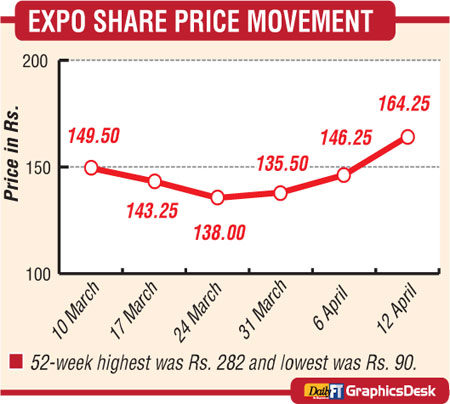 Expolanka Hol-dings says the global freight markets have shown signs of bottoming out and the recent strategic acquisitions worth $ 110 million will come handy giving it a greater foothold in the US and North American market, its major revenue source.
Last month Expolanka, via fully owned subsidiary EFL Global Logistics (EFL Singapore), acquired 100% equity interest of LEI Group for a purchase consideration of CA$ 90 million ($ 66.5 million or around Rs. 22 billion) on a cash free debt free basis. In February it acquired Trans American Customhouse Brokers LLC and its related companies for $ 42.5 million on a cash free debt free basis. Over 80% of the twin investments was funded via equity.
In the past two years, cumulative acquisitions amounted to five companies entailing nearly $ 130 million investment.
Expolanka used its strong Balance Sheet as well as support from its parent SG Holdings of Japan. As at 31 December 2022, Expolanka had Rs. 108 billion in retained earnings at Group level as against Rs. Rs. 7.6 billion in FY20.
Expolanka Holdings Managing Director Hanif Yusoof told the Daily FT that the pricing of acquisition was good at a time when the global freight markets have softened. The two acquired companies account for 15% of Expolanka's assets.  As at 31 December 2022, Group assets amounted to Rs. 240 billion.
"These were well planned acquisitions considered over one and half years. With great synergies we will be enhancing our overall business in the US and North America," said Yusoof. He said that time taken was to ensure the chemistry and cultural fit between Expo team and the acquired companies. The twin acquisition will strengthen Expo's capabilities to provide end-to-end logistics solutions to customers across various industries.
Established in 1976, LEI Group, is a full suite of logistics services, including ocean freight, air freight, warehousing, customs brokerage, rail service, distribution, fulfilment, domestic trucking, and drayage. Trans American Customhouse Brokers LLC is a specialist in the brokerage business. "With the acquisitions, we are able to cross-sell to the customer base of both companies," Yusoof said, adding that the new scale will help Expolanka to acquire new clients organically as well.
Expolanka was lacking in the brokerage business in the US and North America and the acquisition of Trans American Customhouse Brokers will strengthen its competitiveness and product offering.
Yusoof said brokering requires different skills set and competence and with the acquisition of Trans American, Expolanka is able to quickly onboard more clients.
With the acquisitions, Expolanka Group has catapulted to among top 10 or 15 logistics companies in the US and North America market.  It first opened offices in the US in 2012.
The US and North American market accounts for 85% of Expolanka's revenues, up from around 60% five years ago. The acquisition of LEI Group also provides Expolanka an entry point to the European market as the Canadian giant has investments in the UK.
Expolanka has operations in over 30 countries and with its strong network presence in Asia, the Group will be serving LEI clients in the region from now on as well.
For Yusoof, who had steered Expolanka to become Sri Lanka's most valuable company and a global diversified conglomerate, amidst many challenges, the two acquisitions are just the beginning of a broader long-term plan to become a major global logistics brand. This means, though the twin acquisitions worth $ 110 million is big in Sri Lankan context, Expolanka continues to scout for new acquisitions whilst in the interim period it will consolidate its operations.
In the 3Q of FY23, Expolanka's logistics segment posted a Revenue of Rs. 92 billion, Gross Profit of Rs. 19.9 billion and Profit after Tax of Rs. 2.7 billion. The sector delivered a YTD Profit after tax of Rs. 30.1 billion, down 28% from Rs. 42 billion a year ago. Overall revenue in 9 months of FY23 grew by 8% to Rs. 485 billion. Pre-tax profit was down by 24% to Rs. 37.4 billion.
Expolanka said the logistics sector experienced a reduction in operating volumes across both Air Freight and Ocean Freight products, led by the overall slowdown in global trade volumes impacted by high inventory levels, inflationary fears and the global energy crisis.
The Company opines that the freight market has now bottomed out and there is prospect for a rebound in FY24.
Initial investor reaction to the biggest ever acquisition was somewhat muted as Expolanka share price gained by only Rs. 7.50 or 5.7% to Rs. 138. Since then, however, better reading of prospects and fresh demand have boosted Expolanka share price hitting an intra-week high of Rs. 171.50 last week. It closed at Rs. 164.25 up by Rs. 18 from the previous week and Rs. 26.25 or 20% since the end of March. Market capitalisation of Expolanka last week stood at Rs. 321 billion maintaining its status as Sri Lanka›s most valuable listed company. Its 52-week highest price was Rs. 282 and the lowest was Rs. 90.
Aided by COVID-19 pandemic triggered dynamics including hikes in freight rates Expolanka had its magical year in FY22 posting a Rs. 85.5 billion pre-tax profit and Rs. 73 billion net profit on a revenue of Rs. 694 billion. Its share price reached an all-time high of Rs. 405 in that year as well from a low of Rs. 43 and Rs. 1.70 in FY21.