Saturday, 29 July 2023 01:21 –      – 85
AG reveals to Supreme Court staggering sum of Rs. 12.25 b circulating via 11 bank accounts 
Court fixes hearing to 27 October, to review progress of ongoing investigations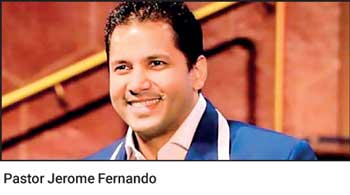 In a significant development, the Attorney General disclosed yesterday to the Supreme Court that investigations into the finances of Pastor Jerome Fernando have unveiled a staggering sum of around Rs. 12.25 billion circulating through his bank accounts.
This revelation emerged during the hearing of two Fundamental Rights petitions pertaining to the controversial pastor. Senior Additional Solicitor General Priyanth Nawana, representing the Attorney General, presented this startling finding during the court session yesterday.  The ongoing investigation against Pastor Jerome spans various charges, including those under the Prevention of Money Laundering Act, the ICCPR Act, and the Penal Code. In response to the serious nature of the investigation, the Colombo Fort Magistrate's Court has already imposed an overseas travel ban on Pastor Jerome Fernando.
President's Counsel Sanjeeva Jayawardena, representing a group of religious leaders, including Ven. Elle Gunawansa Thera, raised concerns over the perceived lack of sufficient progress in the investigation against Pastor Jerome when compared to similar incidents involving others.
He cited the instances of stern legal action taken against stand-up comedian Nathasha Edirisooriya and Ven. Rajangane Saddharathana Thera for statements deemed harmful to religious harmony.
Counsel Jayawardena informed that, during a previous occasion, the Attorney General had provided an undertaking, assuring that appropriate legal measures were being taken against Pastor Jerome for deliberately insulting the four main religions of the country. The investigation's progress was also reported to the Magistrate's Court. Despite this, Jayawardena expressed dissatisfaction on behalf of his clients, stating that they still did not perceive sufficient headway.
Responding to the concerns raised by Jayawardena, S.A.S.G. Nawana reassured the Court that the examination of 11 bank accounts connected to Pastor Jerome revealed transactions amounting to Rs. 12.25 billion. The investigations, which were initiated even before the filing of the Fundamental Rights petitions, are complex and are diligently exploring the possibility of money laundering offences, among other charges.
In light of Nawana's statement, Jayawardena PC expressed satisfaction with the progress of the legal proceedings against Pastor Jerome. He requested a significantly extended date for the next mention to effectively evaluate the investigation's advancement.
Separately, President's Counsel Rienzie Arsecularatne, representing Pastor Jerome Fernando, confirmed that they did not object to an investigation under the Money Laundering Act.
Considering the presented facts, the Supreme Court's two-judge bench, comprising Justices Shiran Goonaratne and Arjuna Obeysekara, fixed the hearing for the petitions on 27 October, to review the progress of the ongoing investigations.
The Fundamental Rights petition filed by the group of religious leaders aims to direct the Inspector General of Police (IGP) to immediately arrest Pastor Jerome Fernando for his alleged hate comments targeting religious harmony in the country. Conversely, in a separate application, Pastor Jerome Fernando is seeking an order to prevent the police from arresting him in connection with his controversial Sunday sermon.