Wednesday, 28 June 2023 00:50 –      – 46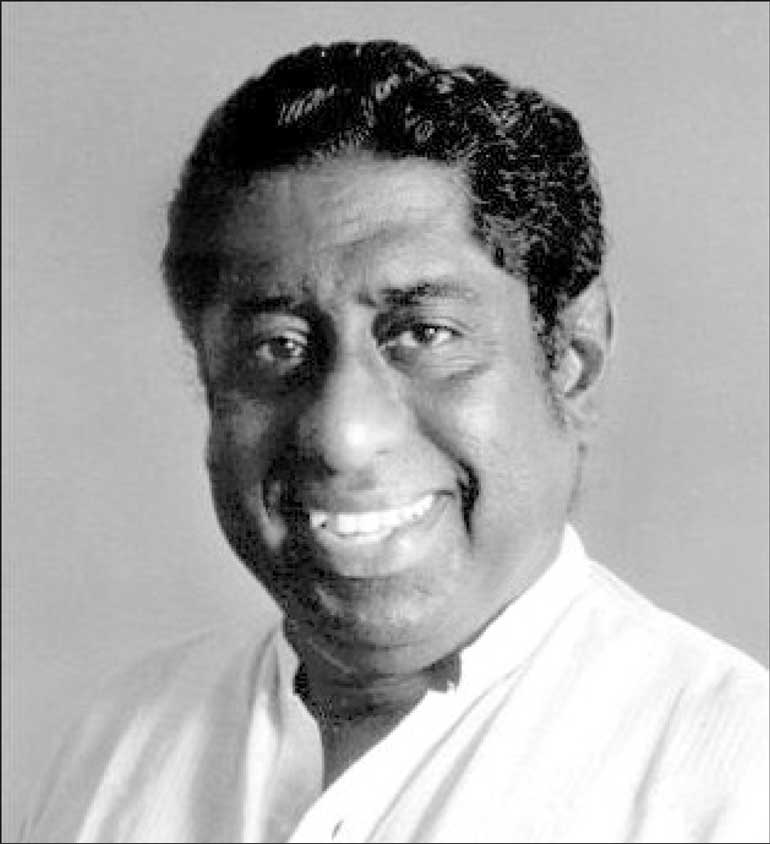 Kumar Ponnambalam
---
The cold-blooded killing of former All Ceylon Tamil Congress (ACTC) leader and well-known lawyer Kumar Ponnambalam in Colombo on 5 January 2000 sent shock waves throughout Sri Lanka and the Sri Lankan Diaspora when it happened 23 years ago. Gaasinather Gangesar Ponnambalam known popularly as Kumar Ponnambalam was killed in his car at Ramakrishna Terrace, a lane that links Ramakrishna and Vivekananda roads on the sea side in Wellawatte. His body with fatal gunshot wounds was found slouched on the driver's seat.
Kumar Ponnambalam was the son of Ganapathipillai Gangaser Ponnambalam (GG Ponnambalam) a famous lawyer, legislator and former cabinet minister. Kumar's son Gajendrakumar Gangaser Ponnambalam is currently an MP in Parliament. Unlike his father GG or his son Gajen, Kumar was never able to win an election and become an MP. Nevertheless he was for more than two decades an active politician championing Tamil rights courageously in Sri Lanka and abroad.
The circumstances surrounding Kumar Ponnambalam's murder were described in detail in an article headlined "The killing of Tamil Congress Leader Kumar Ponnambalam" by this column on 14 June 2023. This follow up article will focus on who was allegedly responsible for Kumar's death though none have been prosecuted or convicted in the past 23 years.
As stated in the previous article, "The Sunday Leader" newspaper edited by Lasantha Wickrematunge gave wide coverage to the Kumar Ponnambalam murder in the months that followed. As is well-known The Sunday Leader motto was "unbowed and unafraid". I also used to write several articles and columns for Sunday Leader then. The newspaper boldly published many news items and articles that exposed the powers that be on multiple fronts. Ultimately Lasantha paid the supreme price when he was brutally killed in broad daylight at Ratmalana on 8 January 2009.
The Sunday Leader published many articles and news stories relating to the Kumar Ponnambalam killing in those days. Many of these were under the by line "The Insider". Some were by senior journalist Frederica Jansz who succeeded Lasantha as editor later. Among these Sunday Leader scoops was the confidential report submitted by SSP Bandula Wickramasinghe to the then president Chandrika Bandaranaike Kumaratunga.
SSP Wickramasinghe's report
This report implicated the sons of the then Power and Energy cabinet minister and deputy defence minister Anuruddha Ratwatte's sons Mahendra and Lohan Ratwatte. The report by SSP Wickramasinghe dated 7 September 2000 was published in The Sunday Leader of 23 December 2001. This is what the report stated:
Report of Senior Superintendent of Police to President Kumaratunga
Chandrika Bandaranaike Kumaratunga,
Her Excellency the President,
The Democratic Socialist Republic of Sri Lanka,
Temple Trees,
Colombo 03.
Bandula Wickramasinghe,
Senior Superintendent of Police,
Director, Colombo Detective Bureau.
No. 50, Gregory's Road, Colombo 7, Sri Lanka.
September 7, 2000
Your Excellency,
Report on Mr. Mahen Ratwatte and Mr. Lohan Ratwatte
Herewith I annex a report on the above subjects, as requested by Your Excellency
On July 28, 2000 a case of house breaking and theft was reported, the stolen goods were valued at Rs. 1.3 million. The Colombo Detective Bureau sleuths arrested the main suspect Mohammed Thahir and he confessed that he had given a brand new 'Hoover' vacuum cleaner valued at Rs. 20,000 to one Sudath Ranasinghe RPC 12559 attached to the Sri Lanka Police Reserve Head Quarters. RFC Ranasinghe was arrested and he too confessed that the stolen vacuum cleaner was given as a gift to Mahen Ratwatte who is employed at George Steuarts. Mahen Ratwatte who is the son of the Honourable Minister of Power and Energy and Deputy Minister of Defence Anurudha Ratwatte. On the statement made by RPC Ranasinghe the vacuum cleaner was recovered from the house of Mahen Ratwatte at Link Homes housing scheme at Madiwela.

On May 21, 2000 the officer in charge of CDB, IP Nuwan Vedasinghe received a call from RPC Ranasinghe and he had stated that the president of the All Ceylon Tamil Congress, Kumar Ponnambalam (Attorney-at-law) was murdered by his henchmen, namely underworld activists Moratuwa Saman and Sujeewa, on the instigation of Mahen Ratwatte. Few weeks prior to the assassination of Ponnambalam, Mahen Ratwatte had told Moratuwa Saman and RPC Ranasinghe in Sinhalese ayi yakko sinhala minissu marannay, puluwannam ara Kumar Ponnambalam jathi wadi wagay thadi demelek marapanko. As per the instigations of Mahen Ratwatte, RPC Ranasinghe master planned the assassination and got friendly with Kumar Ponnambalam, posing as one 'Shantha.'
On January 5, 2000 'Shantha' personally went to the house of Kumar Ponnambalam's around 8.30 in the morning and lured him promising …………. As arranged, Moratuwa Saman and Sujeewa waited for the arrival of Ponnambalam, and the both of them fired five rounds from their pistol. Ponnambalam succumbed to his gunshot injuries. After the assassination, the RPC immediately informed Mahen Ratwatte about the killing.
On May 21, 2000 RPC Ranasinghe contacted OIC CDB, from telephone number 08-223993 which is at the guesthouse belonging to the Petroleum Corporation at No. 15, Dumindu Mawatha, Watapoluwa, Kandy. I too contacted RPC Ranasinghe on the above telephone number and he informed me that the most wanted underworld criminal Dhammika Perera is present at the above guesthouse. RPC Ranasinghe promised to surrender to the CDB, and informed me and the OIC CDB to make him a crown witness. But however, he was prevented from surrendering by Mahen Ratwatte. I contacted Mahen Ratwatte and spoke to him requesting from him to surrender RPC Ranasinghe, but Mahen Ratwatte prevented his appearance and told me 'why are you worried, all the top people know about the assassination.' Though several requests were made to Mahen Ratwatte by me and my OIC IP Nuwan Vedasinghe, RPC Ranasinghe surrendered to the Mount Lavinia courts.
Harbouring of underworld criminal Dhammika Perera of Rajagiriya
Besides the information provided by RPC Ranasinghe, my private informants have brought to my notice that Ranasinghe had been harboured by Lohan Ratwatte and Mahen Ratwatte and at present Dhammika is being kept at his mothers home on top of a hill close to Mahiyawwa cemetery, Kandy. It is also common knowledge amongst Kandy residents that Dhammika Perera travels along with Lohan Ratwatte in a tinted four-wheel drive vehicle.
My private informants have also brought to my notice that during the Wayamba elections, Lohan and Mahen Ratwatte had been transporting Dhammika Perera in their Pajero vehicle for their protection.
Dhammika Perera is one of the most wanted under world criminals, wanted for 17 murders:
Bandula Wickramasinghe,
Senior Superintendent of Police, Director, Colombo Detective Bureau
"Wikipedia" entry on the killing
The "Wikipedia" summarised most of the reports and articles in The Sunday Leader about the killing in its entry on Kumar Ponnambalam. Here are extracts from Wikipedia:
"According to The Sunday Leader Ponnambalam's killing was organised by Baddegana Sanjeewa, a member of Kumaratunga's Presidential Security Division. Acting on Sanjeewa's instructions Reserve Police Constable Sugath Ranasinghe, posing as Shantha, became friendly with Ponnambalam. On the day of the killing Shantha lured Ponnambalam to Wellawatte where gangsters M. A. Kalinga (alias Moratu Saman) and Tharawatte Ajith (alias Sujeewa) were waiting to kill Ponnambalam. After the killing, the killers are alleged to have gone to the office of a deputy minister and shown the murder weapon, which belonged to Mahendra Ratwatte, Kumaratunga's second cousin and son of deputy defence minister Anuruddha Ratwatte, and Ponnambalam's mobile phone as proof."
"According to The Sunday Leader Kumaratunga tried to protect Ponnambalam's killers after the assassination. In February 2002 The Sunday Leader published a transcript of a telephone conversation between Ranasinghe and OIC Nuwan Wedasinghe of the Criminal Detective Bureau (CDB) which further implicates Mahendra Ratwatte in Ponnambalam's killing. The Sunday Leader has claimed that it has received a sworn affidavit from CDB director SSP Bandula Wickremasinghe that Mahendra Ratwatte was involved in Ponnambalam's killing."
"Ranasinghe, Moratu Saman and Sujeewa were eventually arrested by the police after which Ranasinghe implicated in Mahendra Ratwatte in Ponnambalam's killing. According to the police the three detainees had confessed to killing Ponnambalam and Satana editor Rohana Kumara on a contract from a private party/patriotic group."
"Sanjeewa was shot dead on 2 November 2001, allegedly by Dhammika Perera, a member of the Sri Lankan mafia. His body was found slumped in the driver's seat of his Nissan Serena, with six shots in Pagoda Road, Colombo."
"Notorious gangster Moratu Saman was shot dead on 18 May 2003 in Moratuwa by gangster Thoppi Chaminda."
"Ranasinghe was shot dead on 20 August 2003 in Moratuwa as he returning from Moratuwa Magistrates's court in a rickshaw."
Mahendra Ratwatte
It could be seen therefore that three of the four suspects implicated in the Kumar Ponnambalam killing were themselves killed subsequently. None were charged in courts over Kumar's murder. Mahendra Ratwatte who had allegedly encouraged or instigated the killing was reportedly quizzed by the Police and let off. Though 23 years have passed the Police have not indicted anyone. Ironically two reserve Police constables and two underworld gangsters are allegedly involved in Kumar Ponnambalam's killing. Kumar's death was a great loss to the Tamil people.
Service to Tamil community

A commendable feature about Kumar was his service to the Tamil community as a lawyer. There was a time when Kumar was a successful lawyer arguing a variety of cases and minting money in the process. He even learnt Sinhala and conducted his cases in that language. He had transformed himself later into a virtual Tamil rights lawyer. Most appearances were over PTA and emergency regulation detentions, cases under PTA, writs of habeas corpus, trials relating to alleged army offences like the Kokkatticholai massacre and cases of human rights violations.
He took up unpopular causes like appearing for some of the accused in the Central Bank bombing incident for example. At the same time he had his own code. When some of his clients were implicated in the attempted murder of EPDP leader Douglas Devananda at the Kalutara jail he refused to appear for them. It must be remembered that when Kumar took his oaths (owing allegiance to Sri Lanka's unitary constitution) under the Sixth Amendment, he explained it as being necessary to retain his eligibility to practise his profession as a lawyer.
Kumar Ponnambalam was also very frank and forthright. To use a cliche he did not mince his words. Diplomacy was absent. This earned him a lot of enemies. Also it sometimes blunted his communicative capacity. Nevertheless it has to be acknowledged that he did not hesitate to confront the high and mighty in the process. By doing so he drew attention to many of the acts of commission and omission affecting the Tamil people.
Criticism of Kumaratunga
At a time when most Tamil politicians in the Island had only praise for Chandrika Kumaratunga's magnanimity it was the lot of Kumar to dissent. He was in that sense the irrepressible boy who shouted out that "the emperor had no clothes". Kumar Ponnambalam was the one man Tamil opposition to the PA regime, and his criticism of President Kumaratunga was quite vitriolic.
Another remarkable thing about him was his courage. He seemed to have acquired an immense degree of personal and political courage over the years. As to whether the abrasive style and content of the challenges posed by him achieved any worthwhile result is another matter but there is no denying that his very act of confrontation itself was a factor to be reckoned with.
As he himself has stated on more than one occasion Kumar believed that a Tamil had to say what he had to say staying right in Colombo. There was a time when his father aroused a collective Tamil pride within the community by his slogan "Thamilan endru solladaa, Thalai nimirnthu nilladaa" (State you are a Tamil and stand erect holding your head high). In recent times the son personified that slogan.
Display of courage
This display of courage has been described as foolhardy and exhibitionistic by his critics. Yet there is no denying that it did strike chords that were mutually antagonistic. Many Tamils were impressed by Kumar while most Sinhalese were angry. In particular Tamil expatriates, who took very little notice of him earlier were amazed at Kumar's bravura. Whenever he travelled abroad he was always asked how he was courageous enough to stay on in Colombo and take on the Government openly. Kumar would reply with characteristic immodesty, "It's in my blood".
His open support of the LTTE in particular made a great impression. He has been described as the "Tiger who growled within the lion's den". He was very much a darling of the Tamils abroad. He may have never won an election in Sri Lanka but if he solicited expatriate Tamil votes Kumar would have been a sure winner.
Another notable trait was his persevering fighting spirit and never say die attitude. His party the All Ceylon Tamil Congress had become a caricature of its former self. Only a handful of members remained Kumar himself had been consistently rejected by Tamil voters, be it in Jaffna or Colombo. A lesser person would have called it quits and retired to enjoy a luxurious lifestyle that was very possible given his immense wealth. But this man would bounce back each time and move on from election to election.
His greatest political ambition was to enter Parliament, a goal that constantly eluded him. Nevertheless by his political resilience and recent reorientation of his political ideology Kumar managed to endear himself to a large segment of the Tamils.
Whatever Kumar Ponnambalam's new strident Avatar in politics those who knew him well were aware that he was not a Tamil racist though he espoused an extremely hawkish Tamil line. In that respect he was very much a mirror image of some counterparts in Sinhala politics who mouth communal drivel but in personal life are non-racist.
Son of Colombo soil
Kumar was in reality a Colombo Son of the Soil. He was in his element when going for the Royal Thomian. It was his background and connections that enabled him to a very great extent to remain in Colombo and espouse the Tiger line. It was also that which helped greatly in getting his point across to the Sinhala dominated media.
But another aspect that helped him in his lifestyle that bordered on political brinkmanship was the fact that he was never taken seriously by the English speaking elite. To them he was merely GG's "Junior". Indeed Kumar's predicament in his younger days was his being compared and contrasted with his father. Ponnambalam senior was the standard by which Ponnambalam junior was measured. It took years for him to outgrow this. Despite his controversial views those who knew him well regarded him only as an "enfant terrible" of Tamil politics. Despite his tigerish growls to some he was at best like Chairman Mao's description of imperialism – a paper tiger.
Sadly the enfant terrible of Tamil politics was perceived by some sections of the Sinhala masses as a dangerous Tiger living in their midst. Kumar himself contributed to that perception by his public pronouncements and writings. The real LTTE cadres in Colombo do not advertise the fact that they are LTTE for obvious reasons. But Kumar though no disciple of Prabhakaran was asserting that he was a follower of the Tiger philosophy.
As the LTTE itself has stated in the statement issued after Kumar's death, he was the "only Tamil leader who openly and fearlessly supported the armed freedom struggle of the Liberation Tigers". He kept on flaunting it in the face of his adversaries and went on taunting them.
Challenges to the State
According to Kumar's relatives, he knew death was inevitable. Yet he carried on as usual, issuing challenges to the State. When President Kumaratunga issued a warning to supporters of the LTTE in Colombo, Kumar took up the challenge and brazenly flung down the gauntlet.
One supposes that those who ordered Kumar's assassination must have been pleased with themselves for getting rid of Kumar dubbed as the "de facto spokesperson of the LTTE in Colombo".
But what was lost on these killers was the fact that Kumar being alive was a living testament to the tolerance of Sinhala society. As long as he was allowed to speak out fearlessly and forthrightly from Colombo, the democratic credentials of the governments in power were enhanced. The fact that Kumar could speak, write and act the way he did was proof of the permissiveness and accommodative ability of the "Sinhala" state. The fact that many newspapers, owned and edited by Sinhalese provided considerable space to publish his articles and statements was also an extension of this tolerant state of mind. In that respect the felling of Kumar in one stroke or to be exact two rounds of gunfire reflected perhaps, a changing situation in Sri Lankan society towards intolerance.
(The writer can be reached at dbsjeyaraj@yahoo.com.)