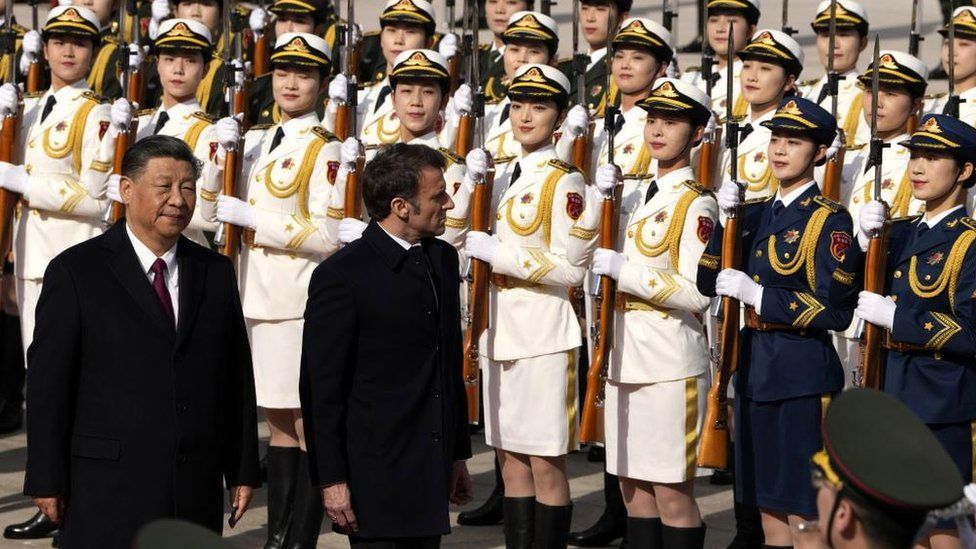 French leader Emmanuel Macron has urged his Chinese counterpart Xi Jinping to help stop Russia's war in Ukraine.
"I know I can count on you to bring Russia to its senses, and bring everyone back to the negotiating table," he told Mr Xi in Beijing.
Mr Xi said China and France had the "ability and responsibility" to safeguard world peace.
But Moscow said there were "no prospects for a peaceful settlement" so far and its offensive would continue.
Mr Macron is on a state visit to China that is being highly scrutinised after years of deteriorating relations between the West and China, which has refused to condemn Russia's invasion of Ukraine.
Mr Macron is also seeking to bolster trade ties. He is joined by European Commission chief Ursula von der Leyen, who he invited to take part in talks with the Chinese leadership, as well as a large business delegation.
On Thursday afternoon, Mr Macron was treated to an elaborate military parade in Beijing, before entering closed-door talks with Mr Xi, which Chinese and French officials described as "frank" and "friendly".
Speaking to the press afterwards, Mr Xi said "China advocates for peace talks and seeks a political solution", and called for "rational restraint" from the international community.
He also reiterated that nuclear weapons should not be used in the conflict. Russia said earlier this week it planned to place tactical nuclear weapons in Belarus, near the ally's western border with Nato countries.
Mr Macron said "we can't have a safe and stable Europe" as long as Ukraine remained occupied, and that it was "unacceptable" that a member of the UN Security Council had violated the organisation's charter.
The French leader struck a cordial tone in his speech, often turning to Mr Xi during the press conference and addressing him directly. It stood in contrast to Mr Xi's impassive delivery to the press.
In a separate press conference later, Ms von der Leyen stressed that if China provided arms to Russia, it would be against international law and "significantly harm" the relationship between the EU and China.
She also said she expected Beijing to play a role that "promotes a just peace", and that she stood "firmly" behind Ukrainian leader Volodymyr Zelensky's peace plan – which calls for the complete withdrawal of Russian troops.
China has released its own peace plan which Western nations have been generally dismissive of, saying it sides too much with Russia. But Mr Zelensky has expressed interest in it and called for direct talks with Mr Xi – who has yet to publicly respond.
But Ms von der Leyen said during her discussion with Mr Xi he "reiterated willingness" to speak with Mr Zelensky "when the conditions and timing are right".
On Thursday, Russia acknowledged that China has "a very effective and commanding potential for mediation".
"But the situation with Ukraine is complex, so far there are no prospects for a peaceful settlement," said Kremlin spokesman Dmitry Peskov, who added that Russia had "no choice" but to continue with the war.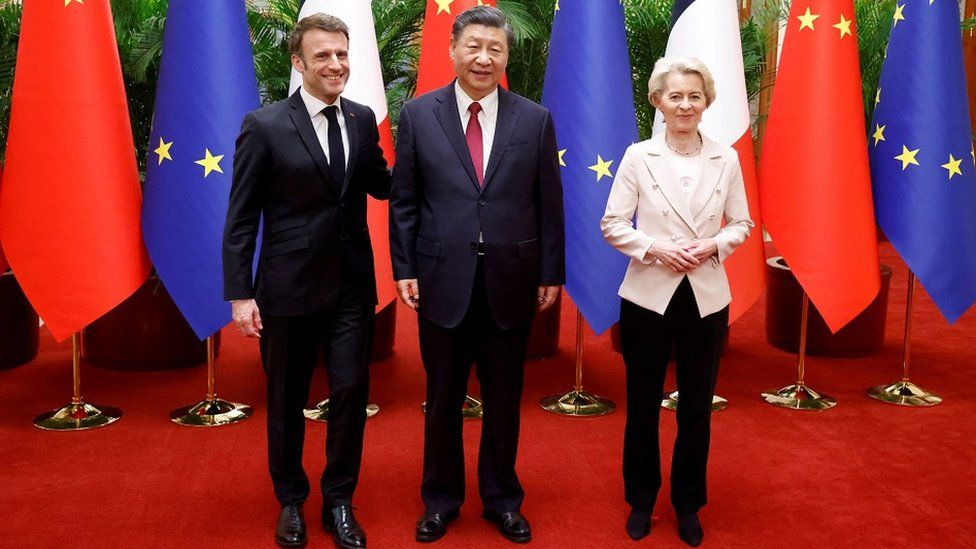 Mr Macron is being hosted at a state dinner on Thursday night, and on Friday the two will travel to the southern city of Guangzhou where they will dine again together privately.
The trip marks the most politically significant interaction Mr Xi has had with a Western leader since he met US President Joe Biden at the G20 summit in Bali last November.
With this visit Mr Macron, who has been keen to burnish his credentials as an international peace broker, has now had personal contact with all the major players in the Ukraine conflict.
Observers believe he knows he is unlikely to come back from this China trip with any major diplomatic achievement to boast of. The chances of Mr Xi changing his views on Russia and Ukraine in any significant way are, to say the least, small.
Mr Macron is likely to emphasise small advances, points in common, and the benefits of engagement through trade and talks.
He is said to believe that just because France is part of the Western alliance, and close to the US, does not mean it cannot deepen its relations with China which is allied to Russia.
In his remarks to the press, the French leader mentioned little of China's human rights issues – a perennial point of contention between China and the West – but said that while they remain important to France, "it's better to be respectful than to lecture".
Mr Macron's trip also saw several significant deals signed by French and Chinese corporations and cultural institutions, witnessed by him and Mr Xi.
He is travelling with a delegation comprising business leaders, artists and museum officials. They include top executives from plane manufacturer Airbus, luxury group LVMH, and nuclear energy producer EDF.
The trip to Beijing, four years after Mr Macron last paid a visit to Mr Xi, takes place during strikes and unrest in France over unpopular reforms of the pension system.