Tuesday, 25 April 2023 00:35 –      – 38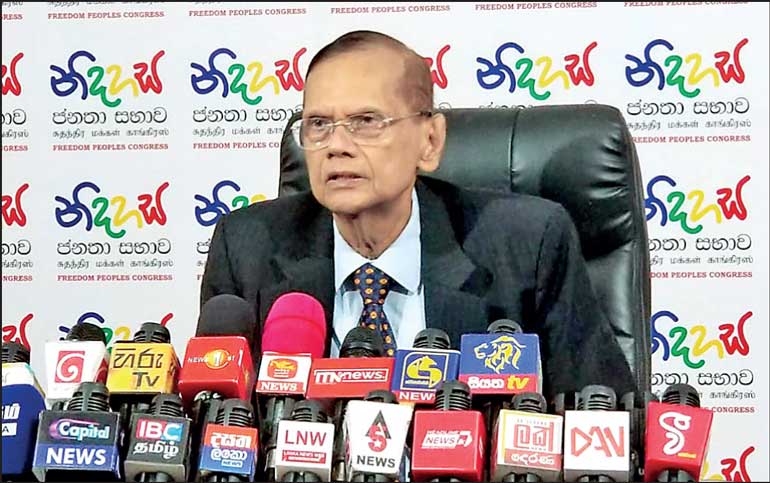 Prof. G.L. Peiris
---
Questions if initiating litigation in Singapore is the best course of action for SL
Says it must be made known as to who made this decision and who endorsed it
Accuses authorities of failing to take action to obtain compensation for two years and initiating legal action only in the eleventh hour
Claims IMF must pay attention to the corruption in SL as it was revealed an official accepted bribe to suppress litigation to do with marine disaster
Freedom People's Congress member Prof. G.L. Peiris says Sri Lanka need not sink millions of dollars to initiate litigation for the X-Press Pearl marine disaster in Singapore. Holding a press conference in Colombo yesterday the MP said the disaster took place not in the high seas but within the territorial waters of this country. "So why was it not considered to institute these proceedings in Sri Lanka?" he asked. "Is that the best course of action for our country? It may be the best of action for some individuals, but is it the most beneficial course of action for Sri Lanka? The courts of Sri Lanka have complete jurisdiction in respect of this matter," he added.
Peiris said it must be known as to who made this decision and who endorsed it. While the delay in the compensation process was attributed previously to lethargy and indifference, the MP said now it turns out it is nothing of the sort. "It is fraud, pillage and plunder on a colossal scale. Then, what is the source from which this heinous allegation emanates? It comes from no less than the Minister. The Honourable Minister of Justice, Constitutional Affairs and Prison Reforms," he said. The MP also noted that while other countries such as the USA and Egypt have taken steps to claim compensation for similar disasters nothing has been done in Sri Lanka for over two years.
According to the MP, even in Singapore Sri Lanka only has 600 hours left to file the case. "Why this long slumber? It is at the eleventh hour that people are waking up from their slumber and instituting proceedings in Singapore," he alleged. The MP also noted that Justice Minister Wijeyadasa Rajapakshe himself has revealed some underhand dealings in the process where litigation which should have made it possible for Sri Lanka to obtain this enormous quantity of resources was deliberately suppressed for a bribe. The MP said this is an indication of the scale of corruption in Sri Lanka. According to Peiris despite the dire situation in the country the appetite for corruption and greed has not been satiated. The MP said the IMF is not paying sufficient attention to the corruption in the country and must do so to ensure their assistance is being utilised for the benefit of the people.